Grades: San Antonio Spurs at Oklahoma City Thunder – Game #11
The San Antonio Spurs defeated the Oklahoma City Thunder on Tuesday night by a final score of 112-102 to finish their five-game road trip in style. Playing without DeMar DeRozan, the Spurs made enough plays down the stretch and now stand 6-5 on the season after going 4-1 on this road trip.  
Key Stretch
Last game, San Antonio's fourth quarter offense sputtered badly without DeRozan. Tonight, they answered every bell. When the Thunder got within four points with three minutes remaining, the Spurs responded with three key buckets over the next 90 seconds to stay ahead: a LaMarcus Aldridge mid-range shot, a Dejounte Murray pull-up jumper and a driving layup by Patty Mills. 
Key Statistic
Even though this was a herky-jerky game with a lot of young bodies flying around the court, the Spurs only had four turnovers. All season long, they've done an unbelievably great job of limiting their turnovers. Not only are they the least turnover prone team in the NBA by a wide margin, they're on pace to set the all-time record for having the best assist-to-turnover ratio of any team in league history.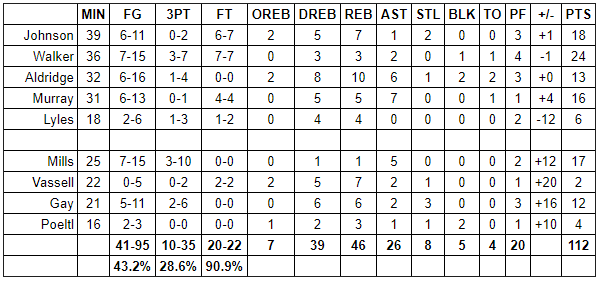 Spurs at Thunder: Final Grades
Keldon Johnson
Johnson struggled at times on this road trip but ended it on a high note. He balanced his brains and his brawn by picking his spots really well regarding when and how to attack the rim. And even though he dialed back from always being in kamikaze-mode, he remained extremely physical at the rim, which led directly to eight free throw attempts. Beyond his scoring, Johnson had key hustle plays on both ends and played with a sense of urgency that seemed to rub off on his brethren. 
Grade: B+
Lonnie Walker IV
Walker has stepped forward in DeRozan's absence — and he's flashing his potential offensively. He had some of his most determined drives of his NBA career tonight. Add in a trigger finger from three-point range that was sufficiently itchy and I loved the vast majority of what he did against the Thunder. Defensively, he was also solid in man-to-man settings. As productive as Walker was this evening, there were still areas where he could improve. On offense, he was thinking too much at times instead of just trusting his instincts. Defensively, he oftentimes offered help that was both a step slow and much too delicate. 
Grade: A-
LaMarcus Aldridge
I was pleased with how Aldridge played. He didn't have the best shooting night of his life but, truth be told, he was forced to take a number of difficult jumpers late in the shot clock. Otherwise, Aldridge was attentive on both ends, set strong screens, rebounded with gusto, defended the rim and hustled in loose ball situations. Best of all, his passing was much better than usual. He quickly spotted open teammates and delivered timely passes. 
Grade: B+
Dejounte Murray
I thought Murray was quietly really, really good. In terms of making the right decisions consistently, this is one of the best games I've ever seen him play. He's usually a one-man adventure, to put it kindly, when he's in transition but doesn't have a direct line to the basket. But tonight, his patience was outstanding and made the right pass virtually every time. Hopefully that's a sign of things to come. Scoring-wise, he started off slowly but picked it up when it mattered most. Defensively, he had his moments. He pressured the ball well and never lost focus. On the other side of the coin, even though his help-defense was usually on time, his effectiveness in those situations was lacking. 
Grade: A-
Trey Lyles
Lyles got the start again with the squad sans DeRozan. Defensively, he never got into a groove and was consistently out of position. He wasn't terrible on that end but he was certainly worse than he was in his first start of the season. Offensively, Lyles shifted his aggression level to a higher gear — and that was unquestionably a step in the right direction. He didn't shoot well but he at least wasn't someone the Thunder could totally ignore. 
Grade: C+
Patty Mills
Mills continues to play the best basketball of his career. He hit big shots, he was able to create even when times were murky, his passing was smart and he limited his mistakes. The Spurs really couldn't expect more than what Mills is giving them right now on a night to night basis. 
Grade: B+
Devin Vassell
Offensively, Vassell just couldn't get anything to go. I didn't have an issue with any of his selections shot-wise, they just didn't drop. Defensively, the rookie continues to be a joy to watch. His help-defense remains extremely good, whether in a halfcourt setting or in transition. He hasn't been nearly as impressive man-to-man — until tonight. He's adjusting to the speed of the NBA game and was able to play the role of a lockdown defender on a few possessions. Hopefully that's a sign of what the future holds. 
Grade: B
Rudy Gay
Gay was productive against OKC, you have to give him that. While it wasn't always pretty, he stuffed the statsheet. His ability to go one-on-one was helpful on the offensive end, as was his eagerness to fire three-pointers. Defensively, his mobility limited his range but his quick hands and long arms allowed him to gobble up anything that entered his airspace. 
Grade: B
Jakob Poeltl
Better. Poeltl is still desperately searching for a rhythm but there were signs that he was starting to rediscover his true self. Coming into this game, he had only three blocked shos all season. Tonight, he had two blocks. He was also rolling with more purpose and, overall, simply appeared to be more aware of what was transpiring on the court. 
Grade: B
Pop
Can't complain. Pop steadfastly rode his young horses instead of panicking when the terrain got rocky, kept his veterans fresh, didn't overplay Lyles, gave Vassell bonus minutes to reward him for his defensive mastery, allowed Murray to guide the ship in the fourth, and showed confidence in Walker and Johnson by drawing up multiple plays for both players. Well done, coach.
Grade: A-
Next Up
The Spurs return to San Antonio and take on the Houston Rockets in their next two games beginning on Thursday. Let's hope success follows the team back to South Texas.