Grades: San Antonio Spurs vs. Oklahoma City Thunder – Game #8
The San Antonio Spurs got back on the winning track by defeating the Oklahoma City Thunder on Thursday night by a final count of 121-112. The Spurs, now 5-3 on the season, shot the ball extremely well — 54.3% from the field, 45% on threes and 90.9% at the line — and set a season-high with 32 assists.
San Antonio and OKC played a tight first half, with neither team leading by more than six points at any moment in the first two periods. At the half, the Thunder had a one-point lead, 57-56.
In the third quarter, the good guys got their offense humming. LaMarcus Aldridge led the way with 10 points that quarter while Trey Lyles adding a pair of three-pointers, as the Spurs outscored the Thunder 36-27 for the stanza to take a 92-84 lead into the final period.
The fourth quarter saw the Spurs push the lead to double-digits — but the Thunder hung around enough to force Gregg Popovich to keep his starters on the court until the final minute. However, the game was never really in doubt down the stretch as the Spurs improved their home record to 4-1 on the season.
Overall, it was a pretty good win. The Thunder will likely miss the playoffs but they have a lot of wily veterans and they had won two straight heading into Thursday's affair. For the game, the Spurs scored 123.5 points per 100 possessions, which is a big improvement over the 107.5 points per 100 possessions they had averaged for the season coming into the contest. Let's hope the team's offense continues trending in the right direction.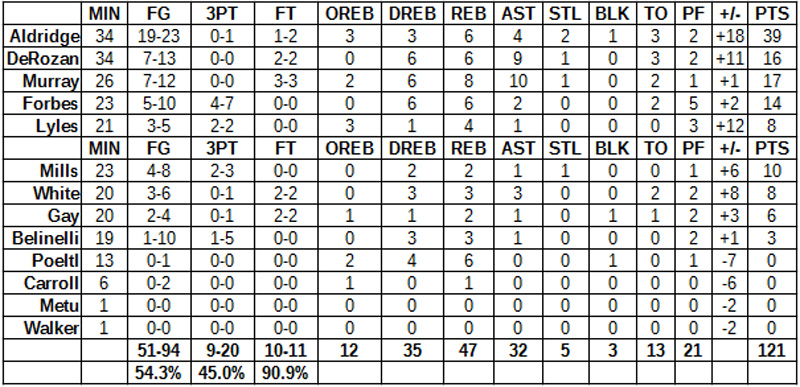 Spurs vs. Thunder – Final Grades
LaMarcus Aldridge
LaMarcus Aldridge hit a long jumper on San Antonio's first possession and he stayed red hot for the duration of the game. Entering the game, Aldridge was just 14-for-44 (31.8%) on jumpers outside of ten feet on the season. Tonight, he was 12-for-15 (80%) from that same range. Wow. Aldridge's 19-for-23 shooting display raised his field goal percentage on the season from a disappointing 44.2% to an impressive 51.7%. The 34-year-old tortured the Thunder (once again) with a mixture of outside jumpers and touch shots in the lane. When OKC began sending double-teams, he started dropping off smart passes. As is usually the case, with Aldridge rolling on offense, his defense followed suit. He was active, more mobile than usual, much more talkative than usual and ran the court hard in transition. While his rebounding numbers were pedestrian, he did really good work boxing out and keeping the Thunder off of the offensive glass. Well done; I'm not sure if it's possible for him to play much better than he did tonight. Given his recent struggles, it was great to see Aldridge play at this high level.
Grade: A+
DeMar DeRozan
I like how DeMar DeRozan played tonight. Offensively, he picked his spots well. He was very physical in the paint, which usually resulted in a lane opening to the rim or the Thunder helping so frantically that DeRozan could easily find the open man. Defensively, he was decidedly better than his normal level. DeRozan was awake off the ball, actively reading the passing lanes and crashing the glass. All in all, he played at a smart pace and kept his composure very well. DeRozan didn't have perfect shot-selection and was loose with the ball at times but otherwise it was a top-notch performance.
Grade: A-
Dejounte Murray
Dejounte Murray has never looked like more of a true point guard than he did on Thursday. It was obvious that he entered the game looking to get Aldridge going. The first six of his career-high 10 assists led to buckets by Aldridge. In fact, eight of his assists were to the Spurs star big man. Call it mission accomplished as Aldridge certainly got going. Outside of Murray's passing, he was efficient scoring the ball, limited his turnovers and put in a lot of effort on the defensive end. I liked how hard he attacked the basket, even if he came up gimpy after a few of his forays to the hoop. His decision-making on both ends could have been better, though. He passed up open shots on offense and he didn't always rotate to the right person on defense. But, all told, this was a strong game for Murray and a step forward in his development.
Grade: A-
Bryn Forbes
After hitting only 3-of-17 three-pointers in his previous two outings, it was great to see Bryn Forbes recapture his shooting touch against Oklahoma City. He knocked down a couple threes in the first 2:15 of the game but then the rest of his first half was mired by foul trouble. Forbes never stayed out of foul trouble for long but continued to fire away on offense. I thought his shot-selection was better but there were still one or two questionable launches. Defensively, I was unenthused by what I witnessed — to say the least. When Forbes wasn't fouling, it was usually because his man had gotten so far away from him that he couldn't reach him in time to commit another bad foul. He must start improving on defense to remain a viable long-term starter in the NBA.
Grade: C
Trey Lyles
Trey Lyles was 1-for-9 from three-point territory in 141 minutes going into tonight's game. Against OKC, Lyles flashed his shooting ability by knocking down both of his three-point attempts. His shot looks a whole lot better than it did in the preseason and to start the regular season. He's bending his knees more and releasing the shot higher — and the result is much improved rotation on his shot. If he can keep shooting straight, the Spurs may have found something here. Outside of his marksmanship from deep, Lyles had a slick pass off the dribble and a couple impressive offensive rebounds in which he read the ball perfectly off the rim. Defense, though, wasn't a strong suit for him tonight. Not only were his rebounding missing in action, the Thunder were running him through a gauntlet of screens and Lyles didn't respond well. Then again, it's difficult for players of all sizes to deal with Danilo Gallinari and I thought his effort was really good on that end. He made mistakes but they weren't for a lack of trying.
Grade: B
Patty Mills
Offensively, Patty Mills was aggressively seeking out his shots — and it worked out well for the Spurs. He was letting the ball go whenever he had an inch of room and hit enough for that strategy to pay off. Mills also helped out by not trying to handle the playmaking. Defensively, he brought energy but there were times where he was the obvious weak link for the Spurs. Then again, some of it was just questionable decisions regarding which player Mills should have been guarding.
Grade: B
Derrick White
Considering Derrick White is obviously a little bit slowed by his glute contusion (he spent time on the exercise bike during the game to stay loose) and he twisted his ankle tonight (he remained in the game), he was acceptably solid. He could have shot more but he had a few heady drives to the rim, passed it better than he has for much of the season and was engaged defensively. White tossed three or four questionable passes — but I can forgive him for that because the Spurs are better off when he's trying to make plays with his astute court vision.
Grade: B-
Rudy Gay
Rudy Gay wasn't involved much this evening. Although, to his credit, Gay didn't try to force the issue. He took the open shots he had but otherwise stayed out of the way. Defensively, he struggled a bit out on the perimeter. In the paint, he was sturdier. The Thunder have a lot of quick players so they're not a great matchup for Gay.
Grade: C
Marco Belinelli
The good news: Marco Belinelli improved his three-point percentage on the season to 18.5% after draining 1-of-5 threes against the Thunder. The bad news: Everything else. Judging on his scale, I didn't think Belinelli took bad shots — he just can't hit anything right now. Defensively, he was extra putrid. He couldn't stay in front of anyone and didn't bother boxing out most of the time.
Grade: D-

Jakob Poeltl
On offense, Jakob Poeltl airballed a push shot in the lane … and that was about the extent of his production on that end. He has now scored a grand total of three points in the last three games. He's not getting many touches but he's also not rolling to the rim as well as he has historically. Defensively, he was much better than his previous outings. He protected the rim well, moved with purpose and exhibited aggression on the glass. Hopefully soon Poeltl can break out of this mysterious slump that has muddled his start to the 2019-20 season.
Grade: C
DeMarre Carroll
DeMarre Carroll got six minutes at power forward in the second quarter. The Thunder went smaller and Pop responded by putting in Carroll. It wasn't a particularly pretty stretch for the Spurs. Carroll hustled but was often out of position. Then again, that's to be expected for a guy who has hardly played this season.
Grade: Inc.
Pop
Whoever was deciding the defensive matchups was making really, really questionable decisions. I'll blame Pop. Starting out Forbes on Shai Gilgeous-Alexander was borderline suicidal — and didn't make sense. Either Murray should have been on SGA or the job should have gone to DeRozan; Forbes is too slow and too small to guard him. Forbes should have been on Chris Paul or Terrance Ferguson. When Forbes went to the bench, Mills also spent time on SGA and Dennis Schroder — two players Mills shouldn't have been forced to guard. The Thunder have players that allow you to hide your defensive liabilities but the coaching staff was apparently uninterested in using any strategy to decide which Spurs players should defend which Thunder players. Eventually, things got better matchup-wise but someone needs to be doing scouting reports so such blatant errors are avoided coming out of the gates.
Grade: D+
Next Up
The Spurs continue their three-game homestand on Saturday afternoon versus the Boston Celtics. The Celtics have won six straight games after beginning the season with a loss. This'll be a good test for San Antonio. If they pass it, they can start feeling pretty good about how the campaign has begun.