Grades: San Antonio Spurs vs. Orlando Magic – Game #34
After a slow start against an undermanned Orlando Magic squad, the San Antonio Spurs were able to turn on the jets and cruise to a 104-77 victory on Friday night in the AT&T Center. The Spurs, who improved to 19-15 on the season with the win, trailed by as many as 13 points before finding their footing.
Key Stretch
The Spurs had a multitude of runs during this game. The run that finally put the Magic away came in the third quarter. The Spurs held a 61-58 lead with four minutes remaining in the period when a Devin Vassell three-pointer sparked a 13-4 run in less than three minutes. Another 14-2 run to begin the fourth put the finishing touches on this one.
Key Statistic
The Spurs trailed 29-16 after the first quarter. In the second quarter, San Antonio outscored Orlando 31-10. That's the fewest points the Spurs have allowed in a quarter this season. In the fourth, the good guys were almost equally as dominant in outsourcing the Magic 30-13.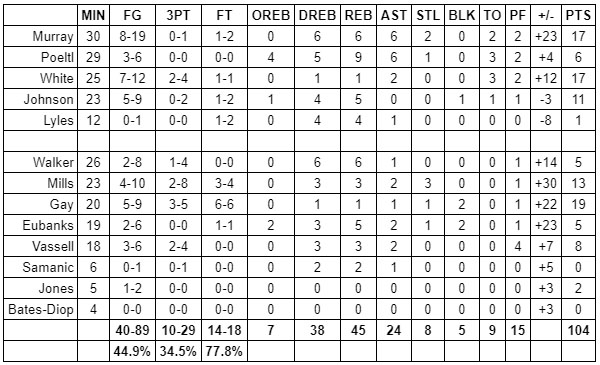 Spurs vs. Magic: Final Grades
Dejounte Murray
Offensively, Murray wasn't exceptionally sharp but he kept his foot on the gas. He missed his first five shots from the floor yet kept attacking and attacking. Eventually, that tenacity paid dividends for the Spurs. Defensively, I was pretty impressed. He played rugged individual defense and his length allowed him to be dangerous as a help defender. 
Grade: B
Jakob Poeltl
The good: Poeltl was strong on the glass on both ends of the court. He stayed out of foul trouble despite going up against an All-Star center in Nikola Vucevic. His defense was strong in the second half, both inside and outside. His passing was a strength throughout. The negative: His defense in the first half was iffy at best. His finishing in the first half was unnecessarily hurried. Poeltl never really got a handle on Vucevic, who finished with 26 points on 12-of-18 shooting. If the Magic weren't so shorthanded, that would have been even more of an issue. 
Grade: B-
Derrick White
White is another player who started slow but then found a groove. He was super hesitant at first and looked uncomfortable shooting, passing or being anywhere near the ball. Thankfully, after he got a couple of three-pointers to drop, he was able to exhale and play his game. Once he got going, he got back to slicing and dicing the defense while playing smart on the other end.
Grade: B
Keldon Johnson
The one guy who came ready to play was Johnson. When all of his teammates looked indecisive, Johnson's cocksure drives to the hoop were a breath of fresh air. All in all, Johnson played hard, had highlight plays on both ends, shot the three-pointers he needed to shoot and was back to vacuuming up defensive boards. 
Grade: B+
Trey Lyles
Lyles got the start … and proceeded to passively blend into the background. On offense, he was actively running away from the ball and never put pressure on the Magic to account for him. Defensively, he was a little bit better — but not a whole lot better. Lyles can't be lollygagging when given an opportunity to start. 
Grade: D
Lonnie Walker IV
I thought Walker was quietly better than his numbers indicate. His ability to push the pace and break the defense down helped crack the dike. His vivaciousness on offense was also apparent on defense, where he was cutting off drivers and doing work on the glass. Walker obviously needs to shoot better but the intangibles were in full effect tonight. 
Grade: B
Patty Mills
Mills provided the Spurs with a shot of adrenaline when he hit the court. He was picking up early on defense, which played a key role in the team upping their intensity on that end. His double-teams were viciously impactful. On offense, he kept the Magic on their heels and was able to create clean looks in pick-and-roll action. 
Grade: B+
Rudy Gay
'Twas a tale of two halves for Rudy Gay. In the first half, he had a couple of good defensive plays but his offense was ugly. His shot-selection was wonky and his shots weren't close. After an 0-for-4 showing in the first two quarters, Gay exploded for a 5-for-5 second half. His four buckets early in the fourth were the last pieces of straw needed to break Orlando's back. Hopefully we see more of that Second Half Rudy going forward. 
Grade: B
Drew Eubanks
Solid outing for Eubanks. His timing going for blocks was usually good, which can sometimes be an issue for him. His rebounding was steady, his passing was heady and his screens were meaty. Overall, Eubanks looked like he knew what he was doing and his physicality was a plus. 
Grade: B+
Devin Vassell
Slick return for the rook. He drained his first two three-pointers, consistently made the right passes and was his same active self on the defensive side of the court. The brainy, meticulous brand of basketball Vassell plays continues to impress. 
Grade: B+
Luka Samanic
Samanic got some action in garbage time. I liked that he didn't really force anything on offense but was still trying to make a difference on defense. 
Grade: Inc.
Tre Jones
Jones got to do some dribbling late in the fourth. 
Grade: Inc.
Keita Bates-Diop
Bates-Diop got enough time to post a four trillion. 
Grade: Inc.
Pop
I didn't like the starting lineup. With DeRozan out, I thought Pop should have gone with someone who can score — namely Walker or Gay. Starting Lyles sans DeRozan predictably stalled with offense. But, to Pop's credit, he realized the error and didn't overplay Lyles. The trust he showed in Gay in the second half and Eubanks in both halves turned out to be right calls. I also liked that he didn't hesitate to put Vassell back in the regular rotation. 
Grade: B
Next Up
The Spurs now embark on a five-game, seven-day road trip against Eastern Conference teams. The first game is Sunday against the Philadelphia 76ers, the team with the best record in the East.