Grades: San Antonio Spurs at Orlando Magic – Game #52
The San Antonio Spurs got back to .500 by cruising to a victory over an overmatched Orlando Magic squad that recently hit the reset button. The Spurs, 26-26, went on an early run and then were never challenged. The Magic, now the losers of six straight games, are a depleted team that shot the ball so terribly that they couldn't compete.
Key Stretch
Five minutes into the game, the Magic actually had a 13-7 lead. But then the good guys held Orlando scoreless for nearly seven minutes to sprint in front by 12 points, 25-13. The game was never again competitive.
Key Statistic
I've pointed out when three-point shooting has hurt the Spurs, so it's only fair that I point out what happened tonight. The Spurs were 10-for-25 from three-point range for 40%, while the Magic were 5-for-20 from three-point range for 20%.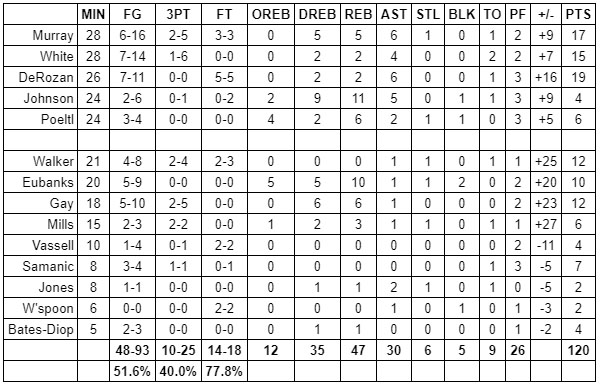 Spurs at Magic: Final Grades
Dejounte Murray
Murray's three-point jumper looks smooth. He's operating well out of pick-and-roll sets and in transition. His defense has been very solid the last month or so. 
Grade: B+
Derrick White
White didn't look confident when shooting threes; it was like he was shooting them because he knew he was supposed to instead of because he wanted to. The good news is he's looking better and better on drives. We're also seeing more glimpses of his passing. We're still waiting for White to get back to how well he played in the Bubble, though. 
Grade: B
DeMar DeRozan
DeRozan just out-experienced the Magic. His vet moves were cash money. If he wasn't getting himself wide open, he was earning a trip to the charity stripe. His passing was also noteworthy. 
Grade: B+
Keldon Johnson
Scoring didn't come easy for Johnson. He was getting banged around on both ends. To his credit, he found other ways to contribute. His rebounding was excellent and he was reliably making smart passes. 
Grade: B+
Jakob Poeltl
Eh, nothing too exciting from Poeltl. His rim protection, offensive rebounding and his off-ball cutting were better than usual. The rest of his game didn't move the needle. 
Grade: C+
Lonnie Walker IV
Walker had an explosion in the first quarter to ignite the Spurs during the aforementioned run that broke open the ballgame. In less than a minute, Walker poured in eight points and flashed his potential. His elite speed, elite athleticism and picture-perfect form still allows Spurs fans to daydream about what his future hopefully has in store. 
Grade: B+
Drew Eubanks
After a rough outing against the Dallas Mavericks, Eubanks bounced back. Tonight, he was a wrecking ball of energy that repeatedly made things happen in the paint. The Magic didn't really have the athleticism or the tenacity to compete with Eubanks and his liveliness. 
Grade: B+
Rudy Gay
Gay wasn't bashful about shooting but, hey, he produced enough to earn himself a pat on the back. Twelve points and six rebounds in 18 minutes? That's a good night's work. 
Grade: B+
Patty Mills
Mills hit both of his three-pointers and had a few disruptive possessions on defense. All in all, he led the bench to their best outing in a long while.
Grade: B+
Devin Vassell
Vassell is currently contending with the rookie wall. His defense wasn't that good and his offense was even worse. He's still trying but he's stuck in the mud right now. That's understandable, though, as almost every rookie hits the wall at some point. 
Grade: D+
Luka Samanic
Impressive glimpses from Samanic tonight. His speed off the dribble is very impressive. The quickness of his feet is awesome for someone his size. 
Grade: Inc.
Tre Jones
Jones had a couple good passes and a couple good plays on the defensive end. 
Grade: Inc.
Quinndary Weatherspoon
Weatherspoon is back to that defensive-minded bulldog we saw in the Bubble. 
Grade: Inc.
Keita Bates-Diop
It was good to see Kmart Kyle Anderson back in the saddle. 
Grade: Inc.
Pop
Honestly, I thought it was a shame that the starters played so many minutes. The Spurs are in the middle of a stretch where they will play five games in seven nights. This game was over by the middle of the second quarter. How did garbage time not begin until a few minutes into the fourth quarter?
Grade: D
Next Up
The Spurs will try to make it three straight wins on Wednesday night against the Toronto Raptors.  That will, unfortunately, be the final game of this road trip. After that, they will be forced to play in front of their home fans once again.