Grades: San Antonio Spurs at Philadelphia 76ers – Game #35
The San Antonio Spurs kept their game against the Philadelphia 76ers competitive for about one half of play. Unfortunately, the Spurs got obliterated 46-21 in the third quarter. By the time this contest mercifully ended, the 76ers had a 134-99 victory. 
Overall, the Sixers played really, really well. They are a talented, veteran team and they were hitting on all cylinders. Philadelphia couldn't miss from three-point range; San Antonio couldn't hit from three-point range. That said, the lack of fight the Spurs exhibited was troubling. When the going got tough, the Spurs folded up their tent.
Key Stretch
With three minutes remaining in the first half, the Spurs pulled within four points, 52-48, following a three-pointer by Derrick White. In the next 14 minutes of playing time, the Sixers outscored the Spurs 50-19. By the end of that run, the fat lady was bellowing even though the fourth quarter hadn't commenced.
Key Statistic
Like the loyal Spurs legend that he is, Danny Green came into this game averaging 6.2 points on 37.5% shooting from the floor against San Antonio in his career. Tonight, he forgot to take it easy on his former team and scored 16 points on 6-for-9 shooting, including 4-for-7 on three-pointers. He also played stout defense, for good measure.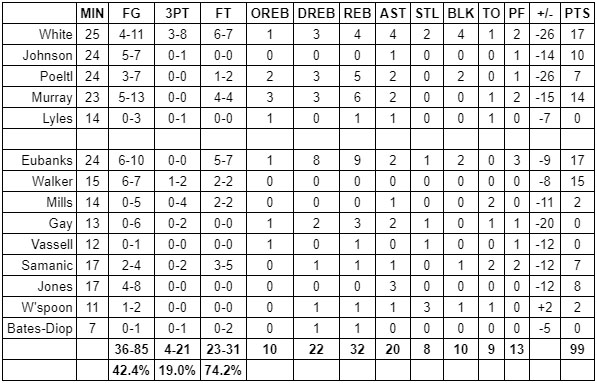 Spurs at 76ers: Final Grades
Derrick White
In the first half, White showed glimpses of the player from the Bubble who we all fell in love with. At halftime, he had 15 points, four rebounds, four blocks and two steals. As the numbers suggest, he was all over the place on defense and was uber aggressive on offense. In the second half, though, he basically rolled over. 
Grade: C+
Keldon Johnson
The good: Johnson's finishes at the basket were impressive. He took his time and his footwork and touch were excellent. The bad: He was an actively poor rebounder. His overall defense was a step slow. 
Grade: C+
Jakob Poeltl
Even with Joel Embiid out, Poeltl was too finesse on the offensive end. Defensively, he was okay in the lane but his perimeter defense was uncharacteristically feeble. 
Grade: C-
Dejounte Murray
With no DeRozan, the Spurs needed Murray to be a facilitator. That didn't happen. He was either calling his own number or getting out of the way. Defensively, he wasn't hustling around screens and was going for steals too often. 
Grade: D+
Trey Lyles
These last two games, Lyles is playing like he's getting paid to be as unproductive as possible. He hides from the ball and doesn't do much of anything on either end. When he accidentally ends up with the ball, he's making slow decisions. Pain.
Grade: D-
Drew Eubanks
Eubanks was a bright spot in an otherwise dreary evening. He flashed a few passes that were surprisingly slick; I didn't know he had that type of court vision. He rebounded with physicality, protected the rim reasonably well and looked decently coordinated when looking to score. 
Grade: B+
Lonnie Walker IV
Walker's scoring was another silver lining. He looks pretty comfortable right now in a bench role. He's getting plays called for him and is delivering at a solid clip. Getting him even more involved would have helped. Other than scoring, Walker didn't do anything to move the needle. 
Grade: B+
Patty Mills
Yeah, Mills going 0-for-5 with two turnovers tells the story. When he wasn't sloppy with the ball, he was missing shots. Add in lack of energy on defense and, yeah, not the greatest. 
Grade: D-
Ruy Gay
Gay was slow on defense and 0-for-6 on offense. His shooting has been hot-or-cold since returning. His defense has been reliably slow, though. 
Grade: D-
Devin Vassell
Vassell wasn't involved on offense. On D, he had a couple of positive plays but also a few blunders. 
Grade: C
Luka Samanic
Pop was waving the white flag by the middle of the third quarter. When Samanic first entered around that time, his defense was unspeakably terrible. He was also really bad on the offensive end too. Thankfully, he eventually settled in later in garbage time and started playing basketball once again. 
Grade: C-
Tre Jones
Eh, not too bad from Jones. He flashed good court vision and good instincts off of pick-and-roll action. His athleticism at times looks like a liability but at other times he has a sneaky amount of pop. 
Grade: B-
Quinndary Weatherspoon
Weatherspoon got down and dirty at times on defense, which was a positive. Offensively, he didn't really look like he was capable of doing anything. 
Grade: C+
Keita Bates-Diop
Bates-Diop appeared to have suffered a pretty serious pulled hamstring. I'd be surprised if we see him at any point in the next two to three weeks. 
Grade: C
Pop
Pop, you can't start Lyles against one of the best defensive team in the league when DeRozan isn't playing. A frontcourt of Lyles and Poeltl without a top tier playmaker like DeRozan is going to stall the offense. Other than that issue, it's difficult to blame Pop too much for this loss. The bench came in and played even worse. Pop didn't find any buttons to push but there probably weren't any that would have made a difference. Pulling the plug in the third was a good idea considering this was the first game of five games in seven nights.
Grade: C-
Next Up
The Spurs won't have to stew about this game too long. Tomorrow night, their five-game road trip continues against the Detroit Pistons.