Grades: San Antonio Spurs vs. Philadelphia 76ers – Game #63
Playing without Dejounte Murray (knee soreness), DeMar DeRozan (rest), Jakob Poeltl (rest), Derrick White (sprained ankle) and Trey Lyles (exiled), the San Antonio Spurs almost pulled out a miraculous win over the Philadelphia 76ers on Sunday night. The Spurs forced an overtime session but ended up losing on a buzzer-beating tip-in by Ben Simmons.
Sure, the Sixers obviously struggled with focus at times going against a short-handed Spurs team but the good guys deserve a lot of credit for their fight. They had no business being in this game against one of the most talented teams in the league playing at full strength — and yet San Antonio almost stole a win by staying composed and competing at a high level.
Key Stretch
Beginning midway through the fourth quarter, the Spurs held the Sixers scoreless for four minutes by playing swarming defense. That stretch allowed San Antonio to come back and tie the game after trailing by as many as 12 points in the final period.
Key Statistic
The Spurs gave themselves a chance by following the gameplan and playing great transition defense. The Sixers are third in the league in fast break points scored per game at 15.2 points. Tonight, San Antonio held Philadelphia to two fast break points.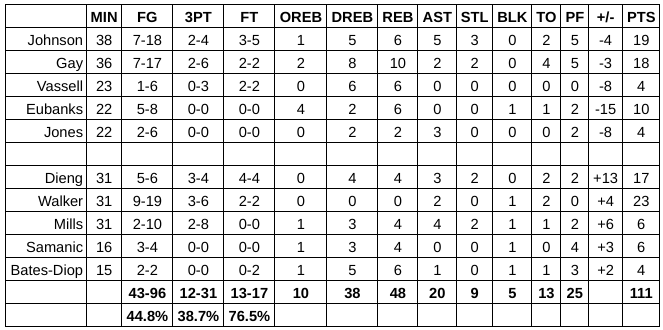 Spurs vs. 76ers: Final Grades
Keldon Johnson
It wasn't always aesthetically-pleasing but Johnson played really hard and his unrelenting passion kept the Spurs in it. Offensively, the lack of spacing dried up his driving lanes but he still found ways to score. His outside shooting and passing continue to look better and better. Defensively, he gave it his all and was more effective than usual on that end. 
Grade: B+
Rudy Gay
Gay started the game to give the Spurs a bit of experience — and his presence was felt. Defensively, I thought this was one of his better games of the season. He efforted out on the perimeter and banged bodies and rebounded in the paint. Offensively, he had some head-scratching turnovers but his ability to turn nothing into something was really useful on this night. Like Johnson, Gay had a handful of ugly moments but his effort paved over a lot of the miscues. 
Grade: B+
Devin Vassell
Vassell's offense continues to be a struggle since moving into the starting lineup. Against the Sixers, he missed a few open shots early and then let those misses get into his head. Eventually, he was hesitant to do anything on that end. Defensively, I thought Vassell was good. He wasn't spectacular and gave up a few three-pointers but at the very least he was much more comfortable on that end. 
Grade: C-
Drew Eubanks
Eubanks got off to a forgettable start. Joel Embiid was manhandling him and Eubanks wasn't showing any signs of life. I won't say Eubanks was intimidated by Embiid — but it looked like it. To Eubanks' credit, he shook off his slow start and played much better during his subsequent trips onto the court. His finishing and his physicality was eventually felt. 
Grade: C
Tre Jones
The good: Jones took care of the ball and reliably ran sets and made correct passes. Defensively, he picked up early and scrapped. The bad: He's going to have to turn the volume up a lot more on offense to make it in the NBA. Obviously, it's early in his career but there were multiple times when he was open and didn't even look toward the rim. Jones played like Jacque Vaughn 2.0 … which, unfortunately, won't be enough for him to stick in the league in the 2020s. 
Grade: C+
Gorgui Dieng
If there's one player most responsible for the Spurs almost getting this win, that player would have to be Dieng. With Eubanks coming out of the gates looking so shaky, the Spurs appeared like they were going to get blown off the court. But Dieng had a different idea. Offensively, his three-point shooting spread the floor — but that wasn't all he did. His patience in the lane was impressive and he flashed quite a bit of court-vision. Defensively, he was strong in the post, quick to help and hustled non-stop. Big picture-wise, it's notable that Dieng still moves rather well on both ends. Add in his three-point shooting and he should be able to extend his NBA career at least a couple more seasons. 
Grade: A
Lonnie Walker IV
The good: When Walker was good, he was really good. His athleticism in the open court was jaw-dropping. He was far and away the most athletic player on the court. Add in a confident jumper and an ability to limit mistakes and Walker was San Antonio's best weapon for stretches at a time. Defensively, his concentration and rotations were better than usual. The bad: Walker seemed to run out of gas. In his last 16 minutes of playing time, he was 0-for-4 from the field. When the coaching staff drew up plays for Walker down the stretch, he deferred. I'll give him the benefit of the doubt and assume his tank was on empty.
Grade: A-
Patty Mills
The good: Mills' pushing of the pace was better. He scratched and clawed a bit on defense. His overall electricity level was higher than it has usually been since the All-Star break. The bad: Mills' shot-selection was frustratingly bad. His overall basketball IQ was very suspect this evening. It seemed like when the Sixers needed a big stop, it was Mills delivering that stop on a silver platter. 
Grade: C-
Luka Samanic
Samanic is another player who was terrible in his first stint. Dwight Howard knocked him around and the Croatian didn't look interested in standing up for himself. He was also pathetic on the boards during his first stint. Thankfully, Samanic got better and better as the game progressed. By the second half, the fear in his eyes was gone. The second-year forward ended up dishing out the damage during his final stint. 
Grade: B-
Keita Bates-Diop
Bates-Diop had another rock-solid outing. He knows how to play the game and seems to always be in the right spot. He's not that much of an athlete but his length allows him to compensate. If he can shoot it straight enough, he still has a chance to become a reliable backup in the NBA as an eighth or ninth man. 
Grade: B
Pop
Wow, Pop's coaching was outstanding tonight. From his rotations to his Xs and Os, and from his jumping on players for feeble play to encouraging his players to keep fighting, Pop showed why he's a first ballot Hall of Famer if he ever allows the Hall of Fame to consider his case. Not only were the Spurs short-handed, they had a few players who looked downright scared going up against a much more talented team. Instead of giving up, Pop mixed and matched the players, schemes and strategies masterfully and almost stole one. 
Grade: A+
Next Up
For these Spurs, home is where the road is. That's why their forthcoming four-game road trip is not bad news. The trip begins Monday night against the Utah Jazz.