Grades: San Antonio Spurs vs. Phoenix Suns – Game #25
Playing in Mexico City, the San Antonio Spurs set an NBA record by participating in a fourth straight game that featured an overtime period. This time, the Spurs were able to escape with a 121-119 victory over the Phoenix Suns. The win improved San Antonio to 10-15 on the season, while the Suns — who were playing without star guard Devin Booker — fell to 11-14.
The Spurs, going with their original starting lineup this season of Dejounte Murray, Bryn Forbes, DeMar DeRozan, Trey Lyles and LaMarcus Aldridge, got off to a good start. At the end of the first quarter, the good guys were up 28-18.
Things went south in the second period, as the Suns began the quarter on a 14-2 run to take the lead. Phoenix was able to hold onto their momentum and took a 48-44 advantage into halftime.
The Spurs started the second half poorly and fell into a double-digit deficit. But before the end of the third quarter, San Antonio had trimmed Phoenix's lead to 80-78.
The Spurs came out playing really well in the fourth quarter, scoring the first eight points. The Silver and Black led by six points with two minutes remaining but couldn't hold onto their lead. With 17 seconds remaining, Aldridge missed a free throw that could have put the Spurs up by four points. Instead, the Suns got the rebound and hit a three-pointer to send the game into overtime.
The overtime session featured a lot of hectic back-and-forth action. With the Spurs trailing by two points with five second remaining, DeRozan tossed in a blind runner while getting fouled. He missed the free throw but the Spurs retained possession on an out of bounds call that went to video replay. Patty Mills got free on a perfectly executed play and hit a jumper with 0.4 remaining to break the tie. Game over.
All in all, this was not anyone's definition of a good win. The Suns are a mediocre team who were playing without their best player. The Spurs should have been somewhat desperate after dropping that forgettable contest to the Cleveland Cavaliers — but they just barely did enough to escape Mexico with a victory.
It was better than another demoralizing loss but San Antonio still has a huge amount of room for improvement in just about every aspect of the game.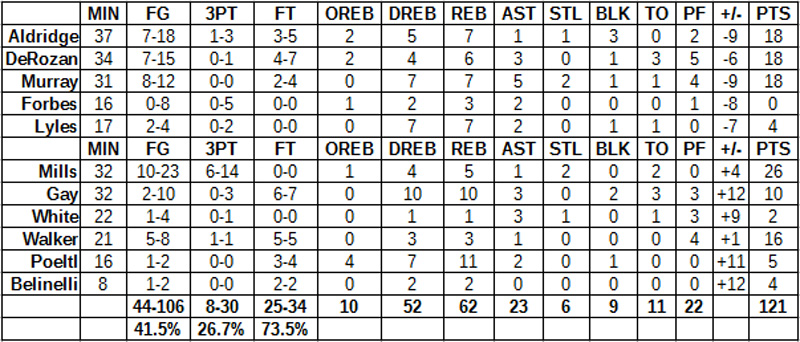 Spurs vs. Suns – Final Grades
LaMarcus Aldridge
LaMarcus Aldridge was really bad for a lot of this game. Until the fourth quarter when he checked in with 8:52 remaining, he had a total of four points and was playing a lot of lazy defense. Thankfully, he had a strong final kick. Aldridge had 14 points in his final 14 minutes, played better defense and was stronger on the glass. Overall, though, the Spurs really need better and more consistent play from Aldridge if they are going to get back on the winning track. These spurts of satisfactory play aren't going to get it done.
Grade: D+
DeMar DeRozan
It's tough to be too thrilled with DeMar DeRozan. He scored 18 points on 18 shots, matched his three assists with three turnovers and didn't play good defense. He also did a lot of gagging during crunch time. After missing a free throw with the game tied at the 3:38 mark of the fourth quarter, DeRozan missed his final three shots of regulation. In overtime, he didn't do much until he tossed in a miraculous runner — only to miss another clutch free throw. (He's now 9-for-20 at the line during clutch situations this season. Huh?) Yes, he technically hit a key shot but DeRozan didn't do a whole lot else right tonight. 
Grade: D+
Dejounte Murray
Back in the starting saddle once again, I was happy with what Dejounte Murray provided. He shot well (8-for-12 from the floor), made a decent amount of plays (team-high five assists) and limited his mistakes (one turnover). His defense was really disruptive and he did well on the boards. It was still ugly at times for Murray but it was heartening to see him look more confident. He has a lot to work on but this was a step in the right direction. 
Grade: B+
Bryn Forbes
Ouch. Bryn Forbes played really bad defense and was 0-for-8 from the floor and 0-for-5 from three-point land in 16 minutes. It's getting extremely difficult to justify Forbes' placement in the starting lineup. When he's a liability on defense and a force for evil on offense, it brings the whole team down with him. The only thing that kept him from posting an F tonight was the fact that he authored a couple of good passes. 
Grade: F+
Trey Lyles
Trey Lyles had his ups and downs in his return to the starting lineup. At first, he was too passive offensively. Then, after Pop presumably jumped on him to be more aggressive, Lyles started to do too much. The good news is he rebounded well, passed the ball well and was more active than usual on defense. 
Grade: B-
Patty Mills
Generally speaking, the Spurs don't want Patty Mills to shoot 23 times … but on this night, it was what the doctor ordered. On a team that was asleep at the wheel, Mills was the shot of adrenaline San Antonio needed. Without his energy, force and competitive spirit, the Spurs would have gotten blown out of the country by the Suns sans Booker, which would have been a terrible look. Instead, Mills brought the mojo and did more than simply hit the game-winning jumper. He was all over the court on both ends and did what it took to get the job done, whether it was chase his man around a series of screens or nail one of his many clutch jumpers. Good on ya, Mr. Mills. 
Grade: A
Rudy Gay
Rudy Gay was really bad coming out of the gates. He looked like an old man trying to keep up with his rambunctious grandchildren. When he wasn't trying to do too much, he was fumbling the ball away or making a bad decision. The second half, Gay was better. He got to the free throw line seven times, which really helped his efficiency. Gay was also moving better defensively and supplied not only glass work but even a surprising amount of rim protection. That said, while it was helpful that Gay played better as the game went along, it's beginning to be obvious that he has lost a step or two from last season.
Grade: C-
Derrick White
Back to a bench role, Derrick White … didn't do a whole lot. He made a few heady passes on offense and had one nice finish in the lane. On defense, he had a couple stingy possessions. But overall, White was too happy to be in the shadows. He's too talented to happily play the fifth man role on offense and not make plays on defense unless his man is involved in the play. 
Grade: C-
Lonnie Walker IV
Lonnie Walker IV had another productive evening at the office. He was a terror in the open court and whenever he got a lane to the rim. He finished well and his aggressive style earned him five free throw attempts. Add in another three-pointer and some quality defense at times and he's really doing a good job of earning a permanent spot in the rotation. He did have a three or four blown plays on defense tonight — but that was the only aspect that stopped him from having an even greater impact. In the fourth quarter, Walker left the game with some sort of knee or leg injury and went to the locker room. He was tweeting after the game so hopefully he avoided any type of major injury.  
Grade: B+
Jakob Poeltl
I've been critical of Jakob Poeltl's rebounding effort a lot of this season but he was excellent in the regard tonight — pulling down 11 rebounds in 16 minutes. He also protected the rim well, exhibited awareness on offense and generally played hard. Truth be told, the Spurs would have had an easier time of it had the Austrian played more minutes.
Grade: B+
Marco Belinelli
Marco Belinelli knocked down a shot and was again pretty good on defense. Ever since he lost his spot in the rotation, his effort on D has skyrocketed. It's unfortunate that it took benching to wake him up on that end but for the time being he's not even that much of a liability on defense.
Grade: B
Pop
I mostly agreed with Pop's moves. I like him going back to the starting lineup that I didn't think he should have changed in the first place. Specifically, leaning on Murray is good for his growth as a player and for this team's ceiling. Pop also was playing Walker a lot of minutes until he got hurt. In fact, it looked like Walker was in his closing lineup. Pop even played Murray and White together — this time, for more than two minutes … almost two and a half minutes! Until the overtime period, Pop was on track to cut Aldridge's and DeRozan's minutes like I've been pleading. All that said, Pop deserves blame for this team almost losing to a Booker-less Suns team. Escaping by the skin of their teeth is better than losing — but it doesn't bode well for what is to come.
Grade: B+
Up Next for the Spurs
On Monday night, the Spurs will head to Houston to take on a Rockets team who wants revenge after their ill-fated protest was denied. Let's hope the Spurs continue their pattern of playing better against better teams. Let's also hope that Walker will be able to play.