Grades: San Antonio Spurs at Phoenix Suns – Game #55
Woah. The San Antonio Spurs went into Phoenix as major underdogs and, as the good guys have a habit of doing over the last few decades, they left with a shocking 111-85 victory over the Suns. In what has to be the best performance of the season, the Spurs grabbed an early lead and never relinquished an inch. The loss snapped Phoenix's ten-game home winning streak and their four-game winning streak overall. 
San Antonio was playing without the resting DeMar DeRozan, Patty Mills and Jakob Poeltl. This was also the second night of a back-to-back and their fifth game in seven nights. None of that mattered on this glorious evening.
The $64,000 question is whether the absences of DeRozan, Mills and Poeltl led to this great game or if it was just a coincidence. Honestly, it's tough to say. On one hand, the Suns missed a lot of makeable shots and the Spurs were seemingly burying every open look.
But on the other hand, DeRozan being out seemed to allow others to get more touches and find a rhythm easier. Mills being out allowed the bench to share the ball more. The centers who filled in for Poeltl played great. Defensively, with DeRozan and Mills not on the court, the Spurs were obviously longer, more athletic and were better able to run the Suns off of the three-point line while simultaneously recovering quickly to the paint when needed. 
I think it's safe to say this was an abnormally outstanding performance by the Spurs — but the difference in play was stark enough that it's something to keep an eye on if there's more resting in the home stretch of the season. 
Key Stretch
With four minutes remaining in the first quarter, the game was tied, 17-17. The Spurs went on a 17-4 run over the next five and a half minutes to get out in the front. Amazingly, San Antonio was never truly threatened again.
Key Statistic
This entire season, the Suns had scored less than 100 points only once: back on Jan. 27th when they scored 97 points in a loss. Tonight, the Spurs held Phoenix to 85 points.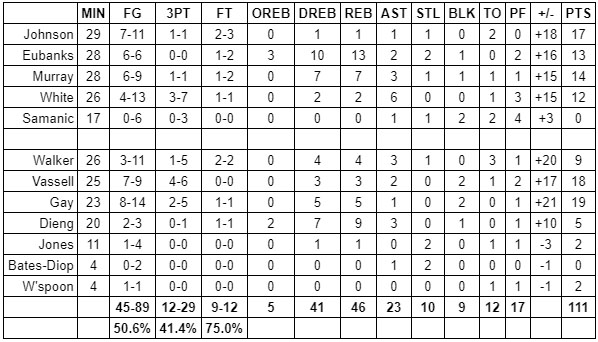 Spurs at Suns: Final Grades
Keldon Johnson
Johnson's offensive play was much more dynamic than usual. He spread his wings on that end and took flight. From midrange shots off the bounce to floaters in the lane, and from a pull-up three-pointer to being the orchestrator in pick-and-roll sets, Johnson shined. Hopefully this was a glimpse into his future because he was much more than a kamikaze pilot tonight. Defensively, he didn't rebound, his transition D was bad and he had some mistakes when switching, however he mitigated some of that by playing physical in the paint and throwing his body around. 
Grade: B+
Drew Eubanks
Well, wow. Eubanks went from almost losing his spot in the rotation permanently to becoming someone who can't be ignored. In his last two games, he's now a perfect 13-for-13 from the field — and it's not all just power dunks in the paint. He's showing off soft touch, good hands and a brimming amount of confidence. Eubanks is setting monster screens and is rolling to the hoop with purpose. On defense, he's not giving up an inch and is instead usually the one initiating contact. He's rebounding with ferocity and he's even keeping his hands in passing lanes. This is the best basketball Eubanks has ever played in his life. 
Grade: A+
Dejounte Murray
Strong game from Murray. He picked his spots really well on offense. Whenever the Spurs seemed to lose the momentum, Murray would call his own number to reestablish a rhythm. He also took care of the ball and pushed the pace well. Defensively, he hounded Chris Paul extremely well and was a definite plus on the glass. 
Grade: A-
Derrick White
Offensively, White shot three-pointers without hesitation, which helped unlock the spacing. His drives were rarely fruitful scoring-wise but his passing was really good. White had the ball a lot more than usual with DeRozan out and, as a result, he looked a lot more comfortable. The best part of White's night was actually his defense on Devin Booker. He was the man most responsible for holding Booker to 15 points on 6-for-18 shooting from the field. 
Grade: B+
Luka Samanic
Samanic got the start but didn't have a night to remember. At first, he was trying to do too much on offense. He wasn't sharing the ball well and got sloppy. When the bench came in and played so well, there really wasn't a reason for the coaching staff to go back to him. That said, Samanic did flash some positives. Defensively, his individual defense was solid and his help defense was better than we've seen previously. On offense, once he stopped trying to do so much, he flashed an impressive amount of court vision. 
Grade: C
Lonnie Walker IV
The good: Walker's speed was a game-changer. He got out and ran, which opened up lanes for everyone. His passing was extra slick and I liked his aggressiveness shooting-wise, even though he didn't shoot well. Defensively, he had some errors here and there but the effort was consistent and he reliably skied for rebounds. 
Grade: B
Devin Vassell
Welcome back, Devin Vassell. After obviously hitting the rookie wall in recent weeks and playing with dead legs, Vassell was lively from his opening minutes this evening and played wonderfully. Let's start with his defense. His timing, length, anticipation and competitiveness allowed him to thrive on that end. He was seemingly always in the right spot. Offensively, Vassell's shot looked great. He was getting better elevation and the ball was leaving his fingers crisply. His ability to score off the bounce is impressive and opens the door to him possibly being much more than a 3-and-D prospect down the line. 
Grade: A+
Rudy Gay
Gay was able to return to the role he thrives in the most: being the focal point of the bench unit's attack. Instead of taking turns with Mills, Gay was the go-to pressure release valve — and he produced. He took smart shots and remained within the offense. Defensively, the Spurs were able to hide Gay more and keep him close to the basket. Due to that, he was able to use his length to make plays on the defensive end and rarely had to swim in the deep water out on the perimeter. 
Grade: A
Gorgui Dieng
This is what the Spurs had in mind when they signed Dieng. Defensively, he was stout. He was mobile enough to switch out on the perimeter. Not only could he switch, he used his length to disrupt ball-handlers. On the interior, he held his ground well and rebounded his area. Offensively, he made good decisions and exhibited a helpful amount of know-how. He will still get lost in the sets at times but Dieng has a decent enough feel for the game that he knows how to adjust on the fly. 
Grade: A-
Tre Jones
The good: Jones played very good defense. He was hustling from the first moment he hit the hardwood and never stopped hustling. He also played with a grittiness that allowed him to switch onto bigger players. Offensively, his natural point guard skills were on display. Jones knows how to run the team and where the ball needs to go. If he can score enough and shoot straight enough, it's already clear that he's an NBA player. 
Grade: B+
Pop
So, yeah, I'm not sure if Pop stumbled onto anything that he can use going forward but this was at the very least a fun night. Getting Vassell rest recently to help him battle his way through the rookie wall paid dividends tonight. Once Vassell got rolling, Pop was all-in and even started calling plays for the rookie. Calling plays for Walker and Johnson was also great to see. His belief in Eubanks over the last week or so was something else that was actively paying dividends against the Suns. 
Grade: A
Next Up
The Spurs get Sunday off before traveling to Indiana to play the Pacers on Monday. We'll see if they can keep the good times rolling.