Grades: San Antonio Spurs vs. Phoenix Suns – Game #44
The San Antonio Spurs (20-24) lost a costly game on Friday night at home against the Phoenix Suns (19-26). The 103-99 loss dropped the Spurs to ninth in the Western Conference and allowed the tenth seeded Suns to draw within a game and a half. San Antonio had a chance to help their chances of making the playoffs … but dropped the ball.
The Spurs came out of the gates playing well. Their defense was active and their offense was aggressive. At the end of the period, the Silver and Black held a 28-22 lead.
A couple minutes into the second quarter, the Spurs had pushed their advantage to eight points, 35-27. Unfortunately, that's when things went to basketball hell for the good guys. The offense became stagnant, the defense became porous and the Suns went on an 18-0 run over the next five minutes. Phoenix went up by as many as 15 points before the Spurs found their footing enough to make it 56-44 at halftime.
In the third, the Spurs were down double-digits for much of the first half of the quarter. In the period's final six minutes, the Spurs were able to grab some momentum. San Antonio got within one point before Phoenix fattened their lead to 78-72 heading into the final stanza.
The fourth quarter was a frustrating one for the Spurs, as they kept it close but could never get over the hump. San Antonio got within a single point what felt like a half dozen times … only for the Suns to respond or for the Spurs to miss a shot that could have turned the tide. Add in a few more missed three-pointers down the stretch and the Spurs were left to leave the arena with a disappointing loss.
Overall, the Spurs played okay outside of that stretch in the second quarter and outside of their 5-for-25 showing from three-point territory. This wasn't one of those complete and utter meltdowns like the Spurs experienced against the Hawks — but, then again, the focus could have been better.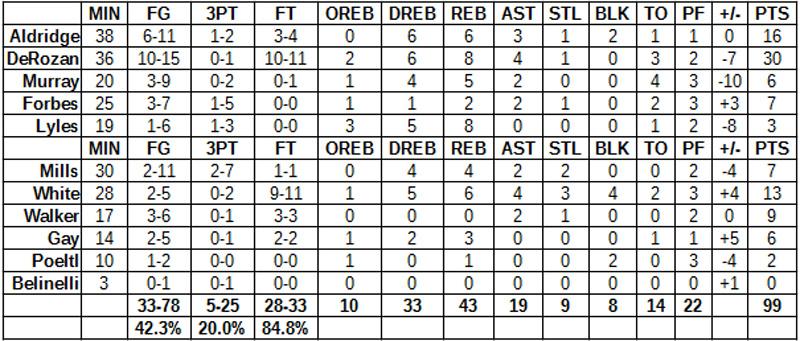 Spurs vs. Suns – Final Grades
LaMarcus Aldridge
Defensively, I thought LaMarcus Aldridge was relatively stout. His post defense was strong, he moved his feet decently well and he was boxing out most of the time. Offensively, Aldridge passed up a few three-pointers he needs to take and did next to nothing in the fourth quarter. That said, he was effective when factoring in his touches were more limited than usual. Aldridge's passing was also better than normal.
Grade: B-
DeMar DeRozan
It wasn't DeMar DeRozan's prettiest outing but he did a lot of good. Scoring 30 points on 15 shots is great efficiency. He was driving hard, fighting his way to the paint and didn't back down from contact. That mindset is apparent in both his 10-for-15 shooting from the field and the fact that he got to the free throw line 11 times. Playmaking-wise, he wasn't as good as he's been recently. Some of that was because the Suns weren't sending as much help as they did last game — but DeRozan also missed passes he needs to make. Defensively, he was about average. DeRozan was applying more pressure but he wasn't moving his feet well enough to keep players in front of him. 
Grade: A-
Dejounte Murray
The good: Dejounte Murray had a handful of strong defensive possessions. The bad: Offensively, Murray wasn't shooting well, finishing well or creating for others. Whatever he tried to do usually ended up with a poor outcoming. His passing was imprecise and, to make matters worse, he was second-guessing himself when trying to make plays. Defensively, his rebounding wasn't as energetic as usual and he had his share of possessions where he died on screens and wasn't fighting hard enough to get around the screen in a timely manner. 
Grade: D
Bryn Forbes
In the fourth quarter, Bryn Forbes missed some of the most important shots in the game. The coaching staff drew up multiple plays for him but he was unable to produce. On offense, Forbes was decent before his poor finish. Nothing special; nothing too terrible. Defensively, he was weak throughout, as we've come to expect. 
Grade: D+
Trey Lyles
Trey Lyles was a bit more trigger happy than we've become accustomed to seeing in San Antonio. Unfortunately, the happiness of his trigger didn't result in many positives. He hit only one of his six attempts, with many of his five misses not even being close. Defensively, he was overpowered or a step slow most of the time. His one bright spot was on the boards, where he did a more than adequate job. 
Grade: D+
Patty Mills
Patty Mills was playing pretty hard but his shooting slump extended to a third game. In those three games, Mills is shooting 24.0% from the field and 21.1% from three-point range. Like Forbes, Mills also missed a few shots that could have really made a difference. Beyond his 2-for-11 shooting from the floor, Mills playmaking was decent and he was energetic on defense — although not too effective. He also took better care of the ball than most of the guards on the team.
Grade: C-
Derrick White
Derrick White's hot streak continues on. Though he was only 2-for-5 from the floor, his 9-for-11 showing at the line more than made up for it. He was driving the lane and doing a really good job of creating contact. White's playmaking was impressive; he dished off a number of crafty passes. Defensively, White was frenetic, totalling five boards, three steals and four blocks. Though White made a few mistakes here and there, this was one of the first games this season where we saw glimpses of his lock-down potential on that end. 
Grade: A-
Lonnie Walker IV
Lonnie Walker IV did a lot of good in his 17 minutes. Offensively, he was sufficiently aggressive. He looked to create shots for himself and others. His driving to the hoop was more physical than usual and he limited his mistakes. Defensively, he was solid. His one-on-one defense was strong (he was probably the best defender against Devin Booker, who ended up with 35 points) and his knowledge of the team-defense philosophies are trending in the right direction.
Grade: B
Rudy Gay
In his second game back after missing three games with an illness, Rudy Gay looked better. That said, he is still not all the way back. He looked particularly lead-footed on a few possessions and he also was holding the ball too long most of the night. Defensively, he wasn't much to write home about. He didn't do much on the boards but his positioning was usually good.
Grade: C
Jakob Poeltl
This was another game where Jakob Poeltl was terrible on the defensive boards. His lack of boxing out and his unwillingness to go up for defensive boards was frustrating. The Suns got more offensive boards than the Spurs got defensive boards when Poeltl was on the court — and a lot of that was due to Poeltl not competing hard enough in that facet of the game. Beyond that weakness, Poeltl wasn't all bad. His shot blocking and rim protection impressed, although it was as if his hands were made of stone on offense, as passes and loose balls kept bouncing off his mitts. 
Grade: C-
Marco Belinelli
Marco Belinelli only got three minutes tonight. Maybe he will fall back out of the rotation as Gay returns to health. We'll see. 
Grade: Inc.
Pop
Pop gambled by using Mills and Forbes to close the game. The hope was that their shooting would be able to make up for their weaknesses, particularly on defense. The gamble failed as neither Mills nor Forbes could hit critical shots. Other than that gamble gone wrong, I don't have many issues with how Pop coached the game — although Aldridge and DeRozan could have been given a few more minutes of rest. I liked that Belinelli was back out of the rotation and that White got extended minutes.  
Grade: C
Up Next for the Spurs
The Spurs will look to bounce back on Sunday afternoon against the Toronto Raptors. San Antonio was able to beat the defending NBA champions up in Toronto a couple weeks ago. Let's hope the Spurs can make history repeat.