Grades: San Antonio Spurs vs. Portland Trail Blazers – Game #77
In a game that wasn't as close as the final score indicates, the San Antonio Spurs strolled to a 130-111 victory over the Portland Trail Blazers. Leading by as many as 31 points against an extremely short-handed Blazers squad that is obviously not trying to win games at this point of the season, the Spurs were never threatened after digging themselves out of an 8-0 hole to begin the game.
With the win, the Spurs are 32-45 on the season. Combined with the Los Angeles Lakers losing their fifth straight game on Friday night, San Antonio now has a one-game lead on L.A. in the race for the final spot in the play-in tournament. The Spurs also hold the tie-breaker if the two teams finish the season with the same record.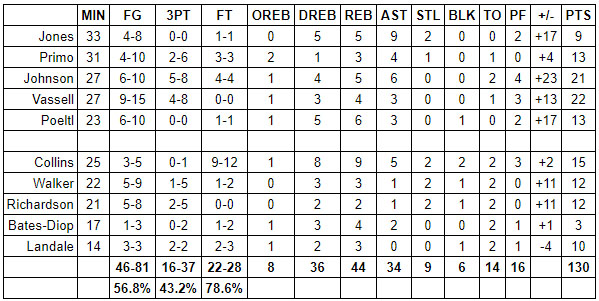 Spurs vs. Blazers: Final Grades
Tre Jones
Jones exhibited impressive court vision — from fullcourt passes to finds off of penetration. His defense was solid throughout. Scoring-wise, he didn't look at the rim much and passed up perimeter jumpers.
Grade: B+
Josh Primo
Primo played a solid all-around game. He had an impressive dunk while being fouled and knocked down a pair of three-pointers. His decision-making was sound in most aspects of the game.
Grade: B+
Keldon Johnson
Looking like the best player on the court for a lot of contest, Johnson dropped 5-of-8 three-pointers. He let it fly early and often. His vision was better than usual and he flashed some playmaking ability on the move.
Grade: A
Devin Vassell
Vassell led the Spurs with 22 points in 27 minutes. In addition to his threes (4-for-8), he also scored off the dribble and on drives to the hoop. His defense was also really stout for stretches.
Grade: A
Jakob Poeltl
Poeltl didn't make many mistakes during his 23 minutes. He looked to score enough to always be a threat and he made the right passes consistently. Defensively, he was a presence in the lane all night and was strong on the boards.
Grade: A-
Zach Collins
Collins' physicality, athleticism and fight in the paint keyed his performance and directly led to his 12 free throw attempts. When he's throwing his body around, he has the length and skill to produce. His passing and defense were also really good.
Grade: A
Lonnie Walker IV
Although he only scored 12 points, Walker's points were extremely loud. He had a few highlight finishes at the rim and he brought a palpable amount of energy to the court.
Grade: A-
Josh Richardson
Richardson took smart shots, played tough defense and continues to help the team with his veteran savviness. As long as he continues knocking down shots, he's going to be a valuable piece to this team.
Grade: A-
Keita Bates-Diop
Bates-Diop wasn't involved much on either end. He wasn't actively hurting the team but he also wasn't providing much help.
Grade: C+
Jock Landale
Playing power forward, Landale did well. His three-point shooting helped spread the court for the bench unit. His defense was iffy out on the perimeter but the effort was there.
Grade: B+