Grades: San Antonio Spurs at Portland Trail Blazers – Game #14
The Spurs Antonio Spurs continued their great play on the road with an emphatic 125-104 victory over the Portland Trail Blazers. The Spurs are now 6-2 on the road and both the Spurs and the Blazers have an overall record of 8-6.
The Spurs outscored the Blazers 38-22 in the fourth quarter. The 21-point win is San Antonio's largest margin of victory of the season.
Key Stretch
The good guys led by double-digits in the third quarter before hitting a lull and allowing the Blazers to capture an 80-78 advantage with two and a half minutes remaining in the period. But instead of panicking, the Spurs responded right away by outsourcing the Blazers 30-11 in the game's next eight minutes. By the middle of the fourth, S.A. had all but wrapped up the win.
Key Statistic
The passing for the Spurs was much better than it has been as of late and the end result was 33 assists. Also worthy of note: the Spurs had 12 offensive rebounds even though they shot 53.3% from the field.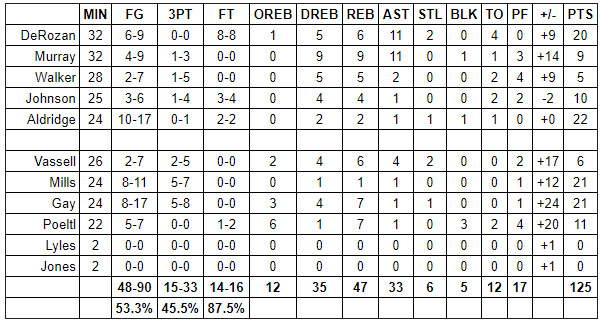 Spurs at Blazers: Final Grades
DeMar DeRozan
DeRozan's play since his return to the lineup had been uneven. First he was too passive, then he was too ball-dominant. This afternoon, he found a perfect balance. Early on, his playmaking skills were on full display. He was running pick-and-rolls efficiently and finished the first period with six assists. While he remained a lethal playmaker throughout, he was also deadly when he looked to score. His physicality led directly to eight free throw attempts. All in all, when DeRozan plays with this type of balance, he's an extremely valuable offensive engine that makes everything go.
Grade: A
Dejounte Murray
I thought Murray played really, really well. Offensively, he was in total control. His decision-making was excellent and his court vision was impressive. He finished the game with 11 assists and only one turnover. And it was even better than it appears at first blush because six of his assists resulted in three-pointers. Beyond his passing, his pushing of the pace was helpful and he was able to break down the defense repeatedly. On the other end, he defended Damian Lillard well, rotated with precision and finished off possessions by ripping down contested boards. Great effort overall by Murray.
Grade: A
Lonnie Walker IV
Offensively, the first three quarters were a real struggle for Walker. He wasn't super involved but he was compounding that problem by being too unsure of everything he was doing. To his credit, when Walker hit the floor in the fourth, he did so with pep in his step and became an asset to the team. He put pressure on the Blazers right away, which helped force the dam to break. Defensively, I wasn't impressed with what he did in the first half. He also had a few unwise fouls and forgot to box out a couple times. His high points on the defensive end came in the second half when he was given the Lillard assignment. Walker wasn't always effective against Lillard but he helped tire him out.
Grade: C
Keldon Johnson
The Spurs were busy exploiting other mismatches so Johnson wasn't needed too much on offense. Then again, he had a few opportunities where he could have attacked but opted not to. Defensively, he was stout on the low post and capable on the perimeter. Rebounding-wise, he wasn't as ferocious as he typically is in that department.
Grade: C
LaMarcus Aldridge
Enes Kanter, who started for the Blazers, is widely regarded as the worst pick-and-pop defender in the NBA. The Spurs took advantage early, often and relentlessly, with Aldridge as the main recipient. He got a ton of open jumpers and he knocked them down. That alone made everything San Antonio wanted to do work smoothly. (Truth be told, the Spurs were probably also motivated to get Aldridge involved after his disappearance last game against the Rockets.) Defensively, he was okay at times but his lack of rebounding wasn't helping matters, especially because he rarely moved outside of the paint.
Grade: A-
Devin Vassell
Vassell was pretty darn impactful for a rookie who was 2-for-7 from the floor. First of all, he probably shot a couple times when he should have passed the ball but, then again, his release point is so high that he can get clean looks even when he's seemingly covered. Beyond his wayward stroke, there was a lot to love. Vassell's defense was excellent — both one-on-one and off the ball. His fast processing speed combined with his high defensive IQ makes him especially menacing in transition and during broken plays. Add in strong rebounding and a handful of savvy passes and The Natural continues to be a difference-maker.
Grade: B
Patty Mills
After cooling off in recent outings, Mills was back to breathing fire against the only other NBA team he has played for. He came out of the gates overflowing with hubris and even with the Blazers paying him extra attention, he was still able to pour in 21 points on 11 shots. No turnovers, a few slick plays made off the dribble and some extreme hustle on defense? Mills played almost as well as he can play.
Grade: A
Rudy Gay
This was two different games for Gay: pre-Gatorade-cooler-kick and post-Gatorade-cooler-kick. Prior to punting the cooler, Gay was 1-for-8 from the floor and just couldn't get anything to drop. His shot-selection wasn't bad but his frustration grew with each miss. Then, once he booted the Gatorade, everything went right for Gay. In his final 12 and a half minutes of action, Gay was 7-for-9 from the court, including 4-of-6 from three-point range. After what was a miserable start for him, his explosive closing push was the main reason why this one turned into a laugher. Defensively, I thought he was above average throughout, even before he got hot.
Grade: B+
Jakob Poeltl
Defrosting status: Complete. Welcome to the 2020-21 season, Jakob. After a slow start to the season, Poeltl is back to playing really good basketball off the bench. This afternoon, his rim protection was excellent and he was also getting a hand up on shooters. On offense, he ran the court hard, set tough screens and was an absolute beast on the offensive glass. A couple of his boards on that end came even with multiple Blazers trying to box him out. When Poeltl plays like this, he's unquestionably one of the best backup centers in the league.
Grade: A-
Pop
There was a lot to like with how Pop coached this game. On offense, the Spurs wanted to take advantage of Kanter — and they did so repeatedly. When Kanter wasn't available to pick on, the Spurs turned their attention to Carmelo Anthony and had similar success. Typically, the Spurs don't attack specific matchups in the regular season — but doing so made scoring a lot easier to come by today. Rotations-wise, I liked what Pop did. He kept DeRozan and Aldridge fresh. He showed confidence in Walker by going back to him in the fourth. He rewarded Vassell's all-around play with bonus minutes. He rode Gay in the fourth when he began to stroke it. Add together the ruthless strategies employed and the rotation-related decisions and this was one of Pop's better coached games of the season.
Grade: A-
Next Up
On Wednesday, the Spurs play the Golden State Warriors. The good news is that they will once again be on the road.