Grades: San Antonio Spurs at Portland Trail Blazers – Game #67
The San Antonio Spurs were able to keep their game against the Portland Trail Blazers competitive for about a quarter and a half. Unfortunately, the Blazers were able to put it on cruise control in the second half on their way to a 124-102 victory.
The issues for the Spurs, who were playing on the second night of a back-to-back, were the same as we've witnessed recently. They looked tired, they couldn't hit perimeter shots, their rebounding was iffy and their defensive intensity was sporadic.
Key Stretch
San Antonio's defense got derailed late in the first half. In a four-minute stretch near the end of the second quarter, the Blazers poured in 16 points. When the smoke cleared, Portland had a ten-point lead heading into intermission.
Key Statistic
The Blazers shot better than the Spurs and also had 18 offensive rebounds. That made it an impossible slog for the good guys. Every player on Portland who played more than five minutes had at least one offensive rebound.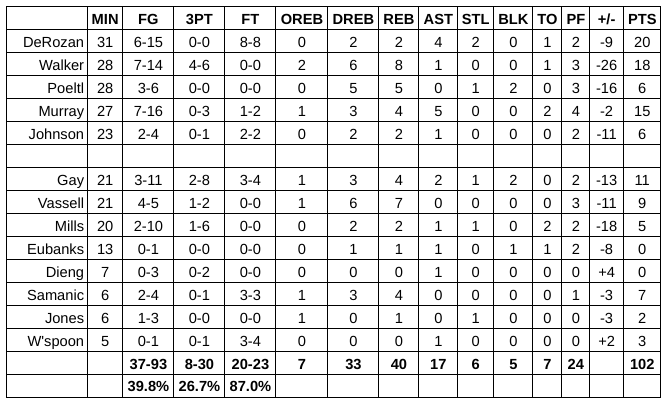 Spurs at Blazers: Final Grades
DeMar DeRozan
Offensively, DeRozan was okay. He missed some makeable shots but he remained reasonably efficient by getting to the free throw line and limiting his turnovers. Where DeRozan struggled was on defense. Both individually and team-wise, he was terrible. The Blazers had too many weapons to always hide DeRozan — and that made his weaknesses on that end of the court painfully obvious for all to see. 
Grade: C
Lonnie Walker IV
The good: Walker was aggressive early and often. His three-point stroke looked smooth. He authored a few crafty drives to the cup. Rebounding-wise, he was much more active than usual. The bad: Walker's defense wasn't good. A game after arguably his best defensive outing of the season, he was undisciplined and unfocused. Offensively, as good as he was, the Spurs needed more from Walker — but he couldn't quite climb to that next echelon of production. 
Grade: B
Jakob Poeltl
I wasn't impressed with Poeltl. Defensively, his pick-and-roll defense was too soft and allowed too many open looks. In the interior, he wasn't holding his ground and was getting manhandled on a consistent basis. His rebounding and boxing out were both subpar. Offensively, Poeltl was average-ish. 
Grade: D+
Dejounte Murray
The good: Murray's activity kept the Spurs above water for a little bit. His effort was there and he was able to make things happen at a decent clip. Defensively, he was far and away the best starter — and it wasn't even close. The bad: Murray hurt the team by getting into early foul trouble. His decision-making wasn't good and led to a lot of inefficient possessions. 
Grade: C
Keldon Johnson
It was a quiet night for Johnson. Defensively, he wasn't bad but he also wasn't anything to write home about. Offensively, his touches were limited. Johnson kept his mistakes to a minimum, had a slick pass and made some strong moves in the paint — but there just wasn't enough action during his time on the court. 
Grade: C+
Rudy Gay
Gay was another one of the few players whose effort wasn't a problem. He was trying. Sadly, his efforting rarely resulted in positives. He shot poorly and his defensive effective seesawed on a possession to possession basis. The good news is his decision-making was fine and he limited his mental mistakes.  
Grade: C+
Devin Vassell
I liked the way Vassell played. He had an extra amount of pep in his step from the get-go. He had a few nifty moves off the dribble, pushed the pace well and kept his confidence high. Defensively, he was rock solid and deserves bonus points for his work on the glass. 
Grade: B+
Patty Mills
Another ugly outing for Mills. For a while, he was doing next to nothing. His offense was non-existent and his defense was bad. He then decided to activate ball-hog mode — but that was even less effective. Mills has been reliably bad on both ends of the court for a remarkably long time now. 
Grade: D-
Drew Eubanks
Poeltl wasn't the only center getting tossed around in the paint. Eubanks is almost always the one dishing out the body blows — but tonight he was on the receiving end. Like Poeltl, he was struggling to hold his position and wasn't doing the team any favors on the boards. Offensively, he was a nonentity.
Grade: D+
Gorgui Dieng
San Antonio's three-headed monster at center was more like a three-headed sheep getting led to the slaughter on this night. Dieng was the third head. To be fair, he didn't play many non-garbage minutes — but he wasn't faring any better than Poeltl on Eubanks when he was out there. 
Grade: D+
Pop
Propping up and trotting out the corpse of Mills is doing nothing but hurting the team. At the very least, Pop needs to rest him until he gets his legs back. Extra minutes to Vassell appeared to be warranted due to his activity level — but that didn't really happen. Pop wasn't coaching like he was serious about winning this game yet still allowed DeRozan to burn 31 minutes worth of gas. That doesn't make sense when looking at the big picture or the smaller picture. The one thing I liked were the plays he called for Walker — we don't see that very often.
Grade: D
Next Up
The Spurs will face a well-rested Milwaukee Bucks on Monday at the AT&T Center. That's yet another game that will require a Herculean effort to capture.