Grades: San Antonio Spurs vs. Portland Trail Blazers – Game #78
For the second straight game, the San Antonio Spurs (33-45) notched a blowout win over the Portland Trail Blazers (27-51) at the AT&T Center. After a 130-111 victory on Friday night, the Spurs sprinted to a 113-92 win two nights later. This game wasn't as easy for San Antonio — until halftime. Heading into the third quarter, the Spurs found themselves in a 56-48 hole. But by outscoring the Blazers 65-36 in the second half, the good guys didn't have to sweat it down the stretch.
With the Los Angeles Lakers losing once again, the Spurs now have a two-game lead for the final Western Conference play-in spot. San Antonio only need two wins in their final four games to eliminate the Lakers from the postseason and guarantee that the Spurs won't finish lower than the 10th seed.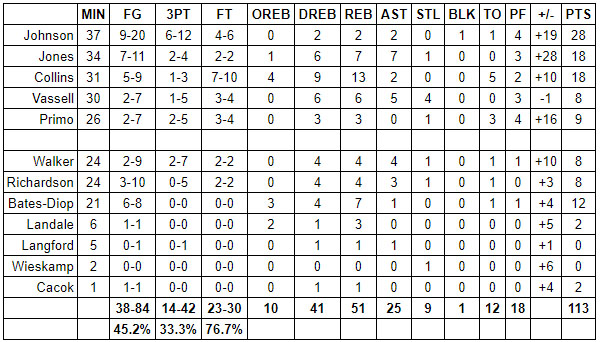 Spurs vs. Blazers: Final Grades
Keldon Johnson
Johnson's overall game wasn't especially smooth but he made up for any shortcomings by draining 6-of-12 three-pointers on his way to a game-high 28 points. The Spurs needed someone to step up on the offensive end and Johnson was able to do so thanks to his long distance marksmanship.
Grade: A-
Tre Jones
Starting in place of Dejounte Murray, Jones had a highly productive game. Finishing with 18 points, seven assists and seven rebounds, his ability to make quick reads and figure out the right pass impressed. But perhaps even more important, he was willing to unleash perimeter jumpers when needed. If Jones can add a jumper, he's unquestionably an NBA player.
Grade: A
Zach Collins
With Jakob Poeltl sitting out, Collins got the start. He produced 18 points and 13 points in 31 minutes. That set his career-high in rebounds, tied his career-high in points and went down as the first double-double of his career. Outside of a few sloppy passes, Collins' all-around activity was promising.
Grade: A-
Devin Vassell
Scoring-wise, Vassell underwhelmed. He didn't shoot it straight and his decisions weren't always crisp. The rest of his outing was fine, though. His defense was tough, he passed the ball well and his activity was high.
Grade: B
Josh Primo
Primo experienced the ups and downs you'd expect from the youngest player in the league. I liked the hustle and toughness he exhibited. His three-point stroke is looking better after a recent cold spell.
Grade: B-
Lonnie Walker IV
This wasn't a particularly notable outing for Walker. On offense, he mostly relied on firing away from deep. On defense, he got lost a few times. That said, his unselfishness was a plus and he kept his head up throughout the struggles.
Grade: C+
Josh Richardson
Richardson came into this game hitting 44.6% of his threes while wearing the silver and black, so his 0-for-5 showing from three-point range was a case of reversion to the mean. Beyond those misses, he was solid. Defensively, he knows where to be and is particularly strong in transition. Offensively, he's a threat from a variety of spots on the court.
Grade: B-
Keita Bates-Diop
Bates-Diop got some minutes at center and held up okay. Spending more time in the paint than usual, he wasn't timid about getting his hands dirty.
Grade: B
Jock Landale
Unfortunately, Landale suffered an apparent foot or ankle injury after landing on an opponent's shoe. He seemed to be in a lot of pain so there's a chance he could be sidelined for a while.
Grade: Inc.
Romeo Langford
Langford got a cameo appearance. During his five minutes, his most impressive play was a dish on the move that led to an assist.
Grade: Inc.
Joe Wieskamp
Wieskamp saw a couple of minutes in garbage time. While he didn't shoot, he had a few quick rotations on defense.
Grade: Inc.
Devontae Cacok
Cacok caught a pass in traffic and finished before the defense could react.
Grade: Inc.