Grades: San Antonio Spurs vs. Portland Trail Blazers – Game #13
In a game that was oddly reminiscent of their first meeting this year, the San Antonio Spurs got blitzed early by the Portland Trail Blazers. Before the fans at the AT&T Center could finish ordering their Whataburger and make it to their seats, the good guys were already in a big hole, as the Blazers went up by 20 points in the first quarter and led it 41-23 heading into the second period.
The Spurs went down by 23 points in the second quarter but then started their comeback. In less than ten minutes, the Spurs went on a 31-12 run to get within four points. At the half, S.A. was down 66-58.
In the third, things started going south once again for the Spurs. After head coach Gregg Popovich got ejected, San Antonio was faced with a 15-point deficit. This time, the Spurs mounted an even more impressive comeback, going on a 42-12 run in less than 11 minutes to go from 15 down to 15 up.
But, unfortunately, that's where the feel-good story ended. The Spurs stumbled their way down the stretch run, making only three of their final 15 shots as the Blazers outscored the Spurs 30-10 in the final eight and a half minutes to post a 121-116 victory.
All told, there was a lot of good but a lot more bad as the Spurs lost their fifth straight game. The Spurs can't put together sustained success on either side of the court right now. As San Antonio embarks on a four-game road trip, things don't look good right now for the Silver and Black.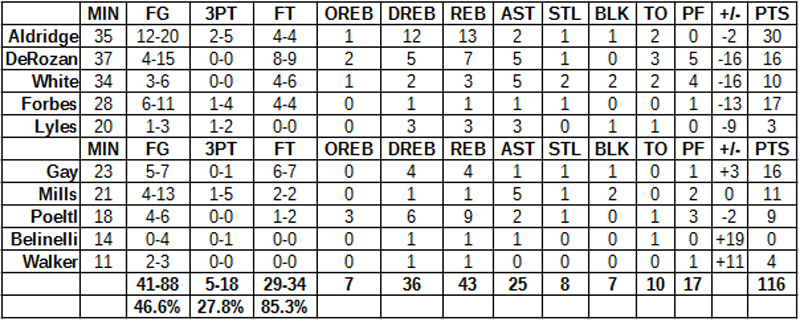 Spurs vs. Trail Blazers – Final Grades
LaMarcus Aldridge
LaMarcus Aldridge was quite productive against his former team. To go along with his 30 points, he pulled down a season-high 13 rebounds — the first time all year he had double-digit boards. Offensively, he got in a rhythm, stayed active, remained ready to shoot and helped give the Spurs something to build around. I can't fault him for anything he did on that end. Defensively, though his rebounding was helpful and his interior defense was adequate, his perimeter defense was missing in action. It's gotten to the point he's not even pretending to help in most pick-and-roll actions.
Grade: A-
DeMar DeRozan
The good: DeMar DeRozan got to the line nine times — and, honestly, probably should have shot at least 4 or 6 more but he had a few unlucky whistles go against him. Despite the lack of calls, he kept driving hard to the rim, which is commendable. He authored a few good passes and his effort level was higher than normal on defense. The bad: Shooting 4-for-15 is not going to get it done. Oddly, it was his finishing that betrayed him tonight, as he was 1-for-8 on shots within six feet of the rim. In the final eight and a half minutes of the game, he was 1-for-5 from the floor. DeRozan also had another costly foul late that ended up in a two-point swing for the Blazers. The bottom line: DeRozan legitimately has had some tough calls go against him during the losing streak but he needs to do a better job of keeping his wits about him. Part of the reason he doesn't get calls is he obviously gets flustered and the refs are wary to reward him when smoke is coming out of his ears.
Grade: C-
Derrick White
Defensively, Derrick White did a lot of good against Damian Lillard, as Lillard shot only 4-for-19 from the field. White was on him tightly and caused many difficult shots. That said, White also committed bad fouls, which played a role in Lillard finishing 13-for-13 at the line. He has to be more disciplined, especially when he's going against a superstar getting superstar calls. Offensively, I was underwhelmed. With Dejounte Murray sitting out the second night of the back-to-back, White had an opportunity to assert himself — but instead it was a rather meager performance on that end. He had a couple nice passes, a couple good shots … but otherwise he didn't look too interested in ever taking control of the situation like we saw him do a lot last year. At the end of last season, White had become a go-to option during crunch time. Tonight, he had one point and one assist in the fourth quarter. 
Grade: C
Bryn Forbes
Offensively, I thought Bryn Forbes was solid. Really solid. A night after not being able to finish, he was 5-for-7 on two-pointers, including a couple that were extremely difficult. My issue with Forbes was his defense. He guessed right a couple times but otherwise was a disaster on that end. CJ McCollum went off for 32 points, with much of the damage coming against an overmatched Forbes. It's getting questionable whether Forbes has the wherewithal to start when you factor in his defensive shortcomings. 
Grade: C
Trey Lyles
Trey Lyles got San Antonio's first bucket on a three-pointer. After that … he didn't do much of anything, despite going up against rookie Nassir Little. Lyles had a couple quality passes but he wasn't rebounding as well as usual and he wasn't providing much value on defense. In terms of Lyles staying in the starting lineup, this was a step in the wrong direction. 
Grade: C-
Rudy Gay
I thought Rudy Gay was stout across the board and his effort level continues to be extremely high. (It's almost as if he's the only player who realizes the Spurs desperately need a win.) On offense, he poured in 16 points on only seven shots, bolstered by his seven free throw attempts. He took good shots, ran the court well and never backed down. On defense, he was actually pretty impressive out on the perimeter and also held down the fort rather well in the paint. All told, Gay deserves more touches right now. When the Spurs really need a bucket, considering how everyone is playing, is there really a better option than giving it to Gay and letting him operate?
Grade: A-
Patty Mills
Patty Mills played with a ton of energy. Defensively, I thought he was actually pretty good. He played denial-style defense like it was 2014 all over again — and it worked out for him, for the most part. Offensively, Mills didn't hesitate. Unfortunately, he was inaccurate so his bulk shooting wasn't helping matters. While he was passing it much better than usual, it's a drain on the efficiency of the team when Mills is shooting it whenever he has a crack of daylight and not hitting much of anything.
Grade: C
Jakob Poeltl
I'm still not thrilled with Jakob Poeltl but at least he has put together back-to-back productive games. Offensively, he's starting to look comfortable; his hands aren't concrete anymore, his touch is returning, he remembered how to roll to the rim and he knows the passes he needs to make. Rebounding-wise, his numbers were there and he was boxing out better than usual. His weakness tonight, though, was just his overall defense. The Blazers were scoring a lot when Poeltl was on the court mostly because he was a step slow to react in a multitude of situations. If he's not going to be stout and more alert defensively, it's difficult to justify increasing his minutes.
Grade: B-
Marco Belinelli
Call in the ol' Matt Bonner special. Despite doing next to nothing right, Marco Belinelli had the best plus-minus on either team with a +19. Why was it so high? Mostly luck and the Blazers not scoring when Belinelli was in the game. It's safe to say Belinelli wasn't the cause of Portland's offensive struggles but, hey, he wasn't a total sieve, at least. Offensively, he bricked four more shots. While I can live with his missed three-pointers, his missed long two-pointers off the dribble are enough to drive a Spurs fan up a wall.
Grade: C-
Lonnie Walker IV
In his opening few defensive possessions, I thought Pop was going to banish Lonnie Walker IV to Siberia after his multiple glaring mistakes. Thankfully, Pop was kind about it and didn't unload on the second-year swingman. In Walker's defense, the Spurs were in a gimmick zone defense during that time so there's a chance he had never played in it before. Once the Spurs went back to man-to-man, I was actually impressed with Walker's defense. He picked up his man early and moved his feet well. Offensively, he had an impressive drive to the rim and his speed and quickness continue to look like they could one day be real weapons on this level.
Grade: C+
Pop
Before his ejection, Pop didn't change a whole lot. His rotation stayed mostly the same while the Spurs were falling into the big hole and climbing their way back out. His biggest alteration to the rotation was starting Poeltl in the second half, which ended up not working out too well. I will dock him points for the Spurs coming out of the gates sans the requisite fire. Does he deserve credit for the 30-point turnaround after he showed emotion and got ejected? Eh, probably not but you never know what will wake up a team. 
Grade: C
Tim Duncan
I was impressed with Duncan's coaching debut. The defensive sets he called made sense, he didn't panic rotations-wise and overall acted like he was well-prepared. It's a long-shot but if Duncan ever wants to coach the Spurs, I wouldn't object. 
Grade: B
Next Up for the Spurs
Talk about bad timing for a road trip. The Spurs now play four straight away from the friendly confines of the Alamo City, beginning on Monday in Dallas against the Mavericks. That is going to be a tough one … but all the Spurs may need is one to snap themselves out of this funk.