Grades: San Antonio Spurs vs. Portland Trail Blazers – Game #3
Well, that was insane. The San Antonio Spurs snuck away from the AT&T Center with a 113-110 victory over the Portland Trail Blazers on Monday night in one of the wildest NBA games of the young season. With the win, the Spurs improved to 3-0 and completed the sweep of their three-game homestand to begin the 2019-20 season.
Early on, the Blazers couldn't miss and the Spurs were stuck in the mud. Portland took a 23-4 lead halfway into the first quarter, thanks largely to sinking all five of their three-point attempts.
Soon thereafter, San Antonio's bench grabbed momentum for the good guys. Slowly but surely, things started going the Spurs way. Portland began shooting blanks, while the Silver and Black regained their footing. By halftime, the Spurs trailed by only six points, 51-45.
In the third quarter, not only did the Spurs complete their comeback, they began to build a big lead of their own. Heading into the fourth, San Antonio was up 11 points, 82-71. Six minutes later, the Spurs had completed a 38-point turnaround by building a 19-point lead of their own. All told, it was a 101-63 run by the good guys over the span of three quarters.
That was when things went from crazy to insane. Instead of conceding the game trailing by 19 points with five and a half minutes remaining, the Blazers mounted a comeback of their own. Powered by Damian Lillard, who scored Portland's final 18 points in a span of less than four minutes, the guests almost clawed all the way back. In fact, Lillard had three three-point attempts in the final 17 seconds that could have tied the game.
Thankfully, the three-pointers rimmed out (just barely) and the Spurs managed to not blow a lead that looked unblowable. Overall, I'm not sure what you take from this game. San Antonio was bad at the beginning, mostly bad at the end but dominated the middle of the contest. Honestly, it's probably best to just appreciate the 3-0 record and move on. The Spurs have some upcoming road games that will test their mettle and show what kind of team this is at this early point of the season.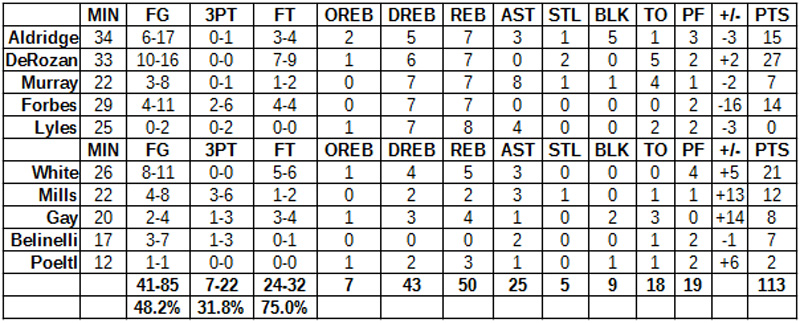 San Antonio Spurs vs. Portland Trail Blazers – Final Grades
LaMarcus Aldridge
Offensively, it was a difficult night at the office for LaMarcus Aldridge (although not as difficult as the 2-for-14 night he had the last time he went against Hassan Whiteside). While Aldridge missed a handful of makeable shots, give Whiteside credit for using his length well and the Blazers credit for bringing energetic double-teams. As has been the case to start the season, Aldridge was holding the ball too long and was slow to read the defense to find open teammates. Defensively, though, this was easily his best showing of the season. His hands were extremely active; Aldridge had five blocks, a steal, and a few other knockaways. Even his help-defense in pick-and-rolls was relatively impressive — and that's usually his weakness at this stage of his career.
Grade: C+
DeMar DeRozan
DeMar DeRozan was much like the Spurs as a whole: bad at the beginning, bad at the end but dominant in the middle. I thought the early struggles of the team were largely his fault, as he broke the offense repeatedly, which didn't allow San Antonio to find a rhythm in the opening minutes. During the aforementioned 101-63 run the Spurs enjoyed, DeRozan was 10-for-13 from the floor and used his size and strength to bully his way to the rim. It was helpful that he was willing to play bully ball because his outside shot was completely broken; DeRozan was 1-for-6 from outside of eight feet and 9-for-10 from seven feet and in. On one hand, he was extremely efficient in scoring 27 points on only 16 shots. On the other hand, DeRozan had no assists, five turnovers, wasn't anything special on the defensive end and missed two free throws at the end that opened the door for the Blazers to complete their improbable comeback.
Grade: C
Dejounte Murray
At first, it looked and felt like Dejounte Murray had a rough night. To be honest, I initially graded him a C-. But after taking a closer look and rewatching some of the action, it's tough to be too hard on Murray, even though he wasn't nearly as spectacular as he was in the first two games. Defensively, this was likely his best game of the season. He was under control and harrassed Lillard relentlessly. In the 20 minutes Lillard was on the court with Murray, the Blazers superstar point guard only had six points and two assists on 2-for-11 shooting. You can't ask for much more from Murray on defense than shutting down Lillard, being a long-limbed pest when helping from off the ball and pounding the defensive glass. Offensively, Murray was definitely out of control too often. He frustratingly turned the ball over a number of times when the Spurs had a clear advantage. But to his credit, Murray was being extremely aggressive, created shots for others and never hung his head, even when things weren't bouncing his way.
Grade: B-
Bryn Forbes
I was underwhelmed with Bryn Forbes tonight. He had a lot of issues and his soft defense against CJ McCollum to begin the game put the Spurs in a hole. He got better on D as the game progressed but still lingered well below average. Offensively, he was a hair too aggressive. Forbes needs to not hesitate, remain confident and shoot open shots but tonight he went 1-on-5 too often. He could have been more patient without being passive. Instead, he added to the tumultuous action on the offensive end. Forbes was legitimately good in the third quarter when he scored 12 of his 14 points in eight minutes on the court. The rest of the game was ugly.
Grade: C-
Trey Lyles
The bizarro world version of Trey Lyles is still here. This guy was known as a gunner his whole career before he landed in San Antonio. Now he is extremely reluctant to even look at the basket. Tonight, he fired away on two wide open looks from three-point land — and missed badly. It's good that he shot the threes but he's going to have to hit a perimeter shot at some point. He has yet to hit a shot from outside of the paint while wearing a silver and black uniform — and I'm counting the preseason and even the open scrimmage. That's worrisome, to say the least. But outside of Lyles lack of shooting, I thought he was decent against Portland. He continues to rebound extremely well as a Spur and his passing has been very good for a big man. Defensively, he exhibited a healthy amount of mobility when switched off onto smaller players, which raises his defensive value. Lyles was soft in the paint and he was bobbling the ball a lot but I don't think he did anything to hurt his status with the team. But then again, he really needs to show he can hit a shot.
Grade: C
Derrick White
On one hand, I want to be critical of Derrick White for his defensive play on Lillard. Part of it was White's fault for being too upright and getting blown by off the dribble repeatedly. But, really, a lot of it was Lillard simply catching fire. When Lillard gets going, it's difficult for any mortal to slow him down. Thus, I'll give White a pass for his ineffective defensive play because I don't think it was truly him just being substandard on that end. Besides, I thought the effort was there on that end. Offensively, there's no question White was a beast. To put it simply, the Spurs wouldn't have won without him. When the team was circling the drain early on, it was White who righted the ship. He created for himself, pushed the pace well and injected life into the team. Then, when money time arrived and the Spurs were having Tracy McGrady flashbacks, it was White who put the team on his back and carried the lifeless carcass across the finish line. In the final two minutes, he scored all of the team's final six points when it looked like no one else wanted the ball. Welcome back, Derrick White.
Grade: A
Patty Mills
The offense was flowing the best when Patty Mills was hunting for shots off the ball. His speed helped accelerate the pace and his activity away from the ball helped open up driving lanes. When Mills got in trouble was when he tried to take the playmaking responsibilities into his own hands. Defensively, I thought he held up decently well given the competition. The Blazers didn't allow many places for Mills to hide yet he avoided getting obliterated. I'll take that as a win.
Grade: B+
Rudy Gay
This was an understated game for Rudy Gay. It looked like he had his shot going well enough (he hit his first three-pointer of the season tonight) but was struggling to create. His lack of quickness remains concerning and he looks especially immobile in one-on-one situations where he's trying to use his dribble to gain separation. Defensively, I liked his effort and his rebounding but the results weren't too promising. It's not time to sound the alarm on Gay but this doesn't look like the same person compared to last season.
Grade: C+
Marco Belinelli
Marco Belinelli's defense was bad like it usually is but he had a few deflections, which is more than we can usually point to. Offensively, he finally started to show signs of life. Belinelli looks like he's in good shape and he's moving well. The issue is he's just not getting many open looks within the offense so far this year. I imagine that will probably change at some point as the chemistry of the second unit increases.
Grade: B-
Jakob Poeltl
Jakob Poeltl is another player who struggled to make much of a notable impact. He was setting a lot of picks but his rolls to the basket were ill-timed and rarely resulted in anything. Neither his rebounding nor passing was worth noting. He had a couple good possessions defending at the rim but that was about the extent of his positives tonight.
Grade: C+
Pop
Is Derrick White on a minutes restriction too? If not, I don't understand why he didn't play more tonight. Not playing White with Murray is just weird when you're going against a team with a killer backcourt like the Blazers. Other than usage of White, I don't have many other complaints. I like that Pop is giving Lyles a chance to sink or swim early in the season. Going with more Mills and less Forbes was probably the right move. Overall, Pop has to be pleased with the 3-0 start to the season … even though it's been admittedly unsightly for long stretches.
Grade: C+