Grades: San Antonio Spurs vs. Sacramento Kings – Game #23
In a game that set the sport of basketball back a couple years, the San Antonio Spurs (9-14) escaped with an overtime win on Friday night by a final tally of 105-104. Neither the Spurs nor the Sacramento Kings (8-13) played well, with the Kings playing slightly worse in losing their third straight game. The Spurs, on the other hand, have their first winning streak since October.
The ugly basketball began in the first quarter with both teams struggling to score. The Spurs led 21-17 going into the second period and were able to gain further separation in the last few minutes before halftime. At intermission, the Spurs held a ten point lead, 52-42.
San Antonio cracked in the third quarter. As the Spurs looked especially inept, the Kings won the period 30-17 to lead 72-69 heading into the deciding stanza. 
The fourth quarter was a roller coaster ride. The Kings led by seven points with 5:15 remaining, only for the Spurs to go on a 7-0 in 90 seconds to tie the game. Then, also in a span of 90 seconds, Sacramento went on a 9-0 run to take a 98-89 lead with 1:50 left in regulation. Aided by clutch steals by Dejounte Murray and Patty Mills, the Spurs went on a 8-0 run in less than a minute to get within a point.
After the Kings hit a pair of free throws, Marco Belinelli hit this three-pointer to send the game into overtime.
The contest's unsightliness extended into overtime. The Spurs, who were without a field goal and 3-for-6 at the line in the extra session, trailed by a point after Buddy Hield hit a jumper with 48 seconds remaining. Thankfully, Murray was able to respond with the team's only basket of the overtime.
To end this forgettable game, the Kings missed four shots as the Spurs unsuccessfully scrambled for a defensive rebound.
All told, this was a classic burn-the-tape win. The Spurs can't really take anything from it … but, then again, the win alone will hopefully help retain some momentum. The Spurs have won three out of their last four games and now have five days off until their next game. A loss would have left a sour taste in everyone's mouth so given the circumstances, a bad win is better than a fantastic loss.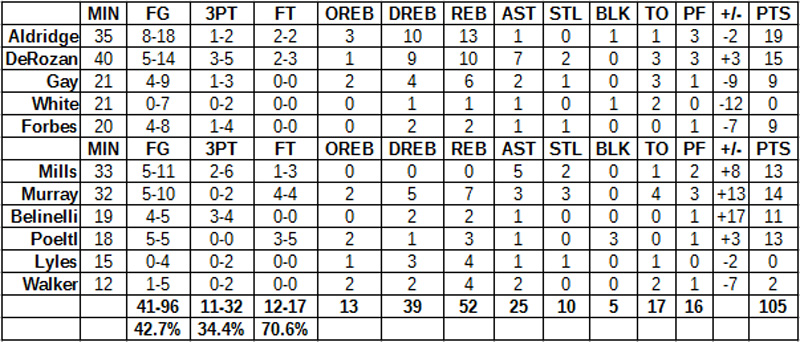 Spurs vs. Kings – Final Grade
LaMarcus Aldridge
After missing two games with a thigh injury, LaMarcus Aldridge looked good considering he was out of rhythm. He missed six of the eight field goal attempts he attempted outside of 12 feet but he was more powerful than usual when attacking the rim. Defensively, he was good enough, ran the court with ambition and really helped out on the glass. Most importantly, though, Aldridge appeared to be moving well. After this upcoming stretch of rest, let's hope he's back to 100%. 
Grade: B
DeMar DeRozan
It was a strange game for DeMar DeRozan. He was 3-for-5 (!) on three-pointers and only 2-for-9 on two-pointers — and one of his made two-pointers was about a centimeter away from being a three-pointer. (Don't look now but he's 5-for-10 on three-pointers in his last four games.) It's great that he's hitting from deep but DeRozan didn't even attempt a shot within seven feet of the rim, which is very much unlike him. Furthermore, his three free throws were a result of him getting fouled while attempting a three-pointer, so he did next to nothing at the rim in this game. DeRozan had some key passes, including to Belinelli on his game-tying three. Defensively, he was a bit better than usual and did good work rebounding-wise. DeRozan was frustrated a lot of the game, which led him to making questionable decisions and lose focus. All in all, the 30-year-old was just good enough — even though it was a very un-DeMar-like game from him.  
Grade: B-
Rudy Gay
The good: After missing 13 consecutive three-pointers, Rudy Gay nailed his first attempt from downtown against the Kings. His three was part of a 90-second stretch in which he scored eight straight points in the first quarter. Gay's rebounding was good and he had a couple heady passes. The bad: Gay's defense was sub par, particularly in terms of defending out to the three-point line. He was trying to take shortcuts and got burned multiple times. Offensively, he was too sloppy and held the ball too much. Unfortunately, that has been a pattern as of late for Gay.
Grade: C-
Derrick White
At this point, we should probably hope Derrick White is hurt because, otherwise, it's not a pretty picture. Offensively, he not only missed all seven of his shots, he wasn't doing much passing or playmaking of note. When San Antonio's starting point guard is being passive and uncertain, it drags the whole team down. On defense, White was also bad. He wasn't getting around screens and outside of one block in the lane, he was unable to impact the proceedings. To make matters worse, he was hanging his head and looked completely uncertain of himself. 
Grade: F
Bryn Forbes
Bryn Forbes got benched for stretches due to even worse than normal defense. At one point, Yogi Ferrell of all players was lighting him up like a Christmas tree. To add to Forbes' defensive shortcomings, his bad habit as of late is to lose his man when he's considering whether to help on the strong-side. Offensively, Forbes was able to claw back some of his value. He hit enough shots, kept his mistakes to a minimum and didn't try to do too much on that end. 
Grade: D+
Patty Mills
This was a strong outing for Patty Mills. He was electric on defense as he battled on nearly every possession. His fighting over screens and pressuring of ball-handlers was contagious. Offensively, he pushed the tempo well, did more playmaking than usual and hit a few key shots when the Spurs were struggling to score. Overall, Mills' tenacity and leadership were important aspects of San Antonio being able to pull out a win. 
Grade: A-
Dejounte Murray
In a season-high 32 minutes, Dejounte Murray was wildly inconsistent but, net-net, he was a force for good. Defensively, I liked a lot of what I saw. His perimeter defense was particularly stout and he used his length to interrupt Sacramento's offense many times, most importantly when the Spurs were making their runs in the fourth. Murray helped on the boards on both ends. In overtime, he turned the ball over on San Antonio's first three possessions. However, he redeemed himself by hitting the Spurs only shot in bonus time, a 16-footer with less than 30 seconds remaining. Murray is slowly but surely playing better as he adjusts to coming off the bench. We'll see if his minutes continue to rise or if this was a one-game exception due to the game going into overtime and the Spurs having a long break on tap. 
Grade: B+
Marco Belinelli
After two DNP-CDs in the previous five games, Marco Belinelli got another chance. To his credit, he took advantage. His 11 points were a season-high and he had a pair of three-pointers in the first half before draining the clutch three at the end of regulation. Defensively, I thought he was solid. He was focused, didn't lose his man and was quick to switch when necessary. Belinelli is shooting 44.4% on threes over the last 13 games so his shooting accuracy is quietly returning. 
Grade: A-
Jakob Poeltl
Jakob Poeltl looked really good on offense. He even went into his bag of tricks to unleash an advanced post move and a fake dribble hand-off that led to a driving three-point play. Poeltl's block party is still rocking, as he had three more impressive blocks against the Kings. However, he had a notable flaw: defensive rebounding. He was very weak on the defensive glass, which played a part in the Kings totalling 16 offensive rebounds. When Poeltl was on the court, the Spurs only corralled 50% of the available defensive rebounds. When he was off, the Spurs were more than 20 percentage points better in that category. Poeltl gives back a lot of his value when he goes limp on the defensive backboard. 
Grade: B
Trey Lyles
The bad: Trey Lyles missed all four of his shots, got lost a couple times on defense and was pushed around a bit too easily. The good: Lyles rebounded well and once again flashed ball-handling and passing abilities that are impressive for a big man. The bottom line: Lyles looks confident out there but he couldn't get it going against the Kings. 
Grade: C
Lonnie Walker IV
With all eyes on Lonnie Walker IV, he … played a team-low 12 minutes. Offensively, I liked that he was attacking but he could have gone harder to the rim a few times. Walker was tiptoeing in the lane and was too ready to pass the ball instead of looking for a powerful finish. That said, his willingness to try to make things happen on offense was needed on this night. Defensively, his one-on-one D was good but the Kings were able to confuse him by putting Walker through a series of screens. Overall, Walker played pretty well but obviously we didn't witness that magic he had against the Rockets. 
Grade: C+
Pop
I disagreed with the use of Belinelli but it's difficult to say Pop was wrong after Belinelli had a game-high plus-minus and hit the biggest shot of the game. Speaking of  Belinelli's shot, Pop deserves credit for that impressive set play out of a timeout. I also agreed with limiting the minutes for Forbes, Gay and White. It was also good to see Pop show continued trust in Murray through his ups and downs this game. Obviously, playing Walker more minutes would have been appreciated — but at least Walker is still in the rotation, I guess.
Grade: B+
Up Next for the Spurs
The Spurs will have Saturday and Sunday off, practice Monday and Tuesday and then have Wednesday off before playing again on Thursday against the Cleveland Cavaliers. Hopefully the Spurs can get fully healthy during this in-season break and come out ready to finish the key month of December in style.