Grades: San Antonio Spurs at Sacramento Kings – Game #52
The San Antonio Spurs failed in their attempt to win the most winnable game of the 2020 Rodeo Road Trip. Their 122-102 loss to the Sacramento Kings dropped San Antonio's record to 22-30, four games behind the Memphis Grizzlies for the eighth seed in the West. The Kings improved to 21-31 and they're now just one game behind the Spurs.
The two teams traded leads in the fourth quarter, with a Buddy Hield three with 0.1 seconds remaining giving Sacramento a 24-23 advantage going into the second. The Kings threatened to pull away in the second quarter a few times but the Spurs responded well. Going into intermission, Sacramento was up 52-49.
A personal 8-0 run by Bryn Forbes gave the Spurs a 76-70 lead midway through the third quarter. Unfortunately, that's when things fell apart for the good guys. The Kings ended the quarter on a 19-2 run to take a 89-78 cushion into the fourth. 
The Spurs were never able to mount a run in the fourth quarter. Hield went 5-for-5 on three-pointers in the final period and San Antonio had no answers. 
Honestly, this feels like the end to San Antonio's quest to make the playoffs for a 23rd consecutive season. Four games back of the eighth seed with 30 games remaining and four more difficult games left on the Rodeo Road Trip? It's going to take a near miracle to even reenter the conversation.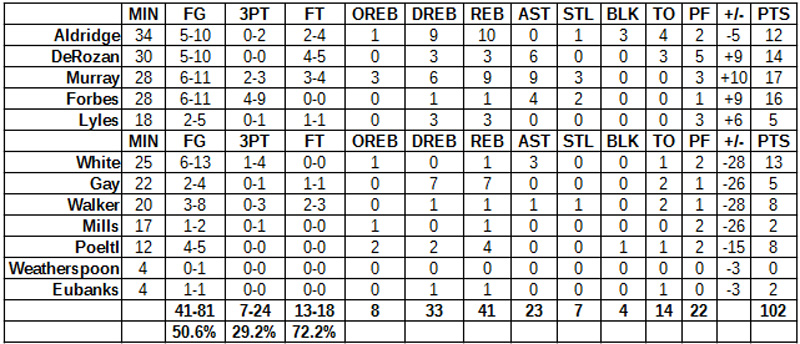 Spurs at Kings – Final Grades
LaMarcus Aldridge
Offensively, LaMarcus Aldridge was invisible in the first half. He scored two points in 19 minutes in the first two quarters. He found some offensive rhythm in the third quarter but it ended up being too little, too late. The Spurs needed Aldridge engaged from the start. Defensively, I thought he was pretty good. His effort defending out to the three-point line was commendable and he was strong on the glass. Aldridge also defended the rim relatively well. 
Grade: C-
DeMar DeRozan
DeMar DeRozan was playing okay-ish on both ends until he was ejected midway through the fourth quarter. While a comeback was unlikely by the time he was kicked out of the ballgame, it was the culmination of a whole lot of whining by DeRozan throughout the contest. It's difficult for the Spurs to lean on him when he so often loses his focus after a couple calls go against him. Offensively, he was decently efficient — both scoring-wise and when playmaking for others. Defensively, he finished with five personal fouls but at least his effort was there — even if his play on that wasn't too effective. 
Grade: C-
Dejounte Murray
The shiniest silver lining on this night was the play of Dejounte Murray. I loved a lot of what he did on both ends. Offensively, it was night and day. His passes were on time and accurate; this was undoubtedly his best penetrate-and-kick game of the season. Murray looked like a real, authentic point guard out there — something we haven't been able to say too often this season. His shooting looked smooth and he got his shots within the flow of the offense. Defensively, he was active, smart and wasn't afraid to get his hands dirty. His defensive rebounding was impressive; this wasn't the case of him simply scooping up unchallenged boards. He battled among the trees to legitimately help on the glass. All in all, Murray had a very crisp, clean game on both ends of the court. If he can play like this on anywhere close to a consistent basis, his extension will begin to look like a bargain. 
Grade: A+
Bryn Forbes
The good: Bryn Forbes shot the ball well, didn't hesitate when given daylight and made smart passes when the Kings overcommitted. Defensively, he was in the right place at the right time to end up with a couple steals. The bad: His defense wasn't good. More accurately, it was really bad. But, then again, that's what's expected out of Forbes on that end. 
Grade: B+
Trey Lyles
Trey Lyles was unable to build upon his what was hoped to be his breakout game. He tried to be more aggressive than usual on offense but it ended up looking unnatural. Lyles doesn't really know how to carve out his niche with the starting unit. Defensively, he was decent on the perimeter but wasn't much help in the paint — both in terms of guarding the hoop and rebounding the ball. 
Grade: C
Derrick White
Derrick White had some crafty drives to the basket. Outside of the paint, though, he was hesitant to fire away and his shooting suffered for it. His playmaking wasn't too impressive and his pushing of the pace was lacking. Defensively, White was far below par. He lacked energy, didn't get a hand up consistently, and the Kings were able to score around and over him consistently. 
Grade: C–
Rudy Gay
Offensively, Rudy Gay looked better at times. He was able to use his size and bulk to create room for himself, however his sloppiness was again a liability. On defense, he struggled to guard anyone but did well on the boards. Overall, though, Gay's play is a far cry from what the Spurs got out of him last year. 
Grade: C
Lonnie Walker IV
Lonnie Walker IV was unimpressive in most facets. Defensively, he hustled at times but his execution and rotations were askew.  Offensively, Walker struggled to find ways to help. He didn't look confident shooting threes, which resulted in his shots being way off — particularly his final two three-pointers. His passing wasn't on time and he wasn't attacking enough to create cracks in the defense. 
Grade: C-
Patty Mills
Patty Mills began the game hustling … and then just went to sleep. The Spurs rely on him to energize the bench and with Mills comatose, the entire bench struggled. He was shortcutting things on both ends — from not going quickly around screens to get open to failing to box out on defense. The Spurs needed Mills to lead the team with a healthy amount of desperation but that was not the case. 
Grade: D-
Drew Eubanks
Eye-test: Drew Eubanks looks big, fast and pretty athletic. 
Grade: Inc.
Quinndary Weatherspoon
Eye-test: Quinndary Weatherspoon didn't look especially quick and he didn't get much lift on the one jumper he attempted. 
Grade: Inc.
Pop
Pop deserves some blame for the team not coming out with any sense of urgency. Then again, you'd think the players would understand the situation they're in. Rotations-wise, I thought it was okay enough. Pop could have tried something more to stem the third quarter collapse, though. 
Grade: C
Up Next for the Spurs
The Spurs face a difficult back-to-back before the All-Star break: Monday at Denver, Tuesday at Oklahoma City. Both teams are playing really well as of late. It'd be nice if the Spurs could avoid entering the All-Star break with a six-game losing streak — but it's going to be a challenge.