Grades: San Antonio Spurs at Sacramento Kings – Game #66
The San Antonio Spurs snapped their five-game losing streak with a 113-104 victory over the Sacramento Kings. After a strong start, the Spurs got outplayed in the middle two quarters before making big plays down the stretch to pull out the win.
With the play-in tournament in mind, this was a key victory. San Antonio's hold on the tenth seed looks to be quite firm right now. They're up two and a half games on the New Orleans Pelicans and three and a half games on the Kings — and the Spurs own the tiebreakers. Considering the Kings and the Pelicans are dealing with injuries, a couple more wins by the good guys should wrap up their spot in the tournament. 
Key Stretch
Early in the fourth quarter, the Spurs went on an 11-0 run to grab an eight-point lead, 92-84. A couple minutes later, the Kings went on a 10-0 run to get within a point, 100-99, with 3:43 remaining in regulation. San Antonio tightened their defense and started cutting harder on offense to go on a deciding 11-3 run that put the Spurs up for good.
Key Statistic
Typically, San Antonio's horrific three-point shooting (4-for-22) would have doomed them in today's NBA, especially because the Kings hit 13-of-32 threes for 40.6%. However, the Spurs survived by hitting 62.7% of their two-pointers and 89.5% of their one-pointers.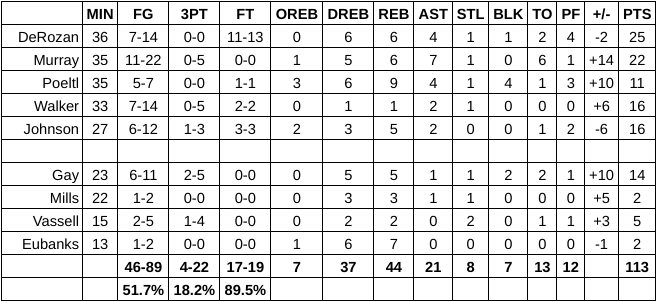 Spurs at Kings: Final Grades
DeMar DeRozan
DeRozan's intensity was much better this game. Coming out of the gates, he was focused and set an aggressive tone on the offensive end. His 13 free throw attempts proved vital and his playmaking was steady throughout. DeRozan wasn't too impressive on defense — but that's not exactly surprising at this point.
Grade: B
Dejounte Murray
Murray had a roller coaster of a ballgame. Thankfully, the ride ended in a happy place. During the dips, Murray could be found turning the ball over or shooting inefficient jumpers. All in all, his decision-making just wasn't that good. That said, his competitiveness helped negate a lot of his misjudgments. He hit a few well-timed shots, battled on the boards, mixed in some key passes and made notable plays on the defensive end. 
Grade: B
Jakob Poeltl
There's not much to complain about regarding Poeltl's play. He was solid across the board. From passing to defending the rim, and from rebounding the ball to finishing in the paint, the Austrian was extremely helpful on this night. 
Grade: B+
Lonnie Walker IV
While he didn't have an inordinate number of highlight plays, I thought this was one of Walker's better games of the season. Defensively, he spent most of his time on Buddy Hield (17 points on 5-for-14 shooting) and he held up really, really well. His concentration and precision were both much better than usual. Offensively, he was quiet right up to the point that the Spurs needed him most. Walker scored eight points in the final three minutes, mostly due to sharp cuts to the rim.  
Grade: A-
Keldon Johnson
The good: Johnson had some acrobatic finishes in the lane. His bag when it comes to finishing is quite large and seems to only be growing in size. Against the Kings, Johnson launched threes when they were needed and kept his miscues to a minimum. The bad: His defense wasn't good. He especially struggled in transition. Offensively, he wasn't always picking his spots well, which resulted in spacing issues. 
Grade: B-
Rudy Gay
Gay enjoyed a productive night at the office. Offensively, his confidence was handy, especially when it seemed like no one appeared interested in shooting shots from outside of the paint. San Antonio was desperate for scoring from off the bench and Gay was ready and willing. Defensively, I thought he was also above average. He was active and reasonably mobile. It wasn't always pretty but he held up well on D.  
Grade: B+
Patty Mills
Mills simply has no legs right now. He's not running nearly as much as usual and is mostly just going through the motions. The Kings aren't just the worst defensive team in the NBA, they're D is historically poor — and yet Mills didn't even do enough to attempt a single three-pointer. I've never seen him this lifeless. His only highlights tonight were a good pass and a couple plays on defense in which his anticipation led to him corralling loose balls. 
Grade: D
Devin Vassell
Vassell's time as a starter could be over. That obviously has to be a bit disappointing for him — but he didn't let it show against the Kings. His defense was mostly stout; he was getting his hand on a lot of balls and was a menace in the passing lanes. Offensively, when he didn't hesitate and when he wasn't trying to operate in transition, he looked good. 
Grade: C+
Drew Eubanks
Eubanks was burly on the boards and gave effort when defending the hoop. While his interior defense was commendable, he left much to be desired when defending outside of the paint. Offensively, Eubanks had a couple strong moments but wasn't involved enough to move the needle.  
Grade: B-
Pop
Putting Walker in the starting lineup, giving him more responsibility and playing him extended minutes turned out to be good moves. Xs and Os-wise, I thought Pop did well. The defensive scheme was smart and the offense was varied just enough to take advantage of Sacramento's porous defense.
Grade: B
Next Up
The Spurs have a back-to-back against the Portland Trail Blazers, a team that is desperately looking for wins to improve their playoff positioning.