Grades: San Antonio Spurs at Toronto Raptors – Game #53
The San Antonio Spurs (26-27) are back under .500 after losing to the Toronto Raptors on Wednesday night by a final score of 117-112. This was a rather disappointing loss for the Spurs, as the Raptors were severely short-handed and came into the evening only 4-17 in their last 21 games.
San Antonio never played with the necessary amount of juice to pull out a win in this game. The Spurs actually played worse than the final score indicates. Seventeen made three-pointers and a late run by the good guys camouflaged the fact that the Spurs were a step slow the entire night.
Key Stretch
A floater by Derrick White with 10:42 remaining brought the Spurs within three points, 90-87. In the next five minutes, the only scoring the Spurs did was via a pair of three-pointers by White. During that time, the Raptors scored 13 points. When the smoke cleared, the Spurs were down ten points and their late rally turned out to be too little, too late.
Key Statistic
Coming into tonight's affair, the Spurs were 5-0 when hitting at least 15 three-pointers in regulation.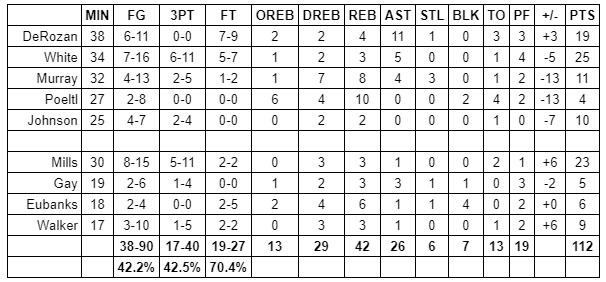 Spurs at Raptors: Final Grades
DeMar DeRozan
The good: DeRozan passed the ball really well the entire game. Seven of his 11 assists led to three-pointers. The bad: DeRozan waited way too long to get serious about scoring. In his first 33 minutes of action, he had only ten points. Defensively, he was consistently lackadaisical. 
Grade: C
Derrick White
The good: White's three-point shooting kept the Spurs alive. His passing was good, as was his carefulness with the ball. Defensively, he had some unfortunate whistles go against him, otherwise he would have been really solid on that end. The bad: White was only 1-for-5 on two-pointers and his individual defense was ineffective. 
Grade: B+
Dejounte Murray
Tough outing for Murray. He was 2-for-8 on two-pointers and he was disjointed when trying to run the offense. He rarely got the team into their sets on time and he wasn't pushing the pace as successfully as usual. Murray retained some of his value by playing aggressive defense and rebounding with stubbornness, but the Spurs needed their point guard to be sharper. 
Grade: C-
Jakob Poeltl
This was quietly a bad game for Poeltl. Defensively, I wasn't impressed. In fact, he got benched a couple times for hanging too far back on pick-and-rolls. He defended the rim okay in spurts but he was sub par in that area overall. Offensively, he shot poorly and his hands weren't as supple as usual. 
Grade: D
Keldon Johnson
Just not enough activity from Johnson. His three-point shooting looked good and he had a few quality defensive possessions — but that was about it. Considering he played 25 minutes, his presence wasn't felt nearly enough. 
Grade: C
Patty Mills
Mills was instrumental early on for the Spurs but his final statistics hide the truth that his play tailed off in a big way. To begin things, he hit five of his first six shots to score 14 of the team's first 38 points. Up until that point, Mills was great. Unfortunately, he was 3-for-9 the rest of the way and just 1-for-6 on three-pointers. Even worse than the missed shots was the tunnel vision that caused Mills to miss a multitude of wide open teammates. 
Grade: B
Rudy Gay
Gay shot poorly and played defense in slow motion. He turned up the volume a little bit in the fourth quarter but he never really got on track. 
Grade: C-
Drew Eubanks
I was mostly impressed with how Eubanks played. He might have been the only player on his team that played with the necessary amount of effort to get this win. His rim protection was admirable, he defended out on the perimeter decently well and he played with confidence offensively. 
Grade: B+
Lonnie Walker IV
The good: Walker pushed the pace better than his compatriots. He didn't hesitate to shoot. The bad: Walker had a few unsightly lowlights on defense. His rotations were either late or flat-out wrong.
Grade: C-
Pop
A coach deserves blame when his players are obviously lacking in focus and energy. Pop called too many plays for Mills after the Australian's hot start. The rotation wasn't bad but he never really stumbled onto a combination that played with an adequate amount of chutzpah. 
Grade: C
Next Up
The five-game road trip is in the books. Next, the Spurs return home for one game. On Friday, they host the Portland Trail Blazers before playing the Suns in Phoenix the next night. Both of those games promise to be a lot more difficult than what they faced tonight.