Grades: San Antonio Spurs at Toronto Raptors – Game #38
First it was the Milwaukee Bucks. Then it was the Boston Celtics. On Sunday, the San Antonio Spurs (17-21) defeated their third straight winning team. This time, instead of a blowout win like they had versus both the Bucks and the Celtics, it took an epic rally for the Spurs to top the Toronto Raptors, who dropped to 25-14 with the loss.
Coming out of the gates, the Spurs started slow. A Pascal Siakam three-point put the Spurs in a 23-11 hole at the 5:30 mark of the opening quarter, however San Antonio got it together enough to close the gap to 28-21 by the end of the period. 
The second quarter was similar to the first quarter. In it, the Spurs fell behind by double-digits multiple times before rallying a little bit a few minutes before halftime to make it 51-43 at the break. 
The first six minutes of the third quarter was bad for S.A. At the halfway point of the period, the Spurs were down by 17 points, 70-53. After falling behind by as many as 18 points, the Spurs finally started stringing together good possessions.
To begin the fourth quarter, San Antonio trailed 82-69. Two minutes in the fourth, the Spurs were down 87-73. That's when the Spurs mounted their memorable comeback. Over the next four and a half minutes, the Spurs went on a 17-0 run to shock the Canadian crowd and take a three-point lead. The run didn't stop there, as San Antonio kept pouring it on and eventually took a 100-91 lead with 2:37 remaining.
The Raptors, true to Rudy Tomjanovich's creed, showed some heart and didn't give up. In a span of 63 seconds, Toronto hit three straight three-pointers to tie the game with a minute to go. After a free throw by the Raptors put the Spurs down a point, Marco Belinelli hit a three-pointer to put the good guys up two. Fast forwarding to the four second mark, LaMarcus Aldridge missed a pair of free throws with the Spurs up a point but the Raptors missed a desperation shot at the buzzer and San Antonio's improbable comeback was complete.
This was another very good win for the Spurs. They exhibited a lot of moxie by withstanding the Raptors very good play for three-plus quarters. With the help of a zone defense, the Spurs finally broke Toronto's rhythm long enough to get back into it. It wasn't always pretty but the Spurs will happily take a gritty, gutty win on the road against one of the better teams in the league. Well done.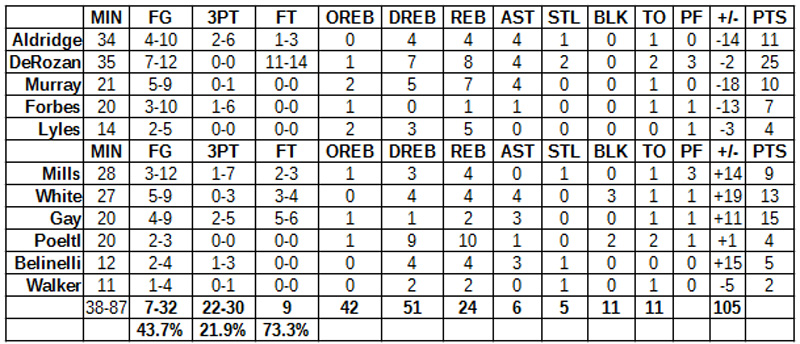 Spurs at Raptors – Final Grades
LaMarcus Aldridge
With LaMarcus Aldridge shifting his game to three-point territory, it's more difficult to place a value on what he's doing. Previously, his statistics gave a fair indication of how he's helping the team. Now? The spacing he provides for others is difficult to quantify — but it should obviously count for something because there's so much more room for everyone to operate when Aldridge is a threat from deep. Against the Raptors, Aldridge was 2-for-6 from three, while inside the arc he was 2-for-4. He tried to exploit mismatches a few times but he could have done more of that. He made smart passes and looked competent reading the defense from the perimeter. Defensively, while Aldridge didn't do much rebounding, his activity level was decently high — especially when the Spurs went to the zone.
Grade: B-
DeMar DeRozan
While DeMar DeRozan's stats don't look too special, it's important to note that he did almost nothing in the first half. The Raptors were trapping him a lot in the first two quarters and then his confidence headed further south after he missed a pair of free throws. He didn't get on the board until a three-point play with 1:25 remaining in the first half. In the second half, DeRozan reverted to the dude who has been dominating as of late. In the second half, he scored 22 points in 21 minutes on 6-for-8 shooting from the field and 10-for-10 shooting at the charity stripe. Overall, he continued his determined drives to the cup, his playmaking was on point, he kept his chin up even during his rough stretches and he authored one of the most hellaciously vicious dunks you'll ever see. Defensively, he struggled prior to the zone, mostly due to the imposing size of Toronto's wings. But, despite his struggles to execute on that end, it didn't appear to be due to a lack of effort.
Grade: A-
Dejounte Murray
The good: Dejounte Murray's mid-range jumper looks great right now. It's a smooth and easy shot and it's finding the bottom of the net. His rebounding and length on defense was helpful at times against the Raptors. He only turned the ball over once. The bad: Murray didn't run the offense well — and he was clunky getting the team into their sets. He lost focus too often defensively, which muted his impact on that end. The bottom line: Murray is still mostly a conglomeration of skills and tools rather than a fully-formed basketball player.
Grade: C
Bryn Forbes
Bryn Forbes was aggressive on offense — too aggressive. The Spurs need him to push the issue on offense if he's to have any value but he went overboard in Toronto. Defensively, Forbes was getting steamrolled on a consistent basis. If he was involved in a switch, he was toast. If he came to help, it didn't do any good. All told, Forbes needs to play smarter on offense and be more physical and keep his hustling level on full blast if he's going to survive on defense against the bigger, better teams in the NBA.
Grade: D+
Trey Lyles
The coaches seem to be losing confidence in Trey Lyles as it's becoming obvious that he doesn't have much grit about him when it comes to making hay in the paint. Against the Raptors, Lyles was pushed around in the lane and isn't showing much growth in this area. Otherwise, he was decent. His rebounding was good, as was his ball-handling and passing — although he did shy away from a couple open shots. 
Grade: C
Patty Mills
Like Forbes, Patty Mills was a little too happy with his shot-selection — but not quite to the same level. His energy level on offense helped open cracks in Toronto's defense. He also did a good job pushing the tempo. Defensively, Mills was overmatched in every matchup but he avoided being a Forbes-level liability with energetic and sometimes forceful play. His hustling was also apparent throughout. 
Grade: C
Derrick White
This was a 2018-19-esque performance from Derrick White. He confidently took advantage of driving lanes, finished with a mixture of muscle and athleticism, and routinely made very good passes. White was in to close the game and he did outstanding work. He was a confident running the show and it looked like he was a natural for the job. Defensively, I thought he was really good. Again, in a 2018-19 flashback, White used his athleticism and timing to disrupt shots, as evidenced by his three blocked shots. Going forward, let's hope we see more of this version of White.
Grade: A-
Rudy Gay
The good: Rudy Gay played hard, attacked the rim with physicality, passed the ball well and limited his mistakes. He, like DeRozan, also authored his best dunk of the season. Considering how earthbound he has appeared to be this season, it was good to see that he still has some explosion left in his 33-year-old legs. The bad: Gay's defense was adequate at the very best, while his rebounding was really bad. One of his made threes was an accidental bank from the corner — so his stats are a bit inflated. His timing mechanics-wise when he's shooting threes changing game-to-game — and that's certainly not a good thing. 
Grade: C+
Jakob Poeltl
This wasn't a spectacular game from Jakob Poeltl but he was rock solid. Offensively, he took advantage of his opportunities and even wandered outside of his usual box by driving and kicking and otherwise using more movement and creativity than we typically see from him. Defensively, he was challenging a lot of shots, moved his feet well out on the perimeter and was really strong on the defensive glass. When he's blocking shots, rebounding defensively and adding to the basketball IQ of the team's offense with smart plays, Poeltl is a valuable piece to the puzzle. 
Grade: B+
Marco Belinelli
I mean, you have to give Marco Belinelli credit for taking advantage of his chance. Playing his first extended minutes in four games, Belinelli played a heady, conservative style of basketball that served him and the team well. Offensively, his cutting away from the ball was useful and he was also a willing passer. Down the stretch, he missed two open threes that would have all but sealed the win for San Antonio before hitting what turned out to be the game-winning three with 28.8 seconds remaining. Defensively, he moved correctly within the zone scheme — and that made him somewhat of an asset on that end. He still go beat individually but he at least knew what to do within the zone. 
Grade: B-
Lonnie Walker IV
The good: Lonnie Walker IV was electric on defense and was hustling all over the court. He was attentive to his responsibilities and tried to do it all: from pressuring ball-handlers to cleaning up the defensive glass. He was inserted for his defense down the stretch and Walker did good in those possessions. Offensively, he had his moments where he attacked and did a good job of pushing the tempo at times. The bad: While the hustle was there on defense, his precision wasn't always there. Sometimes he rotated to the wrong guy, sometimes he took the wrong angle on closeouts, as examples. Offensively, he could have put his foot on the gas more than he did. As it was, he didn't look 100% comfortable about how to make his mark. 
Grade: C+
Pop
Watching Pop go with Belinelli instead of Walker can be frustrating — but, hey, it turned out to be the right call on this night. As it turned out, the Spurs needed Belinelli's experience in understanding what needed to be done on both ends and his calmness in operating the gameplan. Ending the game with White turned out to be a great call, as did limiting the minutes for Lyles and Forbes. Most importantly, Pop going to a zone totally changed the game and was the number one reason why the Spurs were able to escape with a win. 
Grade: B+
Up Next for the Spurs
The Spurs end their four-game road trip on Wednesday against the Miami Heat. The Spurs are already 2-1 on the trip — one more win would make this four-game stretch a roaring success.