Grades: San Antonio Spurs vs. Toronto Raptors – Game #45
On a day that was overshadowed by the tragic loss of the fiercest rival this franchise has ever known, the San Antonio Spurs had to play a basketball game. Despite a valiant effort, the Spurs lost to the Toronto Raptors, 110-106. The loss dropped the Spurs to 20-25, while the Raptors improved to 32-14.
Playing with heavy hearts, the good guys stumbled out of the gates. The Spurs trailed by as many as 18 points in the first quarter. At the end of the period, it was 37-21. San Antonio played much better in the second quarter but still faced a sizable 63-51 disadvantage at halftime.
Pop went with a small lineup to start the second half consisting of Derrick White, Dejounte Murray, Bryn Forbes, DeMar DeRozan and LaMarcus Aldridge. It seemed to work well, as the Spurs climbed back into the ballgame. At one point, San Antonio even took a three-point lead before heading to the fourth down one point, 86-85.
In the first three minutes of the fourth, the Spurs went on a 12-3 run to take a 97-89 lead. Unfortunately, the good times didn't last, as the Raptors went on a 14-0 run over a span of nearly six minutes. 
But, despite the terrible stretch in the most inopportune time, the Spurs didn't give up. DeRozan scored eight straight points for the Spurs to tie the game with a minute to go. But a three-pointer by Fred VanVleet on the next possession gave the Raptors a lead they would never relinquish.
The sadness in the arena was palpable. The Spurs seemed emotionally drained to begin the contest. But they dug deep, played really well at times and almost ended the Raptors six-game winning streak if it wasn't for another subpar fourth quarter. Given the circumstances, I was proud of the grit the team exhibited.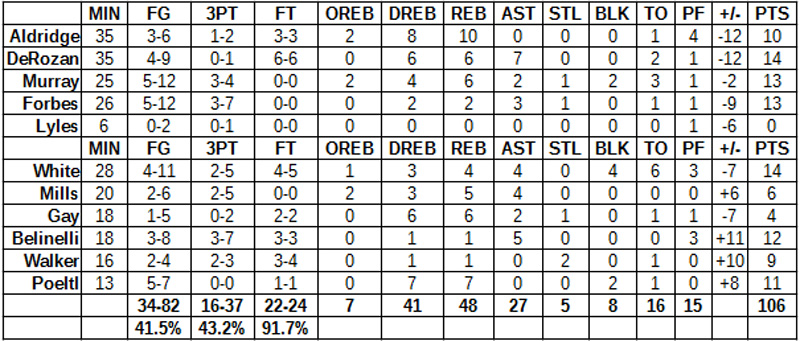 Spurs vs. Raptors: Final Grades
LaMarcus Aldridge
LaMarcus Aldridge didn't make a lot of mistakes — but he also didn't do a whole lot right. He had only six shot attempts in 35 minutes. In the second half, he had no points in 17 minutes on 0-for-2 shooting from the floor. The Spurs should have found ways to get Aldridge more touches. Within the flow of the offense, he was rarely open and the Raptors were sticking to him behind the three-point line. Defensively, he was a step slow and obviously lacked energy.
Grade: C
DeMar DeRozan
The player most affected by the death of Kobe Bryant was understandably DeMar DeRozan. DeRozan idolized Bryant, patterned his game after the Los Angeles Lakers superstar and credits him with teaching him everything he knows about basketball. It was sad to see him out there on the court so heartbroken. In the first quarter, DeRozan went scoreless and had two turnovers. Things didn't get much better in the second or third quarters. But in the fourth, DeRozan made his idol proud by carrying the Spurs back into the game and almost giving the team a fantastic victory. His eight straight points were impressive and he also picked up his intensity on the defensive end. This had to be a really difficult game for DeRozan to play. For him to persevere and save his best ball for late in the fourth says a lot about his character. Thanks, DeMar. 
Grade: B+
Dejounte Murray
The good: Dejounte Murray knocked down 3-of-4 three-pointers; all three of his threes came in a three minute span in the third quarter. Defensively, he was active. His ability to use his length to challenge shots — both at the rim and on the perimeter — was helpful. The bad: Murray ran the show poorly. His passing was bad. He had costly mistakes. His defense waned at times. The bottom line: Murray had a few bright spots but his point guard play continues to be a major work in progress.
Grade: C+
Bryn Forbes
Bryn Forbes wasn't helpful on defense. He was too small or too slow to really stick with anyone on the Raptors. Offensively, he was decent enough until the fourth quarter hit. In his minutes in the fourth, he was obviously pressing too much. Before then, he was helping out a bit due to his shooting accuracy.
Grade: C
Trey Lyles
Trey Lyles played the first six minutes of the game … and that was it. He didn't do much in that time other than make it obvious that the Spurs didn't have the needed athleticism to match up against the Raptors with him playing power forward and Aldridge at center.
Grade: Inc.
Derrick White
Derrick White was very active in his 28 minutes of playing time. I really liked his aggression level on offense. White wasn't passive at all, which is usually a great thing. Today, however, White being in attack-mode didn't work out too well, particularly in the fourth quarter. In the fourth, he was 0-for-3 from the field and had four of his six turnovers. For someone who has been such a good closer, the poor play was surprising. Defensively, though, I was pretty impressed throughout. He blocked four shots for the second straight game and had a handful of other key plays, particularly in loose ball situations. Overall, while White needed to play a cleaner game, he's starting to look really good athleticism-wise — and that's an outstanding sign for this team going forward. 
Grade: C+
Patty Mills
His mini-slump continues. Patty Mills shot well enough for three-point land and took care of the basketball but that was about the extent of his positives. He was difficult to hide on defense and his hustle could have been a notch or two higher. Mills didn't play poorly, mind you, but we've come to expect more from him this season. He hasn't provided his normal spark for four or five games now. 
Grade: C
Rudy Gay
The good: Rudy Gay rebounded well. He also had a few good passes. The bad: His defense was poor; his close out on shooters was particularly unimpressive. He didn't have confidence in his shot. Gay also looked even more landlocked than usual. Let's hope he'll start playing better once he fully recovers from the illness that caused him to miss three games. 
Grade: D+
Marco Belinelli
Marco Belinelli missed on two threes in the closing seconds that could have helped extend the game a bit. But outside of those misses (and some lackluster defensive play, as is his usual), Belinelli did pretty well. He looked a lot more like the player he was last year. Belinelli was taking and making tough shots, which is what he does best. He also relied on his instincts to make heady passes. It wasn't all good but this was one of Belinelli's better games of the season. 
Grade: B+
Lonnie Walker IV
Lonnie Walker IV had some really difficult moments on defense. Most of those moments came when the Spurs switched to a zone scheme. He obviously hasn't played much zone in his life because he doesn't understand what to do most of the time. Walker also could have closed out better on shooters a few times. But despite those errors, Walker played some solid individual defense at times and provided a boost on offense. His shooting looks really good; his form and the rotation on his ball is nearing perfection. He also attacked the rim well on a few occasions. At other times, his forays to the paint resulted in highly questionable decisions on Walker's part.
Grade: B
Jakob Poeltl
Jakob Poeltl bounced back from an iffy game to have a much better performance. He was stronger on the defensive boards and blocked two more shots. That said, his timing on blocks wasn't as good as it's been the last month or so. He failed to go after a few shots that he usually rejects or at least alters. Offensively, Poeltl was pretty good scoring-wise, although he wasn't as good passing-wise as he has been for much of the season. 
Grade: B
Pop
This couldn't have been an easy game for Pop to coach. A lot of his guys were obviously down so Pop had to pick and choose the moments he could rip into players. I thought he dealt with that aspect of the game about as well as he possibly could. When it came to rotations, I liked that he started White and Murray together in the second half. Going away from Lyles was the right call. During the game, I thought Pop should have used DeRozan less … but DeRozan's strong finish made it look like the right decision by the end of the game. 
Grade: B+
Next Up for the Spurs
The Spurs don't get much time to recharge, as they play the Chicago Bulls tomorrow night on the road. Let's hope San Antonio can get a win a snap their two-game losing streak. 
R.I.P. Kobe Bryant