Grades: San Antonio Spurs at Utah Jazz – Game #55
The San Antonio Spurs didn't lose their momentum over the All-Star break, as the good guys notched their second consecutive impressive road win after losing their first five outings on the 2020 Rodeo Road Trip. Tonight, the Spurs defeated the Utah Jazz by a final score of 113-104 in a contest where they dominated much of the action. San Antonio was clearly the better team on this night.
In the first quarter, the Spurs got off to a strong start. They led by as many as nine points before taking a 27-21 lead going into the second quarter. The next period was even better for San Antonio, as they scored the quarter's first five points to take their first double-digit lead. 
Back-to-back three-pointers by LaMarcus Aldridge and Bryn Forbes gave the Spurs a 14-point advantage with 8:39 remaining in the half. But the Jazz punched back with a 12-2 run to make it 46-42 at the 5:27 mark. Instead of folding, the Spurs fought right back with a 19-2 run of their own in a stretch that saw San Antonio play some of their best basketball of the season. Going into halftime, the Spurs held a lead of 65-46.
In the third quarter, San Antonio held a 20-point cushion, give or take a few points. When the fourth quarter arrived, the Spurs were up 93-75. In the final stanza, the Jazz made a couple runs but the Spurs were always right there to respond with a timely shot. Truth be told, Utah never legitimately challenged San Antonio in the game's final 12 minutes.
All in all, this was a great win. The Jazz had a 20-5 home record heading into this game and had won four straight heading into the All-Star break. The Spurs not only won — they won convincingly. They got strong contributions for a number of players, showed some life on the defensive end and exhibited more cohesion than usual on the offensive end. Let's hope they can keep this going.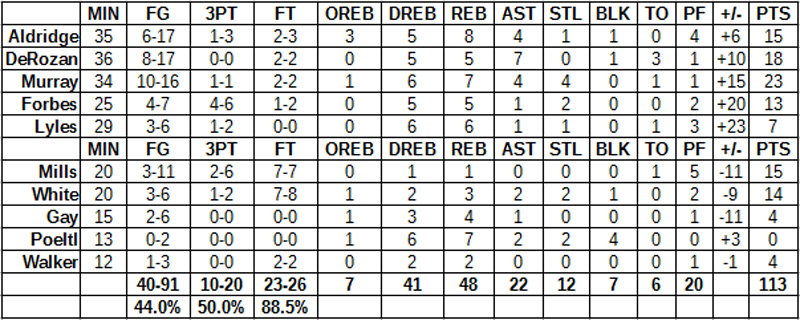 Spurs at Jazz – Final Grades
LaMarcus Aldridge
Offensively, LaMarcus Aldridge was spacing the floor well but he was too hesitant when it came to shooting open jumpers. His hesitancy was the leading cause of his poor shooting performance. That said, when he was making his mind up quickly to shoot or hit the open man, Aldridge was effective. He also battled well on the offensive glass and finished the game without a turnover. I was more impressed with Aldridge's work on the defensive end. He was competitive, particularly on the paint and on the boards. His help-defense on the perimeter was sometimes a step slow (or missing in action all together) but it was forgivable due to his other good deeds on defense.
Grade: C
DeMar DeRozan
DeMar DeRozan didn't have his usual efficiency but he did well with what he had to work with. The Jazz were packing the paint on him so he was forced to shoot a lot of tough mid-range shots. Thankfully, he knocked enough of them down to make Utah pay for that decision. DeRozan's passing was also a plus; he's been very good lately at finding the hot hand. Defensively, he was far from great but he was more active than usual, especially in terms of his rotations. Overall, he kept his head up even when things weren't flowing well for him, which is an accomplishment worth noting. 
Grade: B-
Dejounte Murray
I don't know where this version of Dejounte Murray came from but I hope he sticks around forever. For the fourth straight game, Murray was very good. Tonight, he was clearly the best player on the court for long stretches. Offensively, his jumper looks fantastic right now. His ball-handling and decision-making are also improving. Murray's passing — both accuracy-wise and decision-wise — is much, much better. He's running the offense well and playing with the confidence he needs to succeed. Defensively, he was probably even better. Not only did he do great work on Donovan Mitchell (12 points on 5-for-14 shooting), he was maniacally active in the passing lane, physical in the paint and just an annoying pest that the Jazz always had to account for. 
Grade: A+
Bryn Forbes
Bryn Forbes was really darn good in the first half. In the 15 minutes he played in the opening two quarters, he had all 13 of his points, four of his five rebounds and both of his steals. His shooting helped space the floor and the timeliness of his shots helped keep San Antonio in control. Defensively, he got steamrolled a few times in the first half but he was much more physical and alert than usual and even pulled down a couple contested rebounds — and that's not something we see often (ever?) out of Forbes. His second half was completely forgettable, though. Forbes wasn't doing much right on either end of the court. That said, he did enough in the first half to write home to Michigan about. 
Grade: B+
Trey Lyles
Although Trey Lyles' statistics don't jump off the paper, I was really pleased with how he played. He looked like a coordinated, multifaceted asset on both ends of the court. On offense, he used his dribble and mobility as weapons. On defense, he held up well both on the interior and on the perimeter. Lyles made a lot of heady plays out there, as his basketball IQ continues to be the most surprising thing about him. The 24-year-old clearly knows how to play the game. 
Grade: B+
Patty Mills
Patty Mills didn't shoot it straight from the field but his energetic play, which sometimes bordered on uncontrollably spastic, provided the Spurs with enough life to survive a few of the rough patches they hit this game. Getting to the free throw line seven times was big. On defense, while the effort was certainly there, Mills' had a lot of trouble slowing down anybody at all. Whichever Jazzman went at him usually had success, be it drawing a foul, scoring a basket, breaking down the defense or all of the above.  
Grade: B
Derrick White
There was a lot to like from Derrick White's play. On offense, he moved with purpose and his crafty drives helped get him to the charity stripe for eight freebies. While his playmaking wasn't great for the first three quarters, he stepped up in the fourth and expertly steered the ship when it was needed most. His three-pointer in the final minutes was arguably the biggest shot in the game for S.A. Defensively, he was good throughout. He was quick on his feet, read plays quickly and his hustle resulted in a few notable stops. 
Grade: A-
Rudy Gay
The good: Rudy Gay's length was able to interfere with Utah's airspace on offense. He also rebounded pretty well and was better than usual at guarding the rim. On offense, I thought his shot-selection was decent enough and he didn't have that sloppiness that has ruined a lot of his performances. The bad: His perimeter defense was extremely slow. I don't think it was a lack of effort — Gay was just more immobile than usual, for whatever reason. On offense, he's more of a ball-stopper than someone who consistently helps right now. Unfortunately, Gay is nowhere near the offensive weapon he was last season. 
Grade: C
Jakob Poeltl
Jakob Poeltl was an absolute beast on the defensive end. When he wasn't blocking shots, he could be found altering shots or blowing up passing lanes. His rebounding on that end was also fantastic. A center can't play much better defense than Poeltl played in his 13 minutes. Offensively, it wasn't nearly as pretty. Poeltl missed a couple of easy shots and his rolls to the rim weren't timed very well. However, his heady passing and handoffs on the perimeter helped him retain some of his value on offense.
Grade: A-
Lonnie Walker IV
Lonnie Walker IV didn't really move the needle much in either direction. I thought his defense was pretty good. He was relatively consistent on that end, especially individually. On offense, his drives to the rim weren't as effective as they need to be for him to take the next step in his progression as an NBA player. But he also stayed within the offense and limited his miscues.
Grade: C+
Pop
I don't have much to complain about regarding Pop's coaching. He leaned on Murray and Lyles more than usual, which was the right call for both players. Pop limited Forbes' minutes in the second half after it was obvious his first half magic had dried up; that sounds simple but Pop doesn't always recognize when Forbes is completely off. The Spurs were also responding well out of timeouts. Most importantly, Pop went with the Murray and White combination to close out the game in the final six minutes. That's the alignment we've been begging for all season. Slowly it appears that Pop may be beginning to figure out that's the duo that needs to be on the court for the Spurs to close out games against good teams. 
Grade: A-
Up Next for the Spurs
The final game of the 2020 Rodeo Road Trip is back in Oklahoma City. Can the Spurs beat the Thunder on the road twice in three games? That's a tall order but let's hope this momentum keeps flowing in the right direction.