Grades: San Antonio Spurs at Utah Jazz – Game #65
The San Antonio Spurs didn't put up much of a fight on Monday against the Utah Jazz. Tonight, the Spurs got a rematch against the Jazz … and this was an even calmer walk in the park for Utah. The Spurs never made the Jazz sweat as they strolled to a 126-94 victory.
It's obvious that the good guys are tired. That said, you'd think with the end of the season in sight, they'd be able to summon some sort of energy. This evening, the Spurs were about as listless as you'll ever see an NBA team that is still in the postseason hunt.
Key Stretch
With 2:38 remaining in the first quarter, DeMar DeRozan scored to pull the Spurs within five points, 31-26. Over the next six minutes, the Jazz outscored the Spurs 22-1 to essentially end the game. The Spurs never got within striking distance of being within striking distance again.
Key Statistic
This was San Antonio's fifth straight loss. It's the second time this season that they've dropped five straight. At 31-34, it's the first time all season that the Spurs have dropped to three games under .500.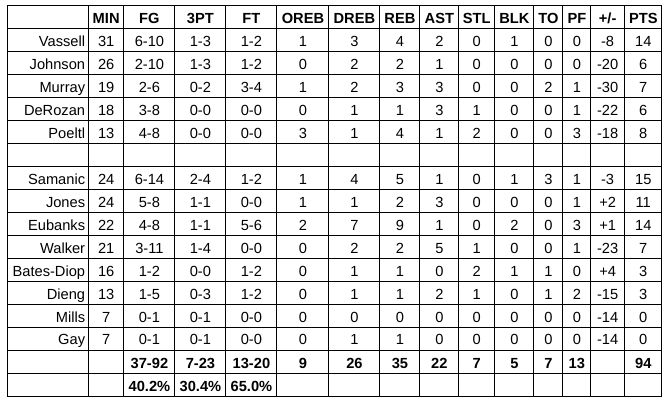 Spurs at Jazz: Final Grades
Devin Vassell
After another slow start in which he didn't score in the first quarter, Vassell played better and more decisively as the game progressed. He flashed some advanced moves with and without the ball. That said, he's not helping his fellow starters right now by consistently tripping while coming out of the starting blocks. 
Grade: B
Keldon Johnson
Johnson's defense wasn't too good and he also struggled to finish. His jumper looked decent though and he was one of the few regulars who played with an ample amount of energy. 
Grade: C-
Dejounte Murray
Murray was sloppy with the ball, his decisions were wonky and he wasn't getting the team into their sets fast enough. His defense was strong on a few possessions but that was about it. 
Grade: D+
DeMar DeRozan
If the Spurs were going to have a chance tonight, it would have been with DeRozan coming out of the gates aggressive and overflowing with life. Instead, he played tired in the first quarter and never appeared too interested in discovering a rhythm. 
Grade: D
Jakob Poeltl
The good: Poeltl's efforted on defense — both inside and outside. He had a couple slick finishes. The bad: Poeltl blew a couple of point-blank looks. His running of the court wasn't as swift as usual. He could have been better on the defensive glass. 
Grade: C-
Luka Samanic
I like that Samanic wasn't bashful at all. He came out looking to score — and kept it up. Not all of his decisions were technically correct but I don't fault him for trying. His athleticism, his ability to score on all three levels and his fearlessness were all on display. The next steps in his progression are to learn what to do and when to do it — and to tighten up his ball-handling and passing. 
Grade: B
Tre Jones
Not bad, not bad at all. The two question marks that caused Jones to drop to the second round were his athleticism and his shooting. Tonight, his athleticism looked legit against NBA competition. He had a pair of dunks and a few quick drives to the hoop. Add in some perfectly run plays and a couple of alleyoop passes and it's safe to say Jones made the most of his minutes. If his shooting comes around, the Spurs will have a second round steal on their hands.
Grade: B+
Drew Eubanks
I was also impressed with Eubanks' play. His rebounding was stout, he defended the rim well and he has still never missed a three-pointer in his NBA career. 
Grade: B+
Lonnie Walker IV
Within 90 seconds of checking into the game Walker had a driving dunk and a three-pointer. At that point, it felt like the perfect chance for Walker to take control of the offense and put the team on his shoulders. That … didn't happen. He had a few smart passes but his scoring dried up the rest of the way and his running of plays and his defense left much to be desired. 
Grade: C+
Keita Bates-Diop
Bates-Diop didn't do much to move the needle. He didn't play poorly — he just didn't do much at all. With so much garbage time, Bates-Diop had a chance to show what he can do. He didn't take advantage of the opportunity. 
Grade: C
Gorgui Dieng
It was a frustrating outing for Dieng. He was the first center off the bench but soon it was evident that this wasn't his night. All three of his three-pointers jiggled in and out. He was confused about where he needed to be on offense and defense, which basically resulted in him getting in the way constantly. 
Grade: C-
Patty Mills
Mills apparently wasn't made aware that this was indeed a game day. He played seven decaffeinated minutes before being shelved for the game. 
Grade: D-
Rudy Gay
Much like Mills, Gay entered the game and it soon became all too clear that his tank was already on empty by the time he took off his warmups. 
Grade: D-
Pop
The bad: Yes, the schedule has been tough and a pair of overtime losses have made things even tougher but the coaching staff deserves some blame for the team lacking anything resembling energy. The good: I'm glad Pop pulled the plug early. It was obvious by the end of the first quarter that the Spurs didn't have the wherewithal to compete … so giving the kids extra minutes was the right move. 
Grade: B-
Next Up
The Spurs get a day off before traveling to Sacramento to take on a Kings team that has won four straight games.