Grades: San Antonio Spurs vs. Utah Jazz – Game #47
No LaMarcus Aldridge. No wins in their last three games. No problem. The San Antonio Spurs (21-26) had one of their better wins of the season on Wednesday night as they defeated the Utah Jazz (32-15) by a final score of 127-120. The Spurs entered as underdogs but were in control of the game for most of the evening.
The first quarter was close before a late burst by the Spurs gave them a 37-29 lead going into the second. San Antonio grew their lead to double figures in the second quarter and kept it for much of the period. At halftime, the Spurs were up 70-62.
The third quarter saw the Spurs lead by as many as 15 points. In one of their few stumbles of the game, the good guys allowed the Jazz to go on a run late in the quarter. Heading into the fourth quarter, the Spurs advantage had been cut to four points, 98-94.
Less than five minutes into the final stanza, the Spurs were again up by double figures. From then on, Utah got within five points a couple times — but no closer. Each time the Jazz tried to get back into it, the Spurs were ready with a big shot to rebuff the attempt. 
The 2019-20 Spurs really don't make any sense. They are 5-2 in their last seven games against teams over .500. Against sub-.500 teams, they are 2-4 in their last six games. With a very difficult looking Rodeo Road Trip looming, who knows what to expect? Not I.
Against the Jazz, the shorthanded Spurs played as if they were the better team. They made it look like a walk in the park at times. Sure, the hot shooting inside of the three-point line helped but San Antonio looked like a really solid team.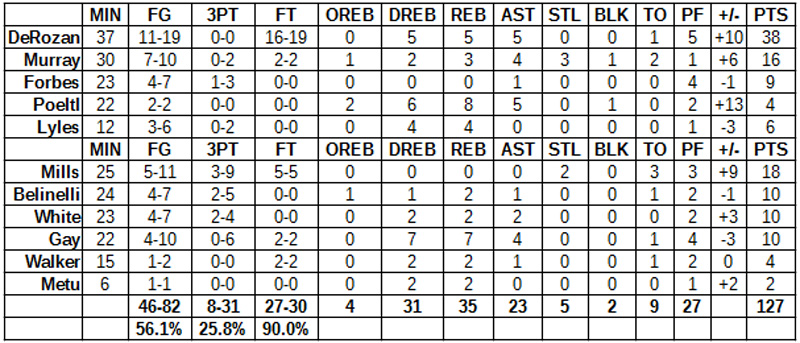 Spurs vs. Jazz – Final Grades
DeMar DeRozan
DeMar DeRozan's stretch of great basketball continues. Versus the Jazz, DeRozan poured in 38 points on only 19 field goal attempts. He did it by going 16-for-19 at the free throw line. As his number of freebies suggest, he was extremely physical and was more than willing to absorb contact on his journey to the hoop. When he wasn't shooting free throws, DeRozan was playing at a fantastic pace that allowed him to either take a smart shot or make a play for a teammate. That pace also allowed him to limit his mistakes as he picked apart Utah. Add in some solid defense, an extra few ounces of hustle and this was one of DeRozan's better showings in Silver and Black. 
Grade: A+
Dejounte Murray
Alright, young buck. This was Dejounte Murray's best game in awhile — and he desperately needed a good game. The difference for Murray tonight is he was in attack mode from the opening jump. But instead of forcing his way to the rim, he was searching out mid-range jumpers. Tonight, Murray was 6-for-7 on shots between 11 and 16 feet from the rim. His mid-range jump shot looks buttery smooth right now. After he established himself as a threat on offense, he was better able to make quality passes and reel in his spastic tendencies. Defensively, I thought he was pretty good. While he wasn't super disruptive, he also avoided the glaring miscues that have caused him to tally up extra time on the pine. 
Grade: B+
Bryn Forbes
On offense, Bryn Forbes was better than average. His shot-selection was okay and he knocked down his looks at an acceptable rate. Forbes stayed within the offense and limited his mistakes, which helped his value. Defense, he wasn't good. When he wasn't out of position, he was fouling. That said, we've come to expect poor defense from Forbes so I can't say I was surprised to see him struggle on that end.
Grade: B–
Jakob Poeltl
Starting in place of LaMarcus Aldridge, Jakob Poeltl was pretty decent. He struggled with Rudy Gobert's size and physicality — but, obviously, the Austrian isn't the only player who has similar struggles against the potential All-Star. All in all, I thought Poeltl rebounded well enough on both ends of the court. He was also moving really well on both ends. On offense, that movement created shots for himself and others. On defense, that movement allowed him to protect the rim and also get a hand up on the perimeter. All that said, where Poeltl shone brightest tonight was passing the ball. He's being given a chance to flex his passing skills more and more and Poeltl is taking advantage. 
Grade: B+
Trey Lyles
The good: Trey Lyles was more aggressive looking for his shot. He illustrated an underrated amount of athleticism a few times. He did good work on the defensive boards. The bad: I didn't love Lyles' shot-selection. I don't mind him being aggressive but they need to be quality looks within the flow. Defensively, he unimpressed when it came to defending the rim. Instead, he was a barely perceivable speed bump in the lane, at best. 
Grade: B-
Patty Mills
For the second straight game, Patty Mills provided all the energy the Spurs needed off the bench. He searched for good looks and he took them without hesitation. He might have forced a couple in the fourth quarter but, otherwise, I didn't have a problem with Mills' shot-selection. Defensively, his hustle was help at times. The weaknesses for Mills tonight were the fact he wasn't making any plays for his teammates and he was sloppier than usual. 
Grade: B
Marco Belinelli
For the first time all season, I thought Marco Belinelli's shots looked good. Up until tonight, Belinelli had been shooting an even flatter than usual ball. Tonight, he added more arc and I actually expected his shots to go in when he fired away. Defensively, it wasn't pretty — but it rarely is when it comes to Belinelli. 
Grade: B
Derrick White
This was a rock solid game from Derrick White. Offensively, he nailed a couple important shots, went without a turnover and made a couple nice passes. Defensively, he was stingy and almost always in the right position. Overall, White could have done more but tonight he seemed happy to take care of the basics … and it worked out well enough. 
Grade: B
Rudy Gay
The bad: Rudy Gay's three-point shooting. The good: Everything else. Okay, it wasn't that simple but that's close to reality. Gay was 0-for-6 from three-point range and 4-for-4 on twos. He also made some of the best passes of the game, took better care of the ball than usual and held up well despite playing minutes at center. He rebounded well among the trees and defended the paint pretty well. In fact, he was much better defensively in the lane than out on the perimeter. 
Grade: B
Lonnie Walker IV
Lonnie Walker IV wasn't shy about heading to the rim on offense. Defensively, while the stats don't paint much of a picture, Walker's understanding of San Antonio's schemes was much, much better than normal. He knew where he needed to be on the court defensively, which isn't always the case — particularly within zones. One negative tonight for Walker was an overall lack of energy. He didn't have anywhere close to his normal level of vivacity. 
Grade: B-
Chimezie Metu
Chimezie Metu got six minutes at backup center. He was alright. He had a smooth catch-and-release pop-a-shot in the lane and his athleticism looked potent when he went up for blocks and rebounds. Metu has a lot to learn but he doesn't fail the eye-test. 
Grade: B-
Pop
Pop apparently paid attention to the scouting report, as the Jazz lost their last game to a Rockets team that played microscopic ball; Houston's tallest starter was 6-foot-6. This evening, Pop also used some of his smallest lineups of the year (Gay at center, for example) — and it was probably on purpose and not just because Aldridge was out. Going small against the Jazz works because, while they have big centers, they aren't post up threats. Good coaching. Beyond that, I didn't have an issue with the rotation. Murray getting more minutes was justified. Belinelli played a lot but it didn't hurt too much on this night. 
Grade: A-
Up Next for the Spurs
The Spurs get an extra day off before playing their final home game before the Rodeo Road Trip. The Charlotte Hornets are only 16-31 and have last eight of their last nine games. So, I guess that means the Spurs will lose? I don't know anymore with this team.