Grades: San Antonio Spurs vs. Washington Wizards – Game #17
The San Antonio Spurs (9-8) are back over .500 following a 121-101 victory over the Washington Wizards. The Spurs started off slowly but dominated the short-handed Wizards in the second-half, outsourcing Washington 73-54 in the final two quarters.
Key Stretch
Bradley Beal hit a three-pointer with 5:40 remaining to bring the Wizards within five points, 101-96. Thankfully, the good guys responded with a 15-1 run in the game's next three minutes to end the suspense.
Key Statistic
Turnovers, or lack thereof, were once again a key for San Antonio. They had only nine total turnovers and posted a 3-to-1 assist-to-turnover ratio.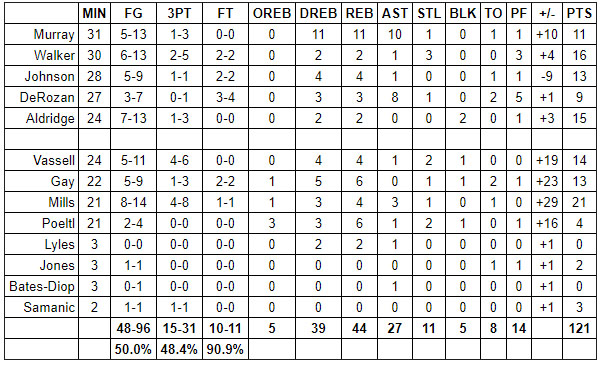 Spurs vs. Wizards: Final Grades
Dejounte Murray
After injuring his ankle last outing and missing the game's final 47 minutes, Murray was back in action tonight and ready to go. Amazingly, he looked like he was 100%. I didn't see any lack of quickness or burst after his ankle injury. Other than a couple questionable pull-up jumpers, Murray played really, really well. He posted a triple-double with only one turnover, while playing energetic defense. He kept the team in attack mode and it was his unending forceful play that seemed to eventually cause the Wizards to crack. 
Grade: A-
Lonnie Walker IV
It wasn't a great outing for Walker but it was definitely an above average one. Defensively, he had his moments. He had some lowlights on that end but he also played hard and was better than usual in terms of rotations and reading the offense. Offensively, he seemed to get better and more demonstrative as the game progressed. There were moments where he was thinking too much but for the most part he was an asset on the offensive end. 
Grade: B
Keldon Johnson
The good: Johnson hit a three-pointer after a stretch of games in which his threes were missing by feet, not inches. That was obviously great to see. His physicality on both ends of the floor put him in advantageous positions. His ferocity was a plus throughout and I didn't see much hesitation. The bad: Defensively, his rotations were sloppy. He was too often rotating off of shooters or rotating onto non-shooters. His closeouts were also hurried, which allowed players to drive by him. Offensively, his head-down kamikaze drives got him in trouble more often than not. A little bit more patience on those drives would make a world of difference. 
Grade: C+
DeMar DeRozan
On offense, DeRozan didn't have his usual pizzazz. He was relying more on strength than on quickness this game — and that allowed the Wizards to clog up his lanes. To DeRozan's credit, he was able to salvage some of his offensive value with slick passing. Defensively, he wasn't good. His rotations were a step late and he was compounding the issue by needlessly reaching and/or fouling.
Grade: C
LaMarcus Aldridge
Eh, Aldridge wasn't particularly effective but this was about an average game for what can fairly be expected out of him these days. On offense, he hit enough shots to improve the spacing. By staying beyond the three-point line, he gave his cohorts opportunities to drive. Defensively, he was swat-happy in the paint but that was about the extent of the aid he offered. He wasn't rebounding or playing perimeter defense of any sort. 
Grade: B-
Devin Vassell
Good stuff from the rookie. It's amazing how often this kid blows up pick-and-rolls he's involved in on the defensive ends. He has long arms, quick hands and elite anticipation and the result is a chaotic offensive possession for the opposition whenever Vassell is in the area. Offensively, he was 4-for-6 on three-pointers and 1-for-5 on two-pointers. Shooting-wise, I love what I see. He shoots a soft shot with an extremely high release point. Within the arc, Vassell just needs a dose of confidence. He seems to panic and not know what exactly he wants to accomplish when moving toward the rim. Hopefully he'll start figuring that out sooner rather than later.
Grade: B+
Rudy Gay
Gay did his part. On offense, he offered an instant punch and was a verifiably threat at all times. Defensively, he was inhaling anything in his neighborhood. Gay seemed to be limping from time to time, which made him even less mobile than usual — but he was still able to produce. 
Grade: B+
Patty Mills
Scoring 21 points in 21 minutes? Yeah, that'll do. Mills fired away early and often — and the Spurs were better for it. Early on, he blew a couple open layups but eventually more than made up for those gaffes. The Australian was the ultimately difference-maker in this game because the Wizards had no one off their bench who could deal with the electricity and tenacity Mills brought to the court. 
Grade: A-
Jakob Poeltl
Poeltl knocked down a long two-pointer that had to shock everyone, including the man who shot it. For a guy who has missed more than 75% of his free throws this season, it was genuinely shocking to see him hit that shot. Besides that jumper, I wasn't too impressed with Poeltl on the offensive end. He wasn't rolling hard, which led directly to a high percentage of the team's turnovers. That same timidness limited his upside in all phases of offense. Defensively, he was better. He was active and played his part well, both individually and team-wise.
Grade: B-
Pop
I was mostly really pleased with Pop's decisions. He didn't rely too heavily on his veterans. Not only was that the right move looking only at this game, resting the vets gives the Spurs a better chance in their back-to-back tomorrow night. Letting Walker play the most important minutes in place of DeRozan was the right move. Giving Vassell extra time was warranted. Whatever he said to the team at halftime should be bottled and stored for a rainy day. 
Grade: B+
Next Up
The Spurs play a back-to-back on Monday night in New Orleans against the Pelicans. In San Antonio's first trip to the Big Easy, the Spurs lost 98-95 on Dec. 27 — which was the first loss of the season. Hopefully the Spurs can enact revenge.