Grades: San Antonio Spurs vs. Washington Wizards – Game #2
For the second straight game to begin the season, the San Antonio Spurs entered the contest as a heavy favorite but found themselves trailing in the fourth quarter. Thankfully, for the second straight game, the Spurs were able to complete the comeback. Once again, it was DeMar DeRozan doing a lot of the heavy lifting down the stretch as San Antonio escaped with a 124-122 victory over the Washington Wizards.
The first period was tight but the Spurs were able to build a ten-point lead in the second quarter. The pesky Wizards fought back and it was tied 60-60 at intermission. The third was another nip and tuck affair, with San Antonio taking a 92-90 lead going into the deciding period.
In the fourth quarter, Davis Bertans almost got his revenge for the Spurs accidentally trading him away in the summer. Bertans, who finished with 23 points on a perfect 7-for-7 shooting from the field and 5-for-5 shooting from three, nailed a three-pointer with 5:23 remaining that gave Washington a five-point advantage, 112-107.
That's when DeRozan took over. The 30-year-old hit his final five shots from the court, including the game-winner on a determined drive to the hoop with 5.5 seconds remaining.
All in all, the Spurs didn't play that well. They took better care of the ball; after 21 turnovers in the opener, they had only nine tonight. But they didn't shoot well and it's painfully clear that the cohesiveness is still a work in progress on the offensive end. Defensively, the Spurs were between bad and really bad for most of the night. But, then again, at least the good guys have been able to begin the season 2-0 while playing far from their best basketball.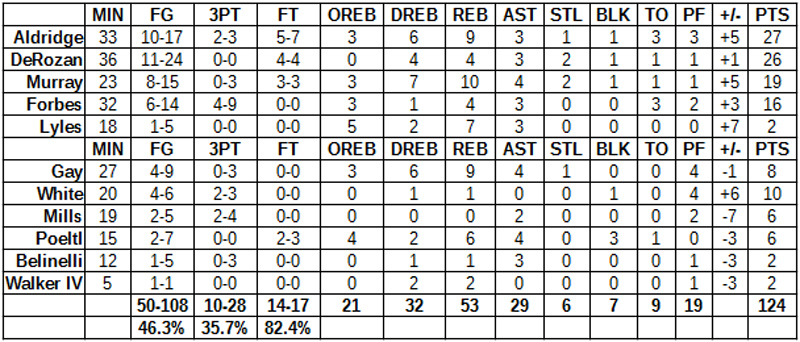 San Antonio Spurs vs. Washington Wizards – Final Grades
LaMarcus Aldridge
It's difficult to be angry with LaMarcus Aldridge's production, as he efficiently stuffed the stat sheet with crooked numbers. He has good touch on his shot right now, hit back-to-back three-pointers on consecutive possessions and his physicality is evidenced by the fact he shot seven of San Antonio's 17 free throw attempts. That said, his aesthetics weren't always pleasing. Aldridge missed open teammates and generally broke the flow of the offense too often. On defense, he didn't even attempt to give help on pick-and-rolls. Aldridge had a few possessions where he gave extra effort on defense but those possessions weren't nearly often enough.
Grade: B
DeMar DeRozan
This was almost an identical game to DeMar DeRozan's season opener. Against the New York Knicks, DeRozan was terrible for three quarters and then regained his footing in the fourth to help the Spurs pull out a win. Against the Wizards, DeRozan again started off really bad. He hit only six of his first 19 field goal attempts, wasn't making plays for his teammates and didn't appear to be playing any defense. But DeRozan awoke from his nightmare when the Spurs needed him the most. In the final four minutes, he was 3-for-3 from the field and all three shots came with the game tied. Even DeRozan's defense stiffened up down the stretch. I don't know why he's getting off to slow starts, although it probably has something to do with San Antonio have more options and DeRozan not always being the top playmaking option like he was last season. The good news is that there doesn't appear to be anything wrong physically, as he had three impressive dunks in addition to his game-winning layup.
Grade: C

Dejounte Murray
Dejounte Murray and his contract that can be worth up to $70 million sure looks good right now. Really good. We saw more evidence tonight that he's on a minute restriction, as he didn't play down the stretch despite arguably being the best player on the court. In the 23 minutes he was on the floor, he had 19 points, ten rebounds, four assists, two steals and a block. That's eye-popping production, especially when you consider he was 0-for-5 on shots that he attempted from more than three feet from the rim. Yes, the Spurs will need Murray to hit shots for him and the team to max out their potential, but his quickness, power and finishing finesse going to the rim has been really impressive. He also took much better care of the ball tonight. Defensively, he was a beast on the boards and made a few things happen here and there, but I thought his discipline was lacking. As a result, the Wizards were able to score when Murray took himself out of plays by being too aggressive. Overall, though, he has had a sparkling start to the 2019-20 campaign. 
Grade: A-
Bryn Forbes
Bryn Forbes hitting 4-of-9 shots from three-point land and 2-of-5 shots from two-point land sounds like a successful night — but I was actually underwhelmed. He had a lot of wide open shots he's been hitting since the start of the preseason that tonight he missed. Maybe I'm spoiled, I probably am, but I expected Forbes to hit more of those open looks. To his credit, he Forbes pulled up and knocked down a three-pointer to give the Spurs a two-point lead with 4:32 remaining, which was actually one of his most difficult shots of the night. Defensively, Forbes defended Bradley Beal more than anyone else and I thought he did relatively good. He navigated screens well and didn't do a lot of reaching. Forbes' defensive effective seemed to wane as the game progressed but he did commendable work on the whole. 
Grade: B
Trey Lyles
The good: I really liked Trey Lyles' passing to start the game. In fact, he exhibited better court vision than anyone else on the team in the first half. From quick reads to cross-court passes, Lyles was doing good work in that department. He was also good on the offensive glass. The bad: Defensively, he had trouble staying in front of Rui Hachimura. He also had trouble holding his ground in the paint and grabbing contested rebounds on the defensive end. On offense, Lyles turned down open looks, which negated his supposed stretch four advantages. If he's not going to shoot open threes, he's not going to actually space the floor. Lyles also could have gone up with more muscle when trying to finish at the rim. The conclusion: I think Lyles did enough to extend his reign as a starter. He didn't play well but he's obviously really talented and could fit what the Spurs need if he can figure it all out.
Grade: C
Rudy Gay
It was another active night stats-wise for Rudy Gay. He made good passes in tight quarters, rebounded his position really well and hit tough shots when the offense needed someone to create something. He's now 0-for-7 on threes to start the season, which isn't helping matters when the spacing is already cramped when he enters the game. Defensively, while he held up well in the paint, he's not able to move his feet well out on the perimeter. The bad news is that it doesn't look like Gay is running or jumping well. The good news is that it doesn't seem to be hampering his production much. 
Grade: B-
Derrick White
In the first half, Derrick White was bad. He made a couple mistakes, got blocked and then started playing like he was too petrified to even participate in the game anymore. He was slow-poking the ball up the court, wasn't creating on offense or doing much of note on defense. His second half, thankfully, was much better. White hit a three-pointer and then his confidence reemerged and he started playing well. His ten points in the second half were really helpful. That said, he never did begin creating for teammates and he had way more blown coverages on defense than usual. Typically, White is great at switching and reading what he needs to do to help out his teammates. He was missing that sixth sense for most of the evening.
Grade: C-
Patty Mills
Other than knocking down a pair of three-pointers, Patty Mills really didn't do much in his 19 minutes of play. His defense wasn't good — but that's expected at this point of his career. Offensively, he was somewhat useful off the ball but he really struggled when trying to get the team into their sets. Overall, Mills didn't have nearly the energy that he did in the opener. 
Grade: C
Jakob Poeltl
Jakob Poeltl is another player whose statistics look better than his actual level of play. He protected the rim well, battled on the offensive glass, made a couple slick passes and was more aggressive than usual in terms of looking to impact the game. But on the other hand, he uncharacteristically struggled to finish at the rim, wasn't good on the defensive glass and was late recognizing when he needed to switch on defense a handful of times during his 15 minutes on the court. 
Grade: C+
Marco Belinelli
You'd think Marco Belinelli would be getting open shots playing with the very good passers on the bench unit but that hasn't been the case through two games. He has to force the issue even more than usual to stay involved on offense. Versus the Wizards, he had a few heady passes while on the move but that was the highlight of his night. Everything else, particularly his poor defense, was forgettable. 
Grade: C
Lonnie Walker IV
Lonnie Walker IV got thrown into the fire in the fourth quarter. In his first action of the season, he spent time at both ends of the spectrum. On one hand, he didn't appear to trust his jumper and made a couple of blatant defensive mistakes. On the other hand, Walker's energy was palpable and seemed to give the team a little bit of a spark. The shot he made was one that he created for himself that tied the game with nine minutes remaining. While I don't think Walker necessarily played that well, the energy and activity boost he gave the team had to be noticed by the coaching staff. I imagine this energizer role will be his role for the time being. 
Grade: C+
Pop
I just can't overlook the terrible decision Pop made in the second quarter. With the Spurs up 50-40 with 5:30 remaining in the half, Pop played a lineup that included Mills, Forbes and DeRozan on the perimeter. Pop was mad at White so he used Mills at point guard instead. But he has to know that trio simply can't survive defensively. To the surprise of no one outside of the coaching staff, the Wizards outscored the Spurs 20-10 in the final five minutes of the half, which gave Washington life and muted San Antonio's momentum. Ugh. Outside of that mistake, I didn't have many other issues with Pop. I liked his gutsy use of Walker in the fourth and he finally allowed Murray and White to play together at the end of the game. It was only 5.5 seconds but, hey, that's a lot considering the pair didn't play together at all in the preseason or in the opener against the Knicks. (And watch the video to see who combined to get the stop to seal the win…)
Grade: D+