Grades: Spurs vs. Raptors – Summer League Game #6
The San Antonio Spurs successfully held on after blowing a massive lead against the Toronto Raptors in summer league action. Up by as many as 26 points in the fourth quarter, the Spurs gave it all back — almost. The Raptors missed a three-pointer in the closing seconds that could have sent the game into overtime.
All in all, though, the 93-90 summer league victory was an impressive one for the Spurs. Lonnie Walker was incredible, especially in the first half. The Spurs dominated the action until they took their foot off the pedal in the final stanza and the Raptors went to a zone defense that discombobulated San Antonio's offensive attack.
Luka Samanic, Keldon Johnson and Quinndary Weatherspoon were held out of this game due for rest purposes after all three played really well against the Hornets. Next up, the Spurs take on the Phoenix Suns on Wednesday.
Spurs Grades After Summer League Win Over Raptors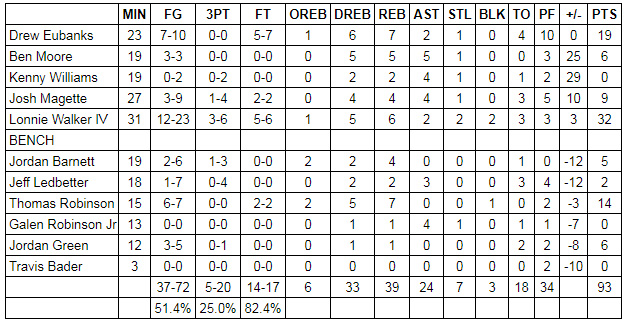 Lonnie Walker IV
In the first half, Lonnie Walker IV looked like he was too good for summer league. He was scoring with ease and simply appeared to be a level or two above everyone on the court. His pull-up jumper was money, his first step was virtually unguardable and he was getting whatever he wanted. At halftime, he had 23 points on 9-for-14 shooting from the floor, including 3-for-4 on threes.
In the second half, Walker appeared to come out of the locker room with a different mindset. Instead of dominating with points, he was looking to make plays for teammates. Simultaneously, Walker's defensive intensity rose and he played some of the best D that he has all summer league.
The fourth quarter wasn't his prettiest display of basketball. The zone really confounded him and he didn't know how to break it.
Overall, I was just really impressed by Walker's poise and overwhelming talent. At the very least, Pop needs to give him an opportunity to be in the rotation from Day 1 of the regular season.
Grade: A-
Drew Eubanks
This was Drew Eubanks' most adventurous outing of summer league. His hands were golden, as he was catching everything in his vicinity. He was powerful yet nimble when going to the rim and finishing. He was better on the boards than usual and did pretty well defending the rim and closing out on the perimeter when needed.
It wasn't a mistake-free performance, however. Eubanks committed four turnovers, a few of his ten fouls were especially poor and he got ejected down the stretch on a flagrant 2 foul for throwing an elbow. (There's a chance he could be suspended if the NBA decides to take a look and deems it an intentional elbow.)
Is Eubanks good enough to be a third-string center in the NBA right now? Probably … but that's not exactly a high bar to cross. That said, Eubanks to this point hasn't done anything to make the Spurs especially excited about his future.
Grade: B
Ben Moore
It was another all-around solid effort for glue-guy Ben Moore. He scored efficiently, even though he continues to pass up open shots. His passing was really good; I was impressed by his court vision. Moore defended — both individually and team-wise — and was stout on the glass. He didn't take any notable steps forward as an NBA prospect but the man can surely play this game.
Grade: B+
Josh Magette
I wasn't always pleased with Josh Magette's decisions. He took some questionable shots, including a couple that were either 1-on-5 or 1-on-4. He also has a habit of holding the ball longer than he should when he has a teammate pop open. Magette tries hard defensively and appears to be a good leader for this summer league squad. He has a chance to make an NBA team's training camp. Probably not in San Antonio, though.
Grade: B-
Kenny Williams
Kenny Williams has lived up to his billing as an ace defender. He drew a couple charges along the way to a stellar defensive performance. His anticipation and natural feel for that end is really intriguing. Offense is going to be a challenge, although he helped out against the Raptors by authoring a few heady passes.
Grade: B+
Jordan Barnett
He's bouncy, has an okay looking three-point shot and changes ends of the court quickly. Unfortunately, I don't see much skill in Jordan Barnett. He can really finish off plays but to climb up the prospect ladder, he's going to need to add some semblance of perimeter ability.
Grade: B
Jeff Ledbetter
When Jeff Ledbetter wasn't missing a shot, he could usually be found turning it over or complaining to one of the referees. This summer league expert had a night to forget.
Grade: D+
Thomas Robinson
While Thomas Robinson's numbers look impressive, I wasn't too enthralled by how he played. He's trying to be a stretch five — but it just doesn't pass the eye-test. The effort is commendable but he's too clumsy and uncoordinated to stay out on the perimeter. When he's battling in the paint, Robinson is strong enough to overpower most summer league defenders.
Grade: B-
Galen Robinson Jr.
The backup point guard was Galen Robinson Jr. once again and he didn't disappoint. He doesn't appear to have much talent but he keeps his mistakes to a minimum and distributes the touches well enough.
Grade: B
Jordan Green
Danny Green's cousin got out and ran the court hard and that helped him. Jordan Green got some transition buckets, which elevated his confidence off of the ground floor for the first time during summer league. He looks to be a relatively smooth athlete … but that's about the extent of his profile.
Grade: B
Becky Hammon
I'm not going to put the full blame on Becky Hammon for San Antonio's struggles with the zone but she didn't appear to do anything that noticeably helped the situation. In retrospect, she emptied the bench a bit too early in the fourth. Then again, with how much the Spurs dominated the first three quarters, I don't think anyone was expecting Toronto to mount a comeback. As for a positive, she called plays early and often for Walker, which obviously paid healthy dividends.
Grade: C+