Grades: Spurs vs. Hawks – Summer League Game #8
The San Antonio Spurs didn't make the playoffs in Vegas and decided to rest all their key players in the final game of summer league. With Lonnie Walker IV, Luka Samanic, Keldon Johnson, Quinndary Weatherspoon, Drew Eubanks and even Josh Magette sitting out, the Spurs fell to the Atlanta Hawks by a final count of 80-72. 
With all those top players sitting out, we got a longer look at the other prospects on the Spurs summer league roster. It wasn't the most well-played game but San Antonio showed heart by digging out of a huge hole and making it a competitive affair in the fourth quarter.
Spurs Grades In Final Summer League Game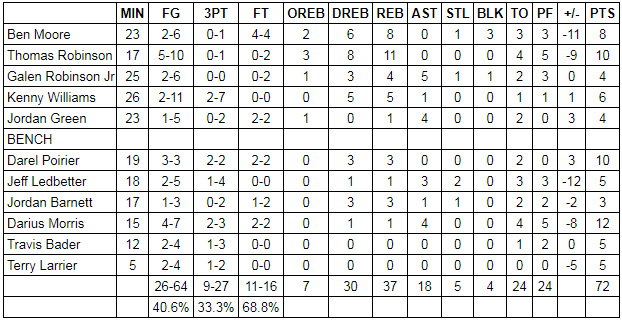 Thomas Robinson
Getting the start at center, Thomas Robinson showed more of what we know he has: rebounding instincts, athleticism to finish at the rim and a dependable motor. He did foul and turn it over a lot, mostly due to questionable hands, a lack of coordination and a lack of feel. Robinson played hard but didn't flash much of the talent that is needed in today's NBA.
Grade: B-
Ben Moore
It was a little bit surprising to see Ben Moore out there with all those other players resting but give him credit for playing in every game of summer league. His most impressive work came on the defensive end. His timing when going for blocks away from the rim is really impressive. Moore's rotations, defensive intelligent and natural feel for rebounding also impressed. Offense wasn't nearly as notable for Moore. He got overwhelmed by Atlanta's athleticism at times and wasn't able to do much playmaking. But let's applaud him for actually attempting a three-pointer after passing up threes all summer league long.
Grade: C+
Kenny Williams
Coming out of the gates, Kenny Williams drilled a pure looking three-pointer. Unfortunately for him, he went on to hit only one of his final ten shots from the floor. Defensively, Williams has the athleticism and instincts to have a chance to make it. The issue with him is on the offensive end.
Grade: C
Galen Robinson Jr.
Galen Robinson Jr. is a scrappy little point guard. He doesn't have much size or skill but he plays hard and plays smart. I thought he ran the team reasonably well but his playmaking and finishing ability were impacted greatly by his lack of physical tools.
Grade: B
Jordan Green
I tip my hat to Jordan Green's unselfishness on this night. He made an extra pass a handful of times when he could have tried to score for himself. The result was four well-earned assists. He also efforted on the defensive end of the court.
Grade: B+
Darel Poirier
It was good to see Darel Poirier out there after he suffered an ankle injury earlier in summer league. For a 6-foot-11 big, he has a smooth three-point stroke. He's also decently bouncy and mobile.
Grade: B+
Jeff Ledbetter
Though he didn't have the same energy he had earlier in summer league, Jeff Ledbetter did what he could on both ends of the court. He's a scrappy defender and a somewhat useful secondary playmaker on offense.
Grade: B
Jordan Barnett
Tough game for Jordan Barnett. He got repeatedly blown by on the defensive end; he doesn't appear capable of defending out on the perimeter. His decision-making on offense was questionable, to put it kindly, and his two three-pointers drew more air than rim.
Grade: D+
Darius Morris
The poor man's Andre Miller of summer league provided a few highlights tonight. Darius Morris used his guile and experience to make plays with the ball. He also shot it well — but turnovers remained an issue for him.
Grade: B
Travis Bader
This was the first good look we got at Travis Bader. He doesn't appear to be much of an athlete but he does have a picture-perfect jumper.
Grade: B
Terry Larrier
Terry Larrier has an NBA body and, despite a couple ACL tears in his basketball career (including one last year), it looks like he still has good athleticism. Good for him.
Grade: Inc.
Becky Hammon
We didn't find out much about Becky Hammon this game. Although, to her credit, the team didn't give up after an extremely slow start. The team kept running sets and playing unselfishly.
Grade: B-
Next up, I'll grade each member of the Spurs summer league team for their performances in both Salt Lake City and Vegas. In the meantime, join us in the forum or leave a comment below.