Grades: San Antonio Spurs at Oklahoma City Thunder – Preseason Game #1
In what was an intense contest for a preseason game, the San Antonio Spurs ended up losing to the Oklahoma City Thunder on Monday night by a final score of 122-121. In the preseason debut for both teams, the matchup between rookies Victor Wembanyama and Chet Holmgren lived up to the hype. Both played a competitive brand of basketball while showing jaw-dropping skills for being seven-foot-plus.
To say San Antonio's offense was humming in the first two quarters would be an understatement. Led by Wembanyama's 18 first half points, the Spurs held a 81-74 lead at halftime. The main characters didn't get as much action in the second half but, all in all, the good guys have to be thrilled with how the first preseason game of the Victor Wembanyama Era played out.
Spurs @ Thunder Stats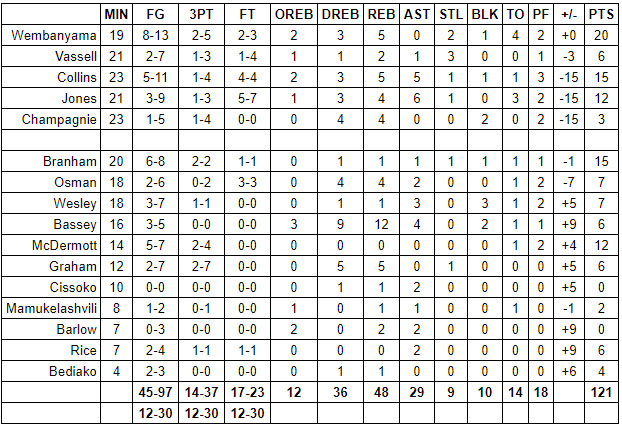 Spurs @ Thunder – Final Grades
Victor Wembanyama
Yes, it'd be unwise to take too much for a meaningless exhibition game. That said, Wembanyama pouring in 20 points in 18 minutes in his Silver and Black debut will have Spurs fans smiling for the next few days. The Frenchman had a plethora of wow moments while exhibiting a special amount of technical skill away from the basket. Wembanyama did a little bit of everything while showing off his immense potential. (Brothers and sisters, this guy is really on the Spurs. It's still unbelievable.)
Grade: A
Devin Vassell
Vassell played with a palpable amount of confidence on the offensive end. His defense was also much more attentive than it was for the vast majority of last season. Vassell didn't shoot it straight but he definitely looks bigger and stronger than last season.
Grade: C+
Zach Collins
Collins as the center next to Wembanyama at power forward passed the first real-life eye-test. It looks like Collins lost a bit of weight in the offseason and the result is quicker, more explosive athleticism. I liked what I saw. Collins was shooting with confidence, passing the rock well and remained consistently in the middle of the action. If his preseason debut is any indication, Collins looks to be in line for a very productive season.
Grade: B+
Tre Jones
Jones was sloppier than usual but there were some bright spots. His chemistry with Wembanyama is already showing signs of emerging. Jones was very much willing to shoot perimeter shots when the defense ignored him. I also thought he was much more physical in the paint than we've become accustomed to witnessing from him.
Grade: B
Julian Champagnie
Champagnie was the fifth starter with Keldon Johnson and Jeremy Sochan sidelined with general soreness. He was okay. Champagnie didn't hesitate to fire from deep, which helped the spacing — especially in the first half. He too looks to be in great shape and was moving really well on both ends.
Grade: C+
Malaki Branham
Branham had 15 points in 20 minutes off the bench. The first impression of his sophomore season is that this kid is a professional scorer. He has a silky smooth midrange game and rarely gets in a rush. Importantly, he also knocked down both of his three-point attempts. If Branham is going to thrive in the association, he has to be a knock-down three-point shooter.
Grade: A
Cedi Osman
The fit of Osman on San Antonio's bench appears to be a seamless one. He's a multi-talented player with enough size, strength and athleticism to impact the game in a variety of ways. He's going to have to play well to stay in the rotation but Osman didn't do anything on Monday night to hurt his chances.
Grade: B
Blake Wesley
Wesley was the primary backup point guard behind Jones and in true Wesleyan style, he had his ups and downs. His playmaking was inconsistent and his finishing left a lot to be desired at times. But, net-net, I thought Welsey did more good than bad. I loved his activity level on defense; his speed and length blew up a lot of possessions. Offensively, it wasn't always pretty but he was able to create shots for himself and others even in murky situations.
Grade: B+
Charles Bassey
Coming off a knee injury, I wasn't sure what to expect from Bassey. Thankfully, the center looked better than ever. He was moving around great and his ability to read and react instantly was something we didn't see a lot last season. Bassey has great rebounding and shot blocking instincts and that was on display against the Thunder. Add in heady passing and more spring in his jumps and Bassey looked like he could become a very good backup center.
Grade: A+
Doug McDermott
Sure, it was only preseason but it looks like McDermott will have more room to operate this season. Last season, teams were able to key in on him. That's going to be more difficult — especially when he's on the court with Wembanyama.
Grade: A
Devonte' Graham
Graham didn't enter the game until the start of the fourth quarter. As is always the case with him, he wasn't hesitant about firing threes. Graham had a shot to win the game at the end but it bounced harmlessly off the back of the rim. 
Grade: B-
Sidy Cissoko
Cissoko didn't shoot in his ten fourth quarter minutes but it's clear he's a quality passer. It's also clear that he has a big body and is willing to focus his energy on the defensive end. That's good stuff from a teenage rookie.
Grade: B
Sandro Mamukelashvili
Mamukelashvili was ready to roll right when he hit the court. He moved with purpose and made smart decision after smart decision. It'll be interesting to see when he gets his shot to crack the rotation.
Grade: B+
Dominick Barlow
Barlow had a few lowlights during his fourth quarter stint but he played hard and it's clear that his basketball IQ is steadily improving.
Grade: C
Sir'Jabari Rice
Speaking of smart players, Rice already plays with the intelligence of a veteran. He knows exactly what's asked of him on both ends of the court. We'll see if he's big enough and athletic enough to make it at this level.
Grade: B+
Charles Bediako
Bediako had a strong finish in the lane and was able to hold his ground in the paint. It's going to be really difficult for him to make the team but he should feel happy with how he played tonight.
Grade: B+
Pop
In the first preseason game, Pop's primary task was to make sure Wembanyama's season started off on the right foot. Mission successful. Pop also spread the minutes around enough to get a healthy look at a lot of different players.
Grade: A