Grades: San Antonio Spurs at Golden State Warriors – Preseason Game #5
The San Antonio Spurs ended preseason play on a high note with a 122-117 victory over the Golden State Warriors. The win improved the Spurs to 3-2 in the preseason, while the Warriors lost for the first time and dropped to 4-1.
The Spurs got off to a fast start offensively. By the end of the first quarter, San Antonio had a 44-35 advantage. The Spurs held on to their lead in the second quarter and began to grow their advantage in the third quarter. In the fourth, Golden State made a run but San Antonio's deep reserves were able to make enough plays to come away with the W.
All in all, this was an impressive way to end the preseason. A lot of strong play by a lot of players — and a palpable amount of competitiveness on both ends. Bring on the regular season.
Spurs at Warriors Stats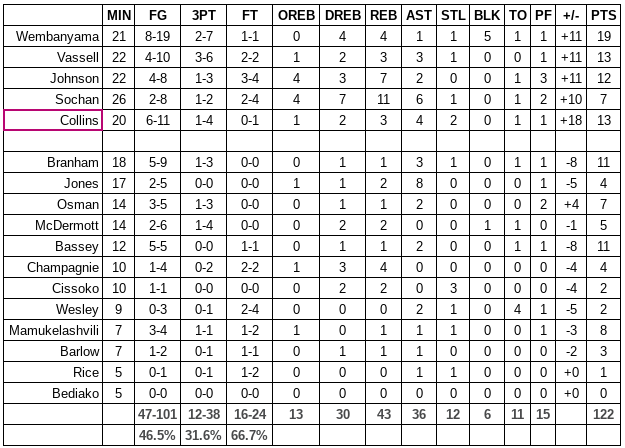 Spurs at Warriors – Final Grades
Victor Wembanyama
Wembanyama might have forced a couple of three-pointers but that was about the extent of his negatives on this night. He was dominant on the defensive end. His perimeter defense, specifically, looked fantastic. Wembanyama was a terror in the open court and was a walking mismatch in the halfcourt. I can't wait to see this kid play real NBA minutes.
Grade: A
Devin Vassell
Vassell splashed three more three-pointers in 22 minutes. He also authored a few high-level passes and was moving well without the ball. Vassell looks to be in a great place right now and his pairing with Wembanyama already looks pristine.
Grade: A-
Keldon Johnson
It was nice to see Johnson be a bit more active. He got himself involved and did so with a healthy amount of efficiency. Johnson needs to pick his spots on this iteration of the Spurs and he did just that tonight against the Warriors.
Grade: B+
Jeremy Sochan
The good: We saw more genuine playmaking from Sochan tonight than usual. Not the greatest rebounder, he was much more active on the glass than usual this evening. His defense on the perimeter was a plus. Sochan's three-point stroke looks much improved. The bad: Sochan tried to score when he had a size mismatch — but had a lot of trouble converting. His decision-making wasn't bad but it was oftentimes a beat or two too slow.
Grade: B
Zach Collins
Collins was bobbling the ball a lot tonight but other than that he was good. He shot threes with confidence, finished with strength in the paint, rebounded well and passed the ball wisely. Most importantly, Collins looks like a solid pairing next to Wembanyama heading into the regular season.
Grade: B+
Malaki Branham
Branham was silky smooth creating shots for the second unit. His ability to get into the midrange and shoot off the dribble looks like it could become an elite skill for him. I also thought Branham quietly had a handful of smart passes.
Grade: B+
Tre Jones
Off the bench, Jones was flawlessly quarterbacking both in transition and in the halfcourt. He missed a couple makeable shots but his ability to keep things humming with the starters off the court should make him a valuable player this season.
Grade: A-
Cedi Osman
Osman capped a really strong preseason with another notable performance. From playing defense to shooting threes and from attacking the basket to crashing the glass, Osman has done it all. Against the Warriors, his toughness helped the bench thrive during his minutes.
Grade: A-
Doug McDermott
McDermott didn't shoot it straight but he looked better tonight than he had previously in preseason. Instead of moving at a glacial pace, the veteran was actually more bouncy than usual. While he was clearly outplayed by Osman in the preseason, I fully expect McDermott to start the season in the rotation due to his three-point shooting ability.
Grade: C+
Charles Bassey
One of the brightest spots in preseason was Bassey's re-emergence as an important cog in San Antonio's machine. Against Golden State, he poured in 11 points in 12 minutes on 5-for-5 shooting from the field. And these weren't all easy shots. Bassey hit tough floaters and difficult shots on the move. He looks really good right now and opens the season as the team's backup center.
Grade: A
Julian Champagnie
Champagnie was okay-ish in his fourth quarter minutes. His three-pointers didn't fall but he took the ball to the rim and rebounded well. To stay on a winning course in his NBA career, he's obviously going to have to shoot threes much better than he did this preseason.
Grade: B-
Sidy Cissoko
Good stuff from Cissoko down the stretch. His defense really shined. Cissoko has a big body and good anticipation. When he gets his hands on the ball, he's strong enough to rip it away from most players. Add in a timely transition bucket and Cissoko has to be happy with his preseason finale.
Grade: A-
Blake Wesley
Yeesh. With the Spurs trying to hold onto the lead in the fourth quarter, Wesley was 0-for-3 with four turnovers. That's … not great. He was playing physical defense but San Antonio needs headier play from someone who wants to be an NBA point guard when he grows up.
Grade: D+
Sandro Mamukelashvili
Mamukelashvili had to be San Antonio's most impactful all-around player in the fourth quarter. He was seemingly everywhere. His perimeter shot looks great and he has moves when driving to the cup. Mamukelashvili has an uphill battle to crack the rotation but his strong preseason play didn't hurt him in that regard.
Grade: A-
Dominick Barlow
Barlow had an acrobatic finish while getting fouled. His mobility on defense was also very helpful in the fourth.
Grade: B+
Sir'Jabari Rice
Rice didn't do a whole lot during his five minutes but he also didn't look out of place. He knows how to play basketball and can be counted on to make the right play. That in itself is impressive for a rookie.
Grade: B
Charles Bediako
Bediako didn't dent the stat sheet during his five fourth quarter minutes. Now we wait to see if he gets released or if the Spurs keep Bediako on a two-way contract.
Grade: Inc.
Pop
Pop's handling of Wembanyama this preseason was flawless. He let the youngster experiment and begin the process of figuring out what he can and can't do in the NBA. Tonight, Wembanyama had a long leash — and I couldn't be happier.
Grade: A