LaMarcus Aldridge: The Curious Case of the Spurs' Enigmatic Big Man
Just over four years ago, the San Antonio Spurs had one of their biggest free agent coups in franchise history when LaMarcus Aldridge came home to Texas to team up with Tim Duncan and eventually guide the Spurs into the post Big 3 era. Fans were salivating at the prospect of having another elite big man to help extend San Antonio's title window.
Fast forward a few years and Spurs fans are left scratching their heads when it comes to the enigma that is LaMarcus Aldridge. Some nights he can go off for 56 points against a conference rival and other nights he sulks like a player that feels he isn't given enough attention or touches. It's no secret Aldridge has had issues sharing the limelight in the past. He was agitated by the fact that his role as the go-to guy was diminished by the rise of Damian Lillard, which was ultimately a factor in his departure from the Portland Trail Blazers.
Since his arrival to San Antonio, Aldridge has arguably been a bit of a mixed bag at times. There have certainly been moments over the past few years where he plays like the best big man in the Western Conference, as he's providing effortless scoring on one end and elite rim protection on the other end. However, it's hard not to get frustrated on nights where it seems like Aldridge mentally checks out. To make matters worse, when he isn't featured offensively, his defensive intensity declines like clockwork.
San Antonio is coming off a bitterly disappointing loss to the Atlanta Hawks, in a game where Aldridge continued his struggles by shooting a paltry 6-for-14 from the floor. It was even worse than that, as one of the field goals he was credited with was actually an accidental tip-in by the Hawks. When the Spurs were falling apart in the fourth quarter on both ends, Aldridge didn't attempt a shot or even register a statistic outside of one turnover and one personal foul. His most notable play in the fourth was being on the wrong end of a Trae Young highlight.
While the Spurs are only seven games into the season, Aldridge is averaging the worst numbers of his career since his rookie season in points (16.1), field goal percentage (44.2%) and rebounds (6.7). He is also averaging a career-high in turnovers at 2.3 per game.
A Closer Look at LaMarcus Aldridge's Numbers
Aldridge is coming off an All-Star season so this sharp decline is rather worrisome, especially in a crowded Western Conference. To get a better idea about where things are going wrong, let's take a look at Aldridge's shot chart and shooting splits.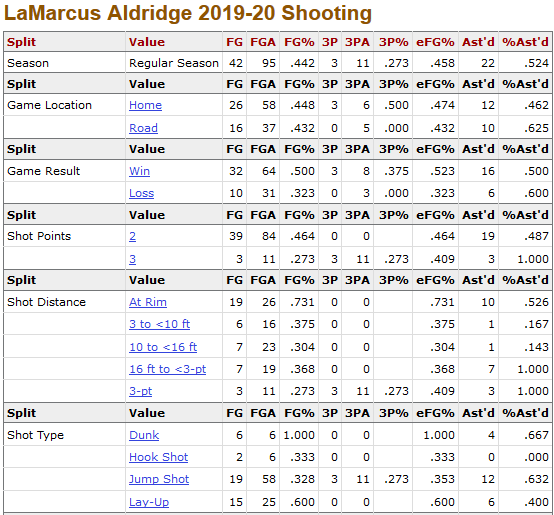 What we can see here is that Aldridge's midrange game has completely abandoned him. However, when Aldridge is near the rim, he is converting at an extremely high level. These numbers point to Aldridge needing to use his size more often to take advantage of his touch at the rim — and not simply settle for fadeaway jumpers. The Spurs should also make it more of a priority to get the ball to Aldridge as low in the block as possible.
Aldridge tends to excel when he's involved in pick-and-pop sets. Last season, he was ninth in pick-and-pops with 20% of his offense coming from those situations, whereas this season he's fallen down to 25th. Hopefully those numbers improve as he builds his chemistry with Dejounte Murray.
The Spurs are also playing at a higher pace than they have in a long time. With Aldridge primarily being at his best in a half court situation, this could also be a reason for his dip in production. The best case scenario for both Aldridge and the Spurs is that this slow start to the season is just a shooting slump that he'll battle his way out of as the season progresses.
The Need for an Engaged LaMarcus Aldridge
With Murray on a minutes restriction and backup point guard Derrick White recently banged up, it is imperative that Aldridge finds his mojo sooner rather than later. Sitting just a game above .500 after an encouraging 4-1 start, the Spurs can't afford to have their All-Star big man lay an egg on a regular basis. When Aldridge is hitting shots and feeling involved, the Spurs are a completely different team. Not only is his offensive production helpful, he also tends to be better on defense and on the boards.
That said, the one undefeated opponent in the NBA is Father Time. Aldridge is 34 years old and, sooner or later, some sort of decline is inevitable. However, Aldridge's game was never one that relied on speed or athleticism. He's highly durable and his skill-set is built to hold up well against wear and tear, so there's hope he can delay a major decline for a few more years.
The Spurs recently guaranteed the remainder of Aldridge's $24 million dollar contract. Perhaps it is a sign that they may not be extending DeMar DeRozan's contract and are looking at Aldridge to remain the main man as Murray, White and the rest of the young players continue to develop. However, the Spurs have to be hoping that the contract was for the star player of a playoff team and not a lottery one.
But when it comes to Aldridge, you never know quite what to expect.