Film Room: Lonnie Walker IV's Transformation Evident in These Two Plays
After a loss on Halloween to the Los Angeles Clippers, San Antonio Spurs head coach Gregg Popovich didn't shy away from expressing his displeasure with Lonnie Walker IV. He called the 20-year-old "noncompetitive" and said that Walker played "horribly."
"I expect better effort, better awareness," Pop explained, "and a better attempt to take advantage of the minutes that he gets."
After that night, Walker didn't get many minutes at all. In fact, he didn't play more than five minutes in consecutive games after that Clippers contest. However, that all changed last night in San Antonio's 135-133 victory over the Houston Rockets in double overtime.
Pop gave Walker another opportunity to play minutes as part of the normal rotation — and Walker took his chance and ran with it.
It can definitely be argued that Pop should have given Walker more of a chance to earn back his minutes earlier in the season, particularly during the losing streak. What can't be argued, though, is the undeniable growth that has occurred in Walker's approach to the game since his forgettable outing against the Clippers. 
Lonnie Walker IV: Then and Now
Back on Halloween, Pop was mostly upset about Walker's defense, however his passivity on offense was also plain to see. 
In this moment in the Clippers game, Walker is wide open with Poeltl setting a screen on the one L.A. player that was still in the play. This should have been an easy layup or dunk by Walker.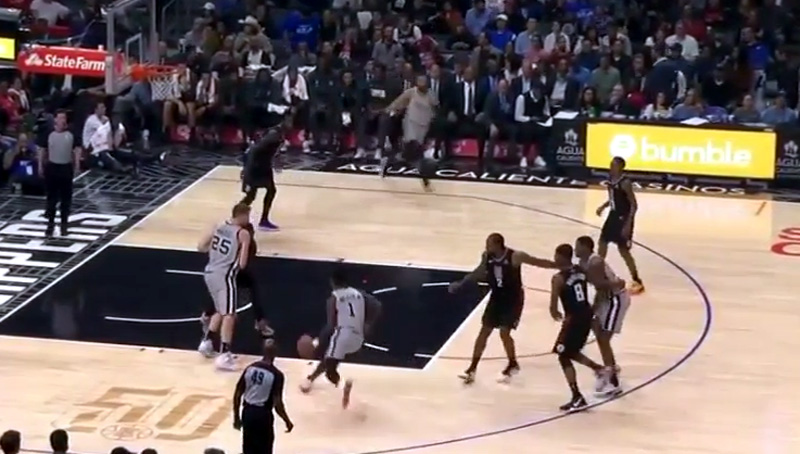 But, instead, Walker timidly drives right into the screened defender before passing the ball away.
Against the Rockets, Walker was faced with a very similar but more congested version of that play. This time, instead of timidness, Walker blows by Russell Westbrook, evades the help from Clint Capela and uses Poeltl's screen to his advantage before finishing at the rim.
Walker's transformation was also apparent on the defensive end of the court. In the Clippers game, Walker was assigned to defend Kawhi Leonard. But multiple times up the court, Walker was inexplicably slow to guard Leonard, which caused mismatches on the court and steam to emit from Pop's ears.
In this example, LaMarcus Aldridge can be seen pointing out that Leonard is open. Walker, instead of taking on the job he was put on the court to do, allowed Bryn Forbes to defend Leonard instead. As expected, Leonard scored over Forbes, as Walker only feigned help even though his man was 35 feet from the basket. 
Now look at the difference in the Rockets game, where Pop had Walker assigned to James Harden. Walker misses a three in the corner and has every excuse to let someone else pick up Harden in transition. But, no, not on this night.
Walker flies in, tells Forbes to get out of his way and plays tight, aggressive defense on Harden. The refs ended up calling a foul in Harden's favor on the drive (surprise, surprise) but this was the type of effort, awareness and competitiveness that was missing in the Clippers game.
The Impact of a Transformed Lonnie Walker IV
With Walker in the game, Harden shot 6-for-24 from the floor while turning it over four times and handing out only two assists in nearly 30 minutes of action. More importantly, Walker never for a moment backed down or shied away from Harden. He embraced his defensive role, while at the same time pouring in a team-high 28 points on the other end — 23 of which came in the fourth quarter and the two overtimes.
First and foremost, give credit to Walker for understanding what is expected out of him and being up for the challenge. Does Pop deserve any credit for the transformation? Maybe or maybe not. But it's good to know that Walker isn't intimidated by criticism but instead seeks out the constructive message within.
After the Rockets game, Pop used the word "spectacular" to describe Walker's play.  
"He understands what it takes a whole lot more now," Pop added.
In those two plays, we witnessed Walker's understanding of what he needed to improve and his willingness and fearlessness to go out and do it.