Crunch Time Blues: Why The Spurs Are Failing In Late-Game Situations
For a team that was going to use continuity as an advantage to begin the season, the San Antonio Spurs have often looked like a pick-up team playing together for the first time. Late-game execution, specifically, was once a source of pride for a team that leaned on their veteran leadership and corporate knowledge. But that execution has given way to uncertainty in crunch time situations.
The Spurs inability to close out games this season is a strange one, especially when you consider that last season they were 24-16 in games that were within five points in the final five minutes. They also had a top five offensive rating in clutch situations. San Antonio has taken a huge step back in that department this year. What is even more frustrating is that they are suffering badly on both sides of the ball.
Getting Over The Hump
This season the Spurs are just 2-7 in games that had clutch situations. Their offense in crunch time went from top five last season to an abysmal bottom four this season. Late in the game, the Spurs ball movement tends to stop completely, as they are also bottom five in assisted field goals in clutch situations. That stat makes a little more sense when you factor in that DeMar DeRozan and LaMarcus Aldridge are iso-heavy players who create for themselves. However, as tired legs come into play, the Spurs become too stagnant and predictable.
DeRozan has the highest usage rate for the Spurs at the end of games. While DeRozan is shooting a career best 51.8% from the field this season, his shooting percentage plummets to 41.2% in crunch time. He is also amongst the biggest culprits on the team for late-game fouls and turnovers.
During his time in Toronto, DeRozan fared well in crunch time in regular season games. He was a top three player in clutch points in the 2017-18 season. In his career best 2016-17 season, he was 4th in PER in the clutch behind LeBron James, Kyrie Irving and Giannis Antetokounmpo.
When comparing his clutch shooting during his best season with the Raptors versus this season with the Spurs, we can see how much more efficient he was up north.

When reviewing highlights of DeRozan from that season, I saw that he was much more decisive with the ball. He knew as soon as the Raptors came out of the timeout what shot he wanted to get. DeRozan seemed so much more comfortable with the midrange jumper as opposed to forcing the issue at the rim.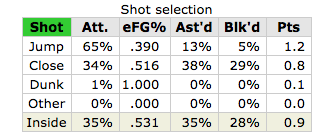 With the Spurs this season, DeRozan appears to attack the rim more — but it often yields mixed results. He's also been getting blocked more often because he puts his head down and goes full steam towards the basket.
After DeRozan grabs the defensive board, no other Spur touches the ball. He bee lines it for the rim but goes up against the outstretched arms of elite shot blocker Hassan Whiteside. DeRozan is forced into a tough layup when he had Aldridge available down low. He also had Rudy Gay and Derrick White open at the three-point line. DeRozan is the Spurs best playmaker but sometimes he needs to take the blinders off and go for the drive-and-kick as opposed to putting all the onus on himself.
Here, DeRozan takes it to the rim only to be rejected by Whiteside. DeRozan isn't dunking nearly as much as he did in Toronto. In Toronto, he would have around 35 dunks per season, while last year with the Spurs he had 23. In late game situations, if DeRozan wants to take it to the basket, he will have to go much harder.
In fairness to DeRozan, he was fouled by Rodney Hood just before his layup attempt. The refs missed it, as the NBA confirmed, but DeRozan exacerbates the problem by pulling down Whiteside in frustration, leading to a loose ball foul. Since the Spurs were in the penalty at this point, the Blazers were given free throws to extend their lead.
DeRozan needs to work on his temperament. He has gotten both of his technical fouls this season in the final two minutes of the fourth quarter. With the Spurs struggling to score and defend in late-game situations, they certainly can't afford to give away any points to the opposition.
No Half Measures
As rough as things are offensively, the Spurs defensive woes make for a ghastly sight. When taking a closer look at where things fall apart, we see that the Spurs allow their opponents to shoot 49.2% from the floor in crunch time — that puts them as one of the five worst teams in that category. They are also second worst in forcing turnovers. The inability for the Spurs to force turnovers really hampers their chances for easy baskets in transition.
The Spurs have a worrying trend of getting into a hole early, only to fight back — before letting it slip away in the final minutes. They are one of the worst first quarter teams in the league in points (25.4) and field goal percentage (42.2), while being one of the best scoring teams in third quarter play. Ironically, for all their crunch time faults, the Spurs are one of the best shooting teams in fourth quarters as well. So when it comes to the last five minutes, what gives?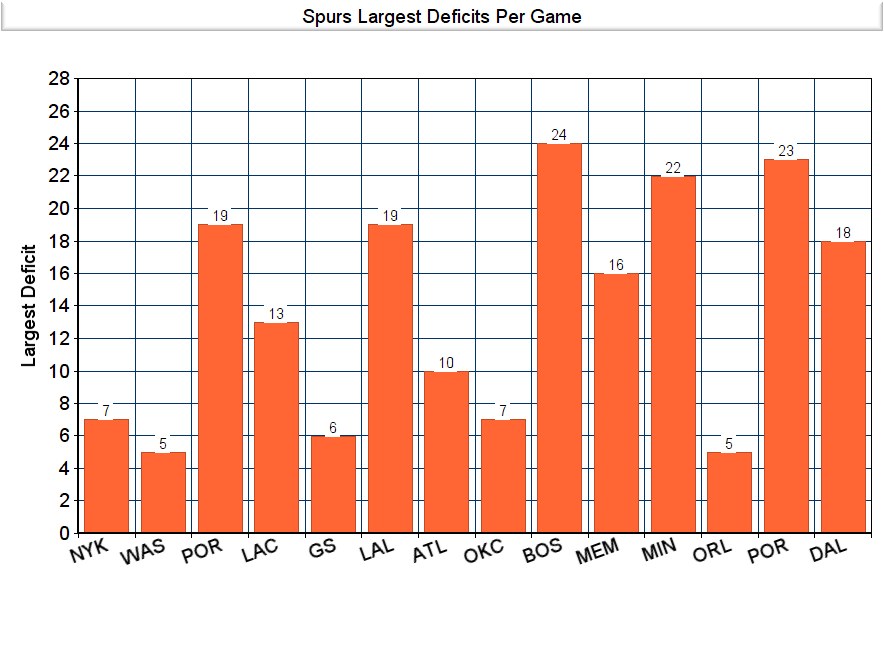 As seen in the chart above, the Spurs have been down double-digits a whopping nine times out of fourteen games played. No matter what team you are, you're always going to expend a lot of energy clawing back into games. Logically, this can be a cause for tired legs toward the end of fourth quarters.
They say a tired body can lead to a tired mind. The Spurs had battled back from a 16-point deficit against the Memphis Grizzlies to take the lead. At this point, they are tied with two minutes left:
The Spurs collapse the paint so hard that Tyus Jones is wide open for a three. After dodging that bullet, four Spurs are just watching the ball sail over their heads. White is scrambling for the loose ball, but it's too late. Jae Crowder drains the three. Had Crowder not wanted to shoot, he also had a wide open Dillon Brooks (38% from downtown).
Just over a minute later, Gay does an excellent job of forcing Brooks into a tough shot, but it's all for naught as three Spurs can't seem to keep Jonas Valanciunas off the glass.
The Valanciunas rebound is a back breaker. Aldridge wasn't strong enough on the box out and Jones finds a wide Jaren Jackson Jr. for three. While Bryn Forbes did an admirable job of boxing out Jackson on the initial play, he gets sucked in too far after the offensive rebound, leading to a wide open three.
Now, it should be noted that upon review the three was called off as the shooter had his heel out of bounds. However, DeRozan would get blocked by Jackson on the very next play. The Grizzlies would then hit their next two free throws after the Spurs fouled on purpose. Curtains.
Started From the Bottom…Why Are We Still Here?
There is no question that this has been a trying season for Spurs fans everywhere. It can be argued disappointment like this hasn't been experienced since the 1996-97 season. As grim as these late game stats look, all hope is not lost. Tweaks will have to be made. Every player on the roster has room for improvement. Gregg Popovich will also need to figure things out so that the Spurs aren't starting every game in a hole.
Perhaps DeMarre Carroll should be starting instead of Forbes, as his defense would certainly be an upgrade. Moving him to the starting lineup would allow for DeRozan to play at the 2 as opposed to the 3. DeRozan is at his best when he's able to take advantage of smaller defenders, which would more often be the case with Carroll in the starting lineup.
The Spurs are still one of the best second half shooting teams in the league. Once Pop settles in on a starting lineup that works, as well as a closing lineup he can trust, the Spurs should be able to finish games better than they have so far this season.