Why the Spurs' New Starting Lineup is a Total Disaster
Head coach Gregg Popovich had witnessed the San Antonio Spurs start games slowly during a six-game losing streak. To inject energy into the beginning of game, Pop decided to elevate Patty Mills and Jakob Poeltl to the starting lineup. The result? Another loss — San Antonio's seventh straight — this time, it was at the hands of the Washington Wizards by a final score of 138-132.
The Wizards, who entered the game as underdogs, pulled away from the Spurs by scoring 75 points in the second half, led by Bradley Beal's 27 points in the final two quarters. 
After the game, Pop had a simple explanation for the loss: "If you score 132 points, you should probably have a pretty good chance to win a game. The bad news is, if you give up 138, you are not going to win."
Why did the Wizards score 138? It all starts with the starting lineup.
1. Defense Goes from Bad to Worse
Entering last night's game against Washington, the Spurs had the fourth worst defense in the NBA, as they were allowing 112.2 points per 100 possessions. With San Antonio's defense, or lack thereof, such a pressing issue, Pop made the head-scratching decision to promote Mills into the starting lineup. For all of the positives Mills brings to the coffee table on and off the court, defense is not one of them — to put it kindly. At the same time, removing Dejounte Murray, far and away the team's most active defender, from the starting lineup added gasoline to the dumpster fire that is the team's D.
It's not an overstatement at all to say that the defensive trio of Mills, Bryn Forbes and DeMar DeRozan is the worst perimeter defending group of starters in the league by leaps and bounds. For statistical proof, look at the bottom of the leaderboard for defensive points saved.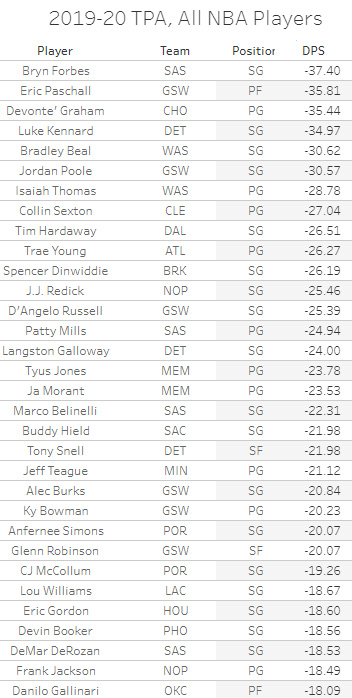 Yes, according to this statistic, Forbes is the worst defender in the entire league — which matches up with our previous findings. Not much further down the list you will find Mills and DeRozan (oh, and Marco Belinelli, for good measure). Put it this way: If DeRozan, who has a long history of making teams worse defensively, is the best perimeter defender in your starting lineup, your team is in big trouble.
We saw the weakness on defense manifest most obviously in the third quarter, when Beal went for 21 points without missing a single shot from the field. It was ugly.
As well as Pop can coach defense, it's simply impossible to become even an average defensive team if your three perimeter defenders to start games are the defenseless trio of Mills, Forbes and DeRozan. 
2. Offense Wasn't the Problem
Going into the Wizards game, the Spurs had the fifth ranked offense in the NBA. For all of Murray's early-season growing pains while learning how to run the show and for all of Trey Lyles' hesitancy to assert himself scoring-wise, the offense wasn't what was causing the Spurs to lose games.
Inserting Mills and sitting Murray makes some sense in a scenario where the Spurs are struggling to score and they want Mills to come in and draw from his vast experience to more precisely run the team. But, again, this team was scoring at a more than adequate rate.
Allowing Murray to wreak havoc on defense while growing into his role on offense makes a whole lot more sense than the adjustment Pop went with.
3. The Demoralization of Dejounte Murray
It's clear that Murray is a natural-born leader who isn't intimidated by the task of taking the reins of a storied franchise. He has a lot of work to do, particularly offensively, but he has talent and he's already a proven difference-maker on the defensive end.
Murray's leadership skills, his reputation for working hard and his burgeoning basketball abilities won him the starting point guard spot before training camp even began. And it's why the Spurs invested $64 million in him during the preseason. 
Throughout the losing streak, Murray was preaching about unity and doing what he could do to keep the squad from fracturing. And while his performances were up and down, overall his play remains promising. His PER of 19.78 is 12th best among all point guards, ahead of noted lead guards like Russell Westbrook, Ben Simmons and Jamal Murray.
Pop opting to neuter Murray and not-so-subtly blame him for the losing streak is a highly, highly questionable decision. Murray was growing as a leader while showing flashes of brilliance. To go from operating the weaponry to sweeping the mess hall could do irreparable damage to Murray and it undoubtedly hurts his standing among his teammates. It's difficult enough for a young player in the NBA to be a team leader — it becomes impossible if that player doesn't start and has apparently lost his coach's confidence.
4. The Trey Lyles Experiment is Over
It wasn't always pretty but Lyles was slowly starting to emerge as a viable starter on the NBA level. As a starter, he provided great rebounding, an impressive amount of ball-handling and passing for a big man, and he had begun hitting threes as of late (in his last eight games as a starter, he was 10-for-20 from three-point range).
While Lyles played seven minutes against the Wizards, the truth is that if he's not starting, he's not going to be a part of the regular rotation going forward. With players like Rudy Gay and DeMarre Carroll available to play power forward off the bench, keeping Lyles in the starting lineup was the best way for the Spurs to figure out what they have in him. Considering that his contract next year is only partially guaranteed, continuing to evaluate him would have been helpful. Plus, there was a chance that Lyles could break out and live up to his lottery pick potential as he got more comfortable in the starting lineup. 
Now it's only a matter of time before Lyles is sitting next to Lonnie Walker IV as the team's 11th or 12th man.  
5. Jakob Poeltl Isn't a True Fit in the Starting Lineup
Poeltl is a solid player. At his best, he's one of the best backup centers in the NBA. But in a league that is getting smaller, faster and increasingly skilled on the perimeter, the Spurs are limiting their ceiling by relying on Poeltl as a starter. The combination of Poeltl and Aldridge isn't quick enough to thrive in today's league, particularly as the 34-year-old Aldridge slows down.
Offensively, Poeltl's presence next to DeRozan isn't helpful, as Poeltl's man can simply clog the lane. And now that DeRozan doesn't even pretend to be a three-point shooter, the Spurs can't afford to negatively impact their spacing even more.
Maybe Lyles wasn't the solution but given Poeltl's skill-set, he's certainly not a good answer next to a slowing Aldridge and a perimeter-phobic DeRozan.
6. Derrick White's Disappearing Role
With Mills starting now, where exactly is White going to play? If Pop continues to play Murray and White strictly at point guard, that may mean that one of the two may get bumped from the rotation completely. That would obviously be ridiculous.
As it is, Pop's refusal to lean on White this season has been odd. White had a strong season last year. By Pop's own admission, he was the team's second most important player. Coming into this year, White looked like an up-and-coming prospect poised for big things.
Instead of White breaking out, he's averaging 23.4 minutes per game — 2.4 fewer minutes than he did last season. Unless he's on a secret minutes restriction, White not playing more minutes is almost criminal. As is the fact that Murray and White have only played together seven minutes all season.
For a team that desperately needs to improve their defense, White needs to be on the floor. This new starting lineup might actually cut his minutes further, which would inevitably make the defense worse.
What Pop Needs to Do Next
It sounds like White is expecting to play Friday night against the Philadelphia 76ers. If he plays, it makes the most sense to put Murray or White back into the starting lineup. And not necessarily in place of Mills. It's actually Forbes who is the weakest link in the starting lineup. White and Mills or White and Murray would be a step in the right direction.
At the very least, if Mills and Forbes start, Pop has to play Murray and White together off the bench. If Pop sticks with his preference to play Murray and White solely at point guard and they're both playing behind Mills, that's the worst case scenario.
Who starts next to Aldridge isn't as big of a deal by comparison. I don't think Poeltl makes sense with Aldridge slowing down. Going back to Lyles or going with Gay or Carroll would make more sense looking at the bigger picture and how the game is being played today. But if Pop wants to give the Aldridge and Poeltl duo another try, that won't hurt a whole lot. The main negative is it would essentially end Lyles' Spurs career just when he appeared to be turning a corner.
As the Spurs try to end their seven-game losing streak, Pop can't afford any more unforced errors that makes life more difficult for his players and makes the defense even more feeble. He has a chance to reverse course and fix the starting lineup. Let's hope that Pop corrects his mistake and that there aren't any lingering repercussions.