Weekly Preview: Spurs to Face the Grizzlies, Wolves, Magic and Blazers
In the Weekly Preview, we'll take a look at the upcoming games for the San Antonio Spurs. This week, the Spurs play the Memphis Grizzlies, Minnesota Timberwolves, Orlando Magic and Portland Trail Blazers.
Memphis Grizzlies at San Antonio Spurs
Monday, November 11, 6:30 PM CT
After getting trounced by the Boston Celtics on Saturday, the Spurs will look to right the ship against the lowly Memphis Grizzlies. The Grizzlies are just 2-7 coming off a loss to the Dallas Mavericks at home. Memphis was without their leading scorer, rookie phenom Ja Morant, who was given the night off for load management reasons and to get ready for tonight's matchup.
The Grizzlies and the Spurs both had their worst defensive performances of the season last time out, giving up 138 and 135 points, respectively. They have to hope those outings were an outlier and not the norm. Memphis is in the bottom three for points allowed (120.1), while San Antonio is ranked 19th (112.7). Both teams have surprised many with their increased pace this season. Memphis, historically a "grit and grind" team, play with the 6th fastest pace, while San Antonio are 14th in that category.
Morant's return will be a big boost to the Grizzlies. He leads all rookies in points per game at 18.8 while shooting 49.2% from the floor. He is also tops among rookies with 5.5 assists per game and he's a lethal shooter from three-point territory (46.2%). Expect Dejounte Murray and Derrick White to take turns on Morant, who will be the head of the snake for this Memphis squad.
What will be an interesting matchup is the battle of the benches. Both teams have benches that rank in the top eight in scoring. For Memphis, Brandon Clarke leads all bench scorers at 11.5 point per game. The rookie will definitely be one to watch out for with the second unit, as he's active on both ends of the court . For the Spurs, backup center Jakob Poeltl has struggled so far this season, but Patty Mills has been on fire, especially from three point range (22-for-44).
The Spurs big men, most importantly LaMarcus Aldridge and Poeltl, will have to show up and limit penetration against a team that ranks first in the league in points in the paint at 55 per game. San Antonio was outscored 30 to 60 in the paint against the Celtics, so look for them to focus on that area in tonight's game.
San Antonio Spurs at Minnesota Timberwolves
Wednesday, November 13, 7:00 PM CT
The Spurs will be on the road for this one where both teams currently have identical records (5-4). San Antonio has only beaten the Golden State Warriors on the road, while the Minnesota Timberwolves are just 2-2 at home coming off a loss to the Denver Nuggets in overtime.
Karl-Anthony Towns has struggled since his suspension, shooting just 39.0% from the field — which includes a woeful 25.8% from downtown. He has upped the number of threes he takes per contest this season, but it's unclear if it has made him a better player.
On the flip side, Andrew Wiggins is shedding his bust label so far this season. He has been carrying the Timberwolves for stretches and is much more efficient than he was in the past, as he has been doing a lot of damage at the rim and from three-point range. Wiggins has taken 165 field goal attempts of which 86 have come in the paint, 58 in the restricted area and 54 have been threes. Only 25 have come from midrange. Wiggins has historically been a midrange shooter (33% of his shots in his career), so shooting from further out has been a very welcome adjustment to go along with his newfound tenacity in the paint.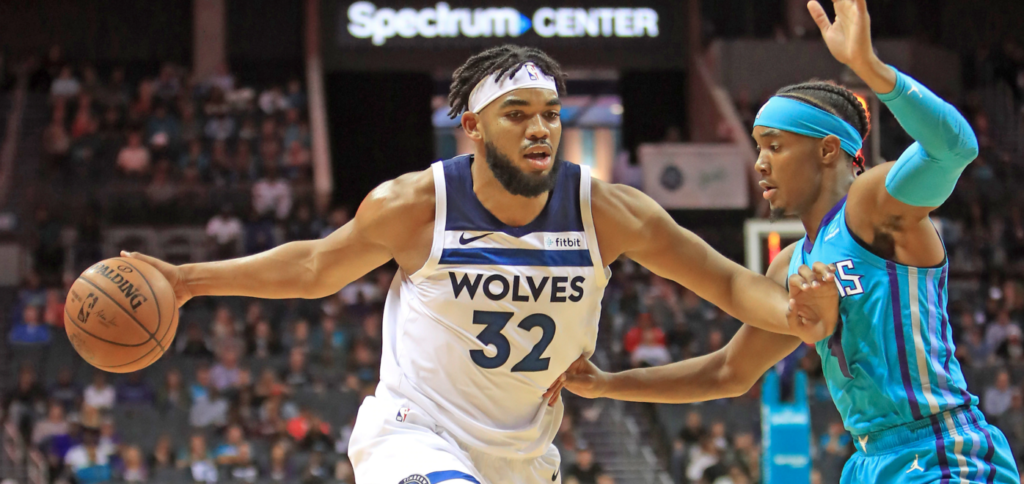 The Spurs will hopefully give Demarre Carroll more playing time after his solid stint against the Celtics. He would most likely be the Spurs' best hope in keeping Wiggins in check. Aldridge can't afford another horrid performance like he had against the Celtics. Aldridge and Towns will be the key matchup of the night, as both big men have been running hot and cold this season. The winner of the battle between Aldridge and Towns could decide which team comes out victorious.
The Timberwolves are ranked 7th in scoring (115.6 per game) as well as rebounding (47.3 per game). Minnesota is also one of the worst three point shooting teams in the league, so hopefully the Spurs can continue to shoot threes as well as they did against the Celtics (14-for-30). This will be a very physical game and a win would be extra beneficial as the Spurs and Timberwolves could end up battling for the same playoff spots late into the season.
San Antonio Spurs at Orlando Magic
Friday, November 15, 6:00 PM CT
The Spurs take on the struggling Orlando Magic in the first night of a back-to-back. The Magic are scoring a league-low 98.1 points per game while also being second worst in the league in field goal percentage (41.9%). Where the Magic do flourish is defensively, as they currently are sixth in defensive efficiency.
The Magic have shown signs of life offensively. Last night, they shot 55.3% from the floor and 61.5% from three-point range in the first half against the Indiana Pacers. However, they also tend to go through several scoring droughts that cause games to get away from them. It is imperative that the Spurs take advantage of these cold spells as Orlando won't make it easy for San Antonio with their defense.
Magic center Nikola Vucevic will keep the Spurs big men busy, as he has been averaging a double-double with 17.1 points per game and 11.5 rebounds. However, he is posting a career-low in field goal percentage (43.6%), while hitting only 24.3% of his threes on 3.7 attempts per game. Vucevic and DJ Augustin had a promising partnership in the pick-and-roll last season, however they have struggled this season to replicate that success.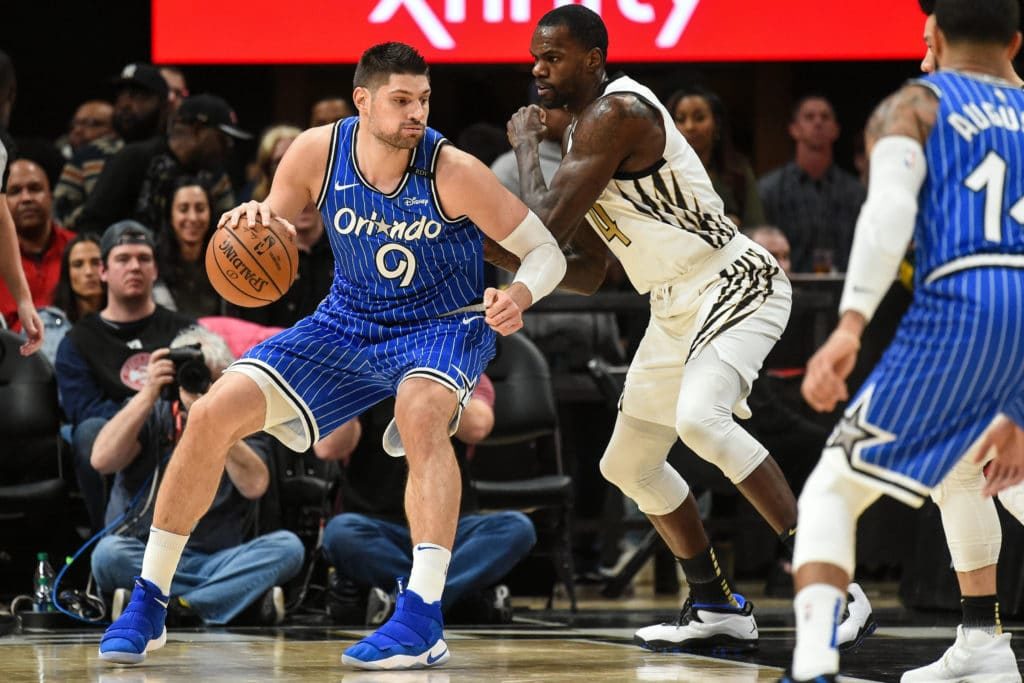 San Antonio should look to put the game away as early as possible so they can save their legs for second night of a back-to-back against Portland. Dejounte Murray may be rested against Orlando as he is on a minutes restriction, but hopefully the other Spurs can take care of business on the road.
Portland Trail Blazers at San Antonio Spurs
Saturday, November 16, 7:30 PM CT
The last time these teams faced off, we were given a nail-biter of a finish as the Trail Blazers roared back to make it a close contest. Despite being down early, the Spurs were able to take a commanding 19-point lead before Damian Lillard scored 18 straight points in the fourth quarter. The Spurs absolutely cannot afford to step off the gas in this rematch.
Lillard is coming off of a franchise record 60-point performance against the Brooklyn Nets. In their last encounter, Dejounte Murray did a superb job holding Lillard to just six points and two assists on 2-for-11 shooting when guarding him. However, that fourth quarter barrage will still be fresh and Pop may have to relent and allow for Murray and White to play together more often. If not, then he will have to make sure at least one of them is on the court at all times, because defensively the other backcourt options leave much to be desired.
Portland has lost 4 of their last 5 games, but the Spurs still shouldn't take them lightly. The Blazers rank top ten in pace, three-point field goal percentage and rebounds. They also have one of the most formidable backcourts in the league in Lillard and CJ McCollum and will want to avenge their earlier loss to the Spurs.
This will be the game of the week for the Spurs. Closing it out with a win on a back-to-back would go a long way toward getting the Spurs back on course after the disappointing week they just experienced.