Handing Out Season Awards for the 2019-20 San Antonio Spurs
Although it's not yet known if the NBA season will be canceled or if play will continue at some point, the season for the San Antonio Spurs (27-36) is over, for all intents and purposes. The Spurs are the 12th seed in the Western Conference and even if NBA action resumes in the coming months, the remaining number of regular season games will be minimal, which will make it almost impossible for the Spurs to advance to the playoffs.
In a scenario where the league is brought back for an abbreviated end to the regular season, the Spurs would most likely let the young players play out the string. San Antonio wouldn't have any reason to risk injury to their veterans and the chances of making the playoffs would be too minimal to even attempt to make it.
For those reasons, now is the time to hand out the awards for the 2019-2020 Spurs season. To say this campaign has been a let down for Spurs fans would be an understatement. However, there were some highlights along the way.
Best Player
DeMar DeRozan
For a player who has been routinely criticized for his shot-selection and his overall inefficiency, DeMar DeRozan is having one heck of a season. He is shooting the best field goal percentage of his career at 52.7%. This goes with a career-best effective field goal percentage of 53.2%. Not bad for a guy who has a reputation for chucking it from midrange.
DeRozan is also one of three players in the entire league to average over 22 points and at least five assists and five rebounds per game. The other two? LeBron James and Giannis Antetokounmpo. Oh, and let's not forget that DeRozan was the first guard in NBA History to post 20-plus points, 3-plus assists and at least 50% shooting in 13 consecutive games, surpassing Michael Jordan in that regard.
Derozan has taken a lot of criticism in his career, I'm guilty of it myself, but this season it has been difficult to argue that he has been anything other than the Spurs best player this year. He earned this award.
Worst Player
Bryn Forbes
Marco Belinelli was the first player that came to mind for this award, but head coach Gregg Popovich finally came to his senses and drastically reduced his minutes. So that leaves us with none other than Bryn Forbes. Forbes has seen drops in his field goal percentage, three-point percentage and free throw percentage compared to last season.
However, the lack of shooting accuracy isn't even the biggest issue for Forbes. He is the worst player in the rotation when it comes to defensive rating at 114.4. His offensive rating for a player whose reputation hinges on his shooting is also very poor, placing him tenth on the team with a paltry 108.3. To make matters worse, he also has the worst net rating of all rotation players at -6.1.
The Spurs are a significantly worse team with Forbes on the floor. It's difficult to justify playing him — much less giving him 25 minutes per game and keeping him in the starting lineup despite that clearly being a mistake.
The biggest problem for Forbes is that when he is not shooting well, he offers nothing else. He runs very hot and cold (and this season, mostly cold) and it would be a mistake for the Spurs to look into bringing him back.
Most Improved
Lonnie Walker IV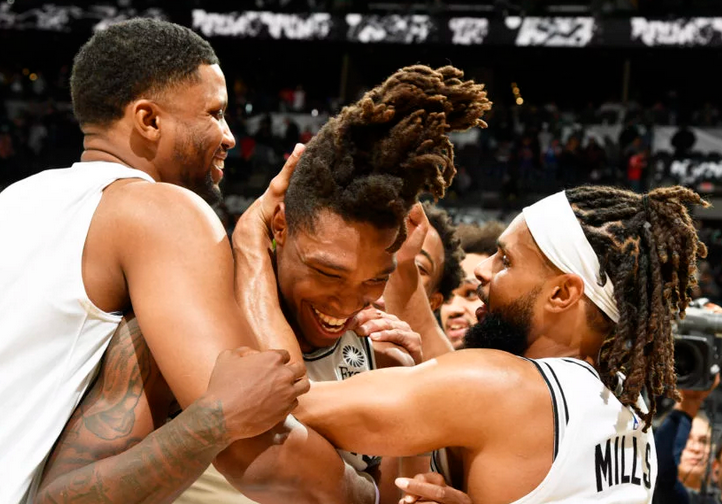 Spurs fans spent a lot of time this season, especially early on, clamoring for Lonnie Walker IV to get a bump in minutes. They weren't alone, as the players also liked what they saw in his limited game time. Pop finally relented as the season went along, which allowed Walker to blossom. His minutes doubled this season, and while his numbers may not jump out at you, Walker was single-handedly responsible for winning a game or two himself.
December saw him post the best numbers of his career, including 8.5 points per game. He also had one of the best plus-minus numbers on the team that month at +9.1. That was in a month where the Spurs also went a season-best 7-5.
Walker has made strides defensively and he should be a lock to be in the Spurs backcourt rotation for years to come. In a season where the team underperformed, Walker was one of the few bright spots giving Spurs fans hope for a bright future.
Most Disappointing
Rudy Gay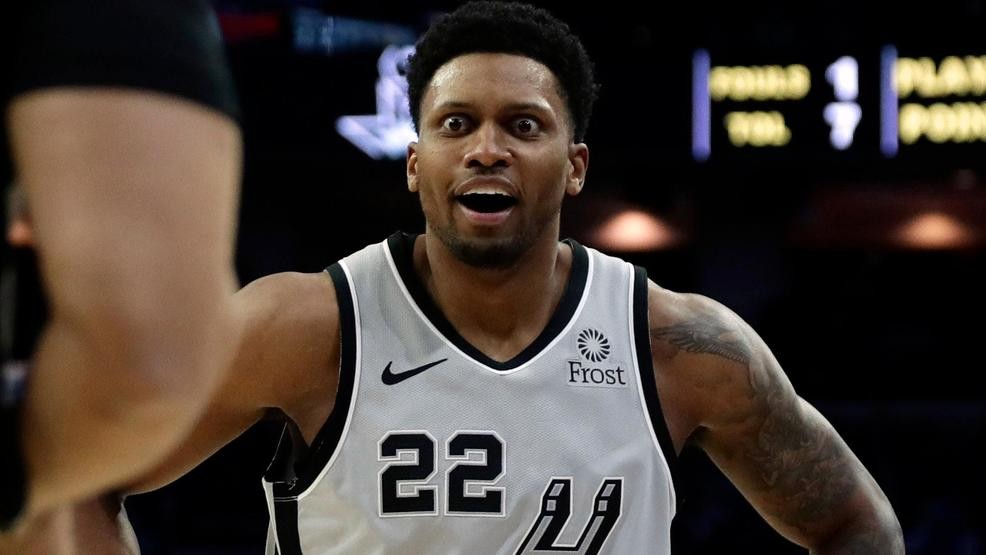 The Clash once wrote an an excellent song "Rudie Can't Fail" but clearly they didn't stick around to witness the abomination that was Rudy Gay's 2019-20 season.
The Spurs re-signed him over the summer to a two-year, $32 million deal. Unfortunately, this year he is posting the worst numbers of his career in nearly every single statistical category. He's averaging his worst ever scoring total (9.6 points per contest) to go with some of the worst field goal percentage (43.7%), rebounding (4.4) and assist (1.2) numbers of his career. Thankfully, he only has one year left on his deal and perhaps he'll perform better in a contract year as his career nears its end. For a guy who once famously banned stat sheets from locker room, maybe he was onto something.
Best Win
Spurs 126, Bucks 104
The Spurs have had their share of memorable wins this season, especially for a team that is nine games under .500. The Lonnie Walker IV game against the Houston Rockets was thrilling, and hammering the Los Angeles Clippers at home was definitely entertaining.
For me, though, the most impressive victory of the season was the game where the Spurs manhandled the league-best Milwaukee Bucks in their only visit to San Antonio this year. The Spurs hit a season-high 19 three-pointers while handing the Bucks their most lopsided defeat of the season and their first loss against a sub .500 team.
DeRozan poured in 25 points on very efficient 11-for-15 shooting. With the Bucks throwing double teams at LaMarcus Aldridge, he made the right passes every time and the shooters took advantage. Against the best the league has to offer, the Spurs dominated from the the opening tip and never took their foot off the gas.
Worst Loss
Blazers 121, Spurs 116
I wish I could spare you the lowlights but this Portland Trail Blazers game was notably infuriating in a season full of some really agitating losses. At the time, the Spurs were neck-and-neck with the Blazers for the eighth spot in the West, which raised the importance of this game.
The Spurs got off to a slow start and found themselves down 23 points in the second quarter at home. They managed to battle back to make it an eight-point deficit at halftime. In the second half, the Spurs got off to a slow start again and Pop gets himself ejected in the third quarter with the Spurs facing a 15 point deficit. Pop is known to purposely get himself thrown out to fire up the team and it absolutely worked this time. The Spurs were on fire while going on a 42-12 run to take a 15-point lead in the fourth quarter and the AT&T Center was rocking. Everything was great … until it wasn't.
Horrible defensive mistakes, poor decisions by DeRozan and a dubious review in the final minute of the game led for a very frustrating finish. Damian Lillard only went 4-for-19 from the floor but CJ McCollum picked up the slack with 32 points. All in all, it was a night to forget in what switched from a great comeback win into a bitter defeat within a matter of minutes. That game, as it turns out, was a microcosm of the Spurs season.