Grades: San Antonio Spurs at Portland Trail Blazers – Game #15
The San Antonio Spurs dropped to 6-9 after letting a win slip through their fingertips in Portland against the Trail Blazers. The Spurs were seemingly in command of the game in the fourth quarter before the Blazers rallied for a 117-110 victory.
The first three quarters of the game was a back-and-forth affair that featured chaotic runs by both teams. With 6:50 remaining in the final stanza, a tip-in by Jakob Poeltl gave the good guys a six-point lead, 106-100. Unfortunately, San Antonio's offense went cold and Portland sprinted to a 10-0 run. The Spurs kept efforting but the execution wasn't sharp enough on either end to notch the road win against a quality team.
All in all, I thought it was a really good performance by the youthful Spurs. The Blazers, 10-4, have the best record in the Western Conference and San Antonio just about got a win in Portland on the second night of a back-to-back. Well done.
Spurs at Blazers – Final Grades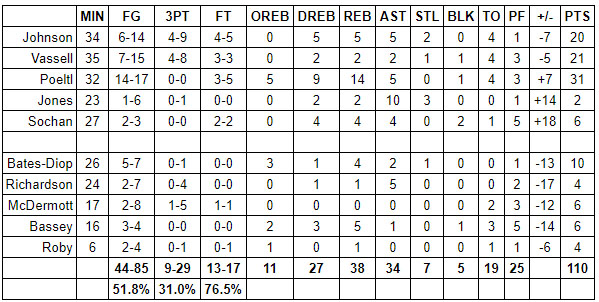 Keldon Johnson
For the first three and a half quarters, Johnson was really good. He was expertly picking his spots, scoring efficiently and passing as well as we've seen him pass all season long. Sadly, Johnson's evening ended on a low note as he didn't play well down the stretch. He had a few momentum-shifting mistakes, including two turnovers. Johnson flashed a lot of positives but he'll only remember the sour way the game finished.
Grade: C+
Devin Vassell
In the first half, Vassell was a monster. He scored 16 points in the first two quarters on 6-of-12 shooting from the field and 4-of-7 shooting from three-point land. Vassell came out of the gates on fire and kept the Spurs in it. Unfortunately, his second half wasn't nearly as successful. In his defense, though, Vassell didn't get enough touches in the final two quarters. Speaking of defense, I thought his performance on that end was really impactful. In retrospect, the Spurs should have made it more of a priority to keep Vassell involved in the second half.
Grade: B+ 
Jakob Poeltl
Wow, this was one of Poeltl's best games of his career. The Spurs had outstanding ball-movement early on and Poeltl was the recipient of many great passes. Getting easy shots at the rim propelled Poeltl and he got more and more confident as the game progressed. By the fourth quarter, he was a one-man wrecking crew who was penetrating from the perimeter and scoring over multiple defenders. The 7-foot-1 Austrian finished with a career-high 31 points on 14-of-17 shooting and he also dominated the boards to the tune of 15 rebounds. Poeltl was, with only a couple exceptions, passing it extremely well. All told, he couldn't have done much more to carry the Spurs to victory.
Grade: A+
Tre Jones
Jones obviously wasn't 100% after missing last game with a stomach illness. But that didn't stop him from playing his heart out. In loose ball situations, Jones was an animal and his overall defense was very good. Offensively, while he wasn't helping scoring-wise, his passing was excellent. I actually thought this was his best passing game of his season, as both his court vision was superb and the accuracy of his passes couldn't have been better. Jones also finished without a turnover in 23 minutes. If he could have played more minutes, the Spurs probably would have won the game. Alas, it looked like he was running on empty during his final stint.
Grade: A-
Jeremy Sochan
A lot of interesting stuff from Sochan tonight. It was apparent that Pop playing Sochan at point guard last game already paid dividends this game. The rookie looked comfortable with the ball and he was at ease making decisions, which led directly to him finishing with four assists while turning it over only once. Sochan was solid on the boards, defended the rim well and he had some spectacular moments out on the perimeter defending both Damian Lillard and Anfernee Simons. Offensively, he could have been more demonstrative. He passed up a couple three-pointers and didn't take advantage of open driving lanes enough. To his credit, Sochan was also dealing with constant foul trouble, which seemed to throw off his rhythm at various points in the game. 
Grade: B+
Keita Bates-Diop
I thought Bates-Diop was really good. Defensively, this was the best we've seen him all season. He was mentally engaged and used his length well out on the perimeter. Offensively, he was opportunistic and made good decisions in transition. Bates-Diop has had an inconsistent season but this outing was a step in the right direction.
Grade: A-
Josh Richardson
Richardson was able to play both point guard and shooting guard, which — for unknown reasons — really helps him. He got in a groove and was making a lot of quality decisions, as evidenced by his five assists and no turnovers. Unfortunately, he wasn't shooting the ball straight and that limited his value on this night. Richardson missed all four of his three-pointers, including one in the fourth quarter that could have given the Spurs a nine-point lead.
Grade: B-
Doug McDermott
McDermott struggled. He was only 2-for-8 from the floor and didn't tally any other statistics other than two turnovers and three fouls. His defense was substandard and it seemed like all his decisions on both ends were hurried.
Grade: C-
Charles Bassey
Bassey had a handful of positive moments but, ultimately, this was probably his worst game in Silver and Black. I continue to enjoy his patience around the basket and his natural ability to rebound the ball and block shots. The bad: His passing wasn't as crisp, which led to a handful of sloppy possessions and three turnovers. Bassey's discipline on defense was lacking and he committed five fouls in 16 minutes. Overall, he looked more like a decent athlete than a notably above average athlete on this night.
Grade: C
Isaiah Roby
Roby had a vicious dunk during his six minutes of play. He had a couple other impressive plays but he also authored a few questionable decisions. Roby continues to look like he's on the verge of putting it all together — but he's just not quite there yet.
Grade: C+
Pop
Pop going out of his way to play Sochan at point guard tonight was really neat and it's proof that he continues to prioritize the big picture. When Jones went out, Pop split the backup point guard minutes between Sochan and Richardson — which worked well for both players. I agreed with giving Bates-Diop extended minutes as a reward for his strong two-way play. At the end, the play-calling seemed fine — it was just a lack of execution that haunted the Spurs.
Grade: A-