Grades: San Antonio Spurs vs. Portland Trail Blazers – Game #28
The San Antonio Spurs (9-19) saw their three-game winning streak come to an end, as the Portland Trail Blazers (16-12) traveled to South Texas and handed the home team a 128-112 defeat. 
The Blazers got off to a hot start and led 73-57 at halftime. The Spurs made a run in the third quarter to get within four points but that success was fleeting. Damian Lillard hit back-to-back three-pointers to push Portland's lead back to double figures. Shortly into the fourth quarter, the Blazers ended the drama by building another sizable advantage.
Offensively, the Spurs did well enough. It was their defense that let them down. The Blazers finished the contest shooting 60.5% from the field, including 18-for-40 (45%) from three-point range.
The Spurs were playing without Jakob Poeltl (knee), Zach Collins (ankle), Romeo Langford (ankle) and Blake Wesley (knee).
Spurs vs. Blazers – Final Grades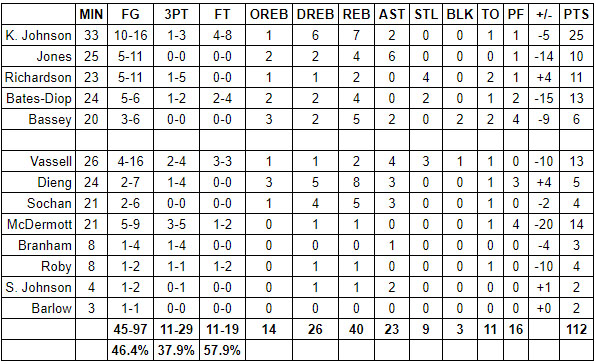 Keldon Johnson
I thought Johnson played really well. He was very physical on his drives to the hoop and was able to muscle his way to quality shots. He dropped off a couple of slick passes and he didn't force the issue as much as usual. Johnson also did quality work on the boards and kept his mistakes to a minimum. All in all, an efficient 25 points was a job well done.
Grade: A-
Tre Jones
Jones had a few flurries of production but overall it was a quiet night at the office. He did well in terms of getting the team into their sets but his playmaking in the halfcourt was minimal. He was better in transition, as is usually the case with Jones. Defensively, he didn't do a whole lot right. The Blazers guards basically got whatever they wanted on this night.
Grade: C+
Josh Richardson
A game after scoring 24 points in 27 minutes, Richardson came back down to earth. Overall, though, he still did well. His three-point stroke wasn't accurate but the rest of his game was fine. He finished 4-for-6 from two-point range and had four steals in 23 minutes.
Grade: B-
Keita Bates-Diop
After sitting out the three-game winning streak with a sprained foot, the covert tank commander was back on duty. Offensively, it's difficult to complain about Bates-Diop's production. He hit 5-of-6 from the field, including 1-of-2 from deep. Defensively, though, it was a rough evening for Bates-Diop. His individual defense left a lot to be desired and his rotations were slow.
Grade: B-
Charles Bassey
Bassey got the start with Poeltl and Collins out. He had a few positive moments but there was nothing too impressive about his performance. Offensively, his passing was good, he hit the offensive glass and he exhibited patience when finishing. Unfortunately, his refusal to shoot outside jumpers allowed Portland to basically ignore Bassey and gum up the interior. Defensively, Bassey had trouble defending pick-and-rolls and got in persistent foul trouble trying to guard Nurkic. Bassey didn't play well enough for the Spurs to win but there were enough glimpses here and there to be intrigued about his future.
Grade: C
Devin Vassell
It's been a while since Vassell had a clunker but Wednesday night's performance qualifies. He was only 4-for-16 from the field. His three-point shooting was fine (2-for-4) but he was a mess inside of the arc. Vassell's shot-selection was poor and he seemingly lacked coordination while trying to create for himself. There were a couple of silver linings. First, Vassell's passing was better and more creative than usual. Second, he finished with exactly three steals for the third straight game.
Grade: C
Gorgui Dieng
The good: Dieng's passing was impressive for a center. His rebounding was stout on both ends. After he knocked down a three, the defense actually paid attention to him — which helped San Antonio's spacing on offense. The bad: Dieng was only 2-for-7 from the floor. Defensively, he was sagging off so far in the paint that his teammates were powerless to deal with pick-and-rolls that involved Dieng. I know he's slow but he has to do something other than hang at the rim in those situations.
Grade: C+
Jeremy Sochan
Sochan was once again the team's backup point guard. He was adequate in that role. His ball-handling and passing both passed the eye test. Sochan was also strong on the boards and he gave really good effort on defense — both inside and outside. Scoring-wise, Sochan wasn't enough of a factor to really keep the Blazers honest. He had a few nifty moves but rarely pressured Portland into paying attention to him.
Grade: B-
Doug McDermott
The good: McDermott was really good on offense. His movement was electric and unceasing. His lightning quick release is the main reason why he was able to pour in 14 points in 21 minutes. The bad: McDermott was taken advantage of defensively. The Blazers targeted him and got a lot of easy buckets.
Grade: B
Malaki Branham
Branham's one made field goal came in garbage time. When he played during the meat of the game, the rookie was timid once again. He missed an open three-pointer and then his confidence evaporated. After that, his play on both ends of the court was rather unsightly.
Grade: D+
Isaiah Roby
Roby's bucket also came in garbage time. He only played four real minutes and didn't do much to move the needle during that time.
Grade: Inc.
Stanley Johnson
The Spurs signed Stanley Johnson since last game and waived Alize Johnson (no relation). Stanley got a four-minute run in garbage time. He hit a floater but then missed badly on a three-pointer. His defense looked fine and his passes were on target.
Grade: Inc. 
Dominick Barlow
Barlow has a weird looking shot but his baseline jumper in garbage time found cord.
Grade: Inc.
Pop
With Bassey and Dieng at center, it was basically impossible to slow down the pick-and-roll heavy Blazers. Portland was able to get any shot they wanted all game long. When it came to Pop's coaching, I thought the rotations were fine given who was available. The play-calling was also fine. This game was lost on the defensive end — and it didn't look like the Spurs had the personnel to do much more than they did on that side of the court.
Grade: B