Grades: San Antonio Spurs vs. Milwaukee Bucks – Game #13
The San Antonio Spurs have rediscovered the win column. Following a five-game losing streak, the Spurs toppled the Milwaukee Bucks by a final score of 111-93. San Antonio is now 6-7 on the season, while Milwaukee dropped to 10-2.
Yes, it must be noted that the Bucks were without their three best players including two-time MVP Giannis Antentonkoumpo. But, hey, a win is a win for this young, charismatic Spurs squad.
The Spurs led by 21 points midway through the third quarter before the Bucks came storming back. Heading into the fourth period, San Antonio's advantage had been trimmed to only seven points. 
Thankfully, the Spurs came out strong in the fourth with a 7-0 run that was sparked by a Devin Vassell three-pointer — and the good guys never looked back.
This was a much-needed morale-boosting win. Sure, the competition wasn't great but the Spurs needed this victory as they head out on a five-game road trip.
Spurs vs. Bucks – Final Grades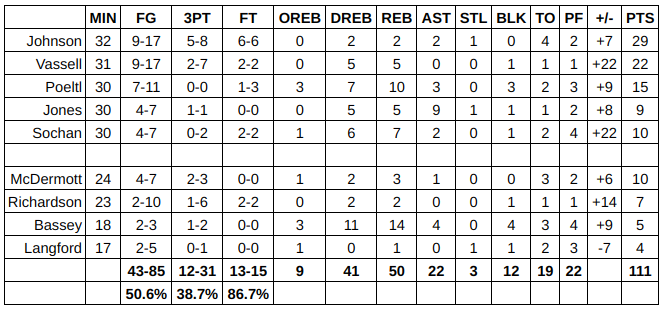 Keldon Johnson
Johnson playing the role of a legitimate go-to scorer looks more and more believable as the season goes on. Against the Bucks, he first got it going from deep before punctuating his evening with drives to the hoop in the fourth quarter. The only blemish on Johnson's performance was his passing; there were multiple instances where he either missed open teammates or gave it up late. Other than that, though, he was really good.
Grade: A-
Devin Vassell
Vassell was San Antonio's other deadly weapon on the offensive end. While he hit only 2-of-7 three-pointers, he drilled 7-of-10 two pointers to keep his efficiency high. Vassell did more ball-handling tonight than usual and he was especially impactful in pick-and-roll sets. Getting a screen and then hitting a jumper off the dribble is becoming a reliable action for him. 
Grade: A-
Jakob Poeltl
I thought this was one of Poeltl's better defensive showings of the season. He set the tone early and the Spurs ended up with a season-high 12 blocks. Poeltl's defense out on the perimeter was a positive and he also rebounded well. Offensively, he was more demonstrative than usual and his inside points helped loosen up the defense. 
Grade: A-
Tre Jones
This was a solid outing from Jones. His defense wasn't the best and his scoring was subdued — but he helped San Antonio get the win. His passing was exquisite; the moment he touched the ball, he was scanning for open teammates. Jones' hustle was commendable and he knocked down another three-pointer.
Grade: B+
Jeremy Sochan
Sochan's becoming a bigger and more important part of this team as his rookie season progresses. It's getting difficult for Pop to keep him off the court. Defensively, his malleability is extremely valuable. He can guard whoever needs to be guarded. Tonight, his rebounding was much better than it's been recently, which definitely helped. Offensively, while his three-point shot remains a major work in progress, his ball-handling, relentless running of the court, smart passing and athletic finishing combine to make him valuable on that end too. For possessions here and there, he was even acting like a pseudo point guard against the Bucks. 
Grade: A-
Doug McDermott
McDermott made his presence felt by searching out shots and giving the bench unit some much needed scoring punch. I also thought his defense was better than usual. McDermott's only issue tonight was his carelessness with the ball. He traveled twice, got stripped once and had a couple other almost-turnovers.
Grade: B
Josh Richardson
Richardson was aggressive — but that's about the extent of the pleasantries I can muster. For someone who was supposed to be playing point guard off the bench, he did very little playmaking for his teammates. Richardson's shot-selection was iffy and his defense was nothing to write home about. 
Grade: C
Charles Bassey
Alright, so, yeah, it's becoming clear that Bassey has no issue producing on the NBA level. His positioning for rebounds was excellent, as evidenced by his 14 rebounds in 18 minutes. (He actually had three or four more boards that bounced off his fingertips.) Bassey's four blocks were impressive; his timing is impeccable and he jumps higher than you'd expect judging by his bulky build. He also hit another three-pointer, which is a skill that could make him a very rich man one day if he can master it. Beyond all those aforementioned numbers, I thought Bassey's most impressive feat was finishing with four assists. This is a guy who was regarded in college as an exceptionally poor passer. But so far, we've seen him hit backdoor cuts and curling three-point shooters with ease. Bassey obviously still has some rough edges but it certainly looks like he belongs.
Grade: A
Romeo Langford
My enthusiasm regarding Langford is beginning to wane again. He's trying hard on defense but the results are sporadic right now. Sometimes he looks really good, sometimes he doesn't look much better than McDermott on that end. Offensively, his ball-handling needs work and he remains too passive. It's obvious that the coaching staff sees talent in Langford that they're trying to bring to the forefront — but it's been an arduous process the last few games. 
Grade: C
Pop
More outstanding stuff from Pop. He's putting a lot on Sochan's plate but it looks like the rookie can gladly handle it. Playing Bassey and keeping him involved in pick-and-roll sets is great for his development. I even support Langford getting minutes even though it can be an underwhelming sight because he clearly has potential. Breaking the losing streak without anyone playing more than 32 minutes? Nice work.
Grade: A