Grades: San Antonio Spurs at Milwaukee Bucks – Game #73
The San Antonio Spurs suffered their second blowout loss in as many nights. This time, it was the Milwaukee Bucks who shredded the Spurs by a final score of 130-94. The loss dropped San Antonio to 19-54, while the victory improved the Bucks to 52-20.
The Spurs actually remained within striking distance until the final minutes of the second quarter. With 2:41 to go before halftime, the good guys trailed by only two points, 51-49. Unfortunately, the Bucks went on a 15-2 before intermission to blow the game open.
Things didn't get better to begin the third quarter, as the Bucks wasted no time pushing the advantage to more than 20 points. From then on, the only remaining question was whether Milwaukee would win by 30-something or 40-something.
Overall, there aren't many (any?) positives to take from this outing. The Spurs were playing without Keldon Johnson, Tre Jones and Devonte' Graham — but even those absences aren't a sufficient excuse for how poorly San Antonio played.
Spurs vs. Bucks – Final Grades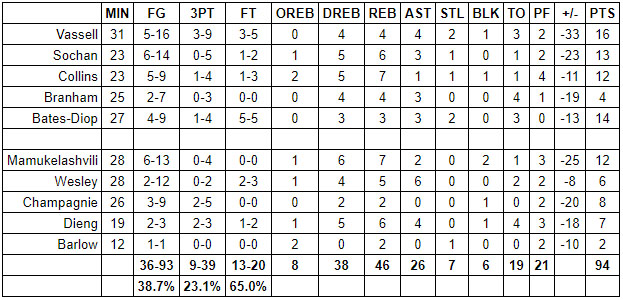 Devin Vassell
I didn't like Vassell on either end. Defensively, he was putting in the minimum amount of effort. Offensively, he got off to a slow start and then began to press the issue. With Vassell calling his own number, the rhythm of the offense was thrown off. All in all, it was a very forgettable night for San Antonio's second leading scorer.
Grade: D-
Jeremy Sochan
Sochan made his return after missing two games due to knee soreness. Honestly, he didn't look healthy at all tonight. He spent most of the evening limping around the court. The rookie had little to no explosion when looking to jump or shift gears. Furthermore, Sochan's shots were extra flat, which resulted in a 0-for-5 shooting from deep. Despite the physical struggles, he finished well at the rim and authored a handful of quality passes.
Grade: C
Zach Collins
Collins battled persistent foul trouble and was never able to discover a groove. When he was out there, he was actually pretty good. He was aggressive on offense, strong on the boards and active on defense. However, with Collins in foul trouble, his teammates couldn't rely on him for meaningful stretches of the contest.
Grade: B-
Malaki Branham
An outline of Branham's face can be found on the rookie wall. He hit that wall hard recently and now he's playing like he has been equipped with cement sneakers. He's not moving much on offense, his decision-making is worse than we've seen all year, and he's taking lazy shortcuts on offense and defense. That said, it's difficult to be too mad at Branham because this is something virtually all rookies go through.
Grade: D-
Keita Bates-Diop
Bates-Diop played fine. I liked how quickly he released three-pointers when given a glimmer of daylight, how he found his way to the free throw line, how he passed the ball and how he used his length on defense. His miscue-rate was higher than normal tonight but that was mostly due to him trying to make things happen when the offense was stagnant.
Grade: B
Sandro Mamukelashvili
Mamukelashvili didn't have the most aesthetically-pleasing affair. He missed all four of his three-pointers and his perimeter defense left much to be desired. That said, he was a bright spot due in large part to his unquenchable drive and relentless hustle. Mamukelashvili was flying all over the court doing all he could to try to make the game competitive. He also flashed a surprisingly sky-high basketball IQ. His off-ball cuts, his passing on the move and his reading of plays before they unfold all point to a player who thinks the game at an advanced level.
Grade: B+
Blake Wesley
Yikes. Like Branham, Wesley has introduced himself to the rookie wall. To say his decision-making was questionable would be a gargantuan understatement. I'm not sure I liked more than two or three of his decisions on the offensive end. Even worse, his touch on shots from inside and outside was horrid. Wesley was just launching missiles in the general direction of the rim. The silver lining to Wesley's unkempt outing was his determination. No matter how poorly the previous possession went, the rookie looked to attack the next time up the court. His constant pressure helped result in a team-high six assists.
Grade: D
Julian Champagnie
Champagnie did some good stuff. He's shooting open threes without a second of hesitation and his form looks silky smooth. Within the arc, he tried to utilize his length and craftiness to score in the lane. Most of his attempts were unsuccessful but it was good that he showed signs of being more than simply a one-dimensional shooter. Defensively, Champagnie has a lot of work to do. As it stands, he seems to be either too slow or too frail to guard most NBA players.
Grade: B-
Gorgui Dieng
Well, you can't say Dieng was shy against the Bucks. He was seemingly in the middle of every possession during his 19 minutes on the court. As a result, he stuffed the statsheet with good numbers (two three-pointers, six rebounds, four assists) and bad numbers (four turnovers, three fouls). Considering how he has played recently, Dieng did pretty well in Milwaukee. A more disinfected brand of basketball would have helped matters but he was giving it his all.
Grade: B
Dominick Barlow
Barlow showed his youth and inexperience on the defensive end against a veteran Bucks squad loaded with wily offensive combatants. The rookie was hit at all angles by complicated actions that he didn't know how to defend. Offensively, he had a pretty good dunk in garbage time and crashed the glass — but, during the meat of the game, the Bucks were basically ignoring him.
Grade: C-
Pop
Pro-tankers have to be happy with the win. That said, I prefer the games to be a bit more competitive than the absolute laugher we witnessed tonight. Additionally, I thought Pop should have pulled Sochan. The rookie was out there favoring his knee for a majority of the night. Sochan's too good of prospect to risk having out there in a blowout limping around the court.
Grade: D