Grades: San Antonio Spurs vs Chicago Bulls – Game #6
In a game that was overshadowed by the shocking news that Joshua Primo has been waived with no explanation, the San Antonio Spurs defeated the Chicago Bulls by a final score of 129-124. In addition to Primo's unceremonious exile, the Spurs were also playing without Devin Vassell due to knee soreness. San Antonio overcame the Primo distraction and 33 points from DeMar DeRozan to improve to 4-2 on the season.
A close affair throughout, the Spurs found themselves down by seven points with six and a half minutes remaining in the fourth quarter. That's when Keldon Johnson took over. He scored 10 straight points to spark a 10-2 run that gave the Spurs the lead. The good guys would never trail again.
Overall, this was another feel-good win. The Spurs were the underdogs but their energy, camaraderie, enthusiasm and altruistic style of play was a combination that proved too much for the Bulls to handle.
Spurs vs Bulls – Final Grades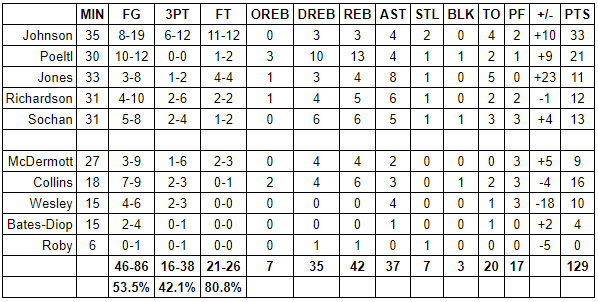 Keldon Johnson
Johnson is looking more and more capable of being a go-to scorer in the NBA. Tonight against the Bulls, he led the way for San Antonio with 33 points. While he was only 2-for-7 from two-point range, he more than made up for it by hitting half of his 12 three-point attempts and 11-of-12 free throws. He made timely shots, authored a number of very good passes and competed on the defensive end. Johnson's start to this season is as promising as the Spurs could have reasonably hoped it would be.
Grade: A
Jakob Poeltl
Poeltl took a big jump forward in production last season. It looks like he's ready to take another jump forward this season as well. Poeltl was awesome tonight against the Bulls. He was aggressive and uber efficient on offense. From scoring in isolation to making high-level passing reads, he was great. Defensively and on the boards, he did really well. Poeltl handily outplayed Nikola Vucevic and is quickly climbing the charts as one of the better centers in the league.
Grade: A
Tre Jones
The good: Jones hit a key three-pointer in the fourth quarter. He had a handful of outstanding passes, particularly on the move. His overall energy was an asset. The bad: Jones was sloppy throughout the game and became a downright mess late in the game. He has all the markings of a quality ball-handler but it's now becoming common for him to struggle to dribble in clutch situations. He made matters worse by telegraphing passes in the fourth. Jones wasn't bad this game but we've seen him play a lot better this season.
Grade: C
Josh Richardson
Richardson continues to help out in a multitude of areas. He spaces the floor with his shooting, his ball-handling gives the offense diversity, he routinely makes the right passes and he can defend multiple positions. Richardson might not be a statistical standout but he's a big reason why the Spurs have been so good ever since the forgettable season opener.
Grade: B+
Jeremy Sochan
Sochan's shot isn't pretty but everything else about his game is a work of art. Defensively, he was outstanding — both on the perimeter and inside. He continues to show off his limitless potential on that end due his mix of smarts and athletic ability. Offensively, his dribbling and passing were key against Chicago. Once again, Sochan getting out and running led to numerous opportunities in transition. And don't look now but Sochan hit two three-pointers for the second straight game. If his shooting comes along, it'd be time to already classify him as a very good draft pick.
Grade: A
Doug McDermott
McDermott didn't shoot it well but his movement created a lot of chaos that the Bulls struggled to deal with. His defense continues to be an issue but he's doing a good job of being the bench's primary offensive weapon.
Grade: C+
Zach Collins
Collins was really, really good on Friday night. He poured in 16 points, six rebounds and three assists in only 18 minutes. While he struggled to keep Andre Drummond off the glass, everyone on the Spurs was having that same issue. Beyond that, Collins did a ton of good. His passing was great, his shooting was accurate and he was rolling to the hoop with purpose. Between Poeltl and Collins, the Spurs couldn't have gotten any better production from the center spot.
Grade: A-
Blake Wesley
Wow. For a 19-year-old rookie making his NBA debut, I was extremely impressed with Wesley. He was the team's backup point guard and he looked like a natural. His dribbling, court vision and passing all passed the eye-test. His speed and quickness is as special as advertised; he can blow right by NBA athletes. Wesley is going to have ups and downs as a rookie due to his rawness but he, at the very least, has an interesting set of skills and tools to work with as he attempts to carve out a career.
Grade: A
Keita Bates-Diop
Bates-Diop didn't do a whole lot right or wrong. He could have been better on the boards and he missed a couple passes but his work in transition was beneficial on both ends and his unselfish play didn't get in the way.
Grade: C+
Isaiah Roby
Roby only played six minutes and was hardly involved while on the court. It looks like Bates-Diop may have reemerged as the team's backup power forward.
Grade: Inc.
Pop
Another impressive coaching outing for Pop. I loved how much he leaned on Sochan. He not only played him 31 minutes, he kept the rookie in the middle of the action by giving him lead assignments on both ends. And speaking of rookies, Pop helped put Wesley in positions to succeed. The Spurs finished with 37 more assists tonight as the team has obviously taken Pop's unselfish brand of basketball to heart.
Grade: A