Grades: San Antonio Spurs vs. Los Angeles Clippers – Game #9
The San Antonio Spurs gave a commendable effort but fell to the Los Angeles Clippers by a final score of 113-106 on Friday night to drop to 5-4 on the season. In the end, the Clippers experience was the difference down the stretch.
The Spurs got off to a poor start and trailed by 17 points with four minutes remaining in the first quarter. San Antonio stormed all the way back and actually led for a majority of the second half. As late as 9:45 left in the fourth period, the Spurs were still up by seven points. Unfortunately, the good guys just didn't execute on either end when money time arrived.
Overall, the Spurs should be pleased with how they played. San Antonio dug their way out of the early hole and took command of the game for a long stretch of time. These young Spurs obviously have a lot of learning to do to figure out how to beat veteran teams in close games — but their competitiveness and energy were never at fault.
Spurs vs. Clippers – Final Grades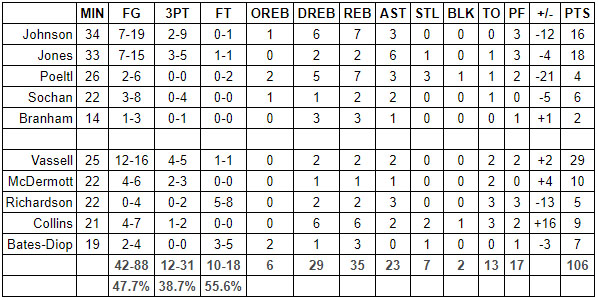 Keldon Johnson
This might have been Johnson's least productive game of the season. That said, there were still some things to like about how he played. Johnson hit half of his two-pointers, didn't have a turnover and gave the starting lineup a much-needed focal point on offense. Conversely, there were definitely some struggles and he looked a step slower than usual after missing the Toronto Raptors contest due to a calf injury. Johnson hit only 2-of-9 three-pointers and had a hard time staying in front of anyone on defense. Settling for difficult threes and Johnson's defensive woes may have been due to him not quite being 100% physically. Let's hope he regains his athletic pop ASAP.
Grade: C+
Tre Jones
Jones played well. His speed in the open court and in halfcourt sets was difficult for the Clippers to handle. His passing and patience were both really good. Jones also buried 3-of-5 shots from downtown and was aggressive and assertive on defense. When things were going swimmingly for the Spurs, it was usually with Jones leading the charge.
Grade: B+
Jakob Poeltl
This was a strange game for Poeltl. Coming out of the gates, he seemed to be sleepwalking. Then, for a stretch in the middle two quarters, Poeltl found a groove and was disruptive on both ends. But down the stretch, he crumbled in spectacular fashion. After missing a pair of free throws, he authored bizarre decisions on offense and was uncharacteristically caught napping on multiple defensive possessions. Eventually, Pop had to sub Poeltl out to give the Spurs a chance. It was just a really weird evening for a guy who has been playing so well this season.
Grade: D+
Jeremy Sochan
The good: Sochan was asked to defend everyone from Paul George to John Wall to Marcus Morris to Reggie Jackson. The rookie didn't have a ton of success but he didn't look out of place, either. Give him time and it looks like Sochan is going to be a defensive beast. Within the arc, Sochan's offense looked solid. He dribbled, passed and utilized his athleticism for good. The bad: Man, that three-point shot. I'm sad to report that his stroke is looking worse and at times it looks like he's developing a hitch in his shot. If Sochan could hit threes, he'd already be a quality player in the league. But as it is, he's 4-for-23 (17.4%) from three-point range after tonight's 0-for-4 showing and other teams are starting to ignore him totally.
Grade: C+
Malaki Branham
Branham got his first NBA start and he looked okay-ish. He could have played with more aggression on offense, especially early on. Defensively, I thought Branham looked better. Mind you, he's still a really bad defender at this point of his career, but he's starting to at least figure out where he needs to be and what he needs to do.
Grade: C+
Devin Vassell
Wow, what a return by Vassell. After missing four games due to a sore knee, Vassell was on fire against the Clippers. He hit all seven of his shots in the first half and kept pumping in the buckets in the second half. Vassell finished with a career-high 29 points in 25 minutes while hitting 12-of-16 shots from the field and 4-of-5 from three-point land. He was connecting on hard shot after hard shot and even took on playmaking responsibilities. This was the best Vassell has ever looked on the offensive end. Unfortunately, he was on a minutes restriction and was unavailable for the game's final nine minutes. Did that make the difference? Not having Vassell surely didn't help matters, I'll say that.
Grade: A+
Doug McDermott
McDermott had his defensive issues but his movement was great on the offensive end. The only problem was he sometimes struggled to get open when the Clippers keyed in on him. But when the Spurs were at their running and gunning best and things were frenetic, McDermott was deadly.
Grade: B
Josh Richardson
Playing at the backup point guard spot, Richardson struggled to find any semblance of a rhythm. His ball-handling wasn't dependable, his passing was typically late and he didn't look comfortable shooting the ball. Richardson was able to provide a bit of value by getting to the free throw line eight times but this was definitely a night to forget.
Grade: C-
Zach Collins
Collins played a loud 21 minutes. He got tangled up with Marcus Morris and they both got hit with a technical foul. From then on, Collins kept his physicality dialed up to the top level. He rebounded with grunt, he moved really well, he shot with confidence and was a threat at all times. Collins' play was a big reason why the Spurs were able to find their way out of the early hole.
Grade: A-
Keita Bates-Diop
Bates-Diop could usually be found slithering around doing what he does. His forays to the rim — both with and without the ball — were well-timed. Bates-Diop's length was helpful at times on D but his perimeter defense could have been better.
Grade: B-
Pop
I actually really liked how Pop coached this game. He could have easily buried Sochan after Sochan kept missing threes and turning down open looks. Instead, Pop kept playing Sochan and even drew up plays for the rookie in hopes of giving him a confidence boost. All in all, Pop's rotation made sense, his playcalling was on point and, with the big picture in mind, he made the right call by sticking to Vassell's minutes restriction.
Grade: B+