Grades: San Antonio Spurs vs. Los Angeles Clippers – Game #46
The San Antonio Spurs hung around but ended up losing to the Los Angeles Clippers on Friday night by a final score of 131-126. The Clippers were powered by Kawhi Leonard, who poured in a season-high 36 points on 13-of-18 shooting from the field, including 4-of-5 from downtown. He also had seven assists and a pair of steals.
The Spurs were neck-and-neck with the Clippers for almost the entire game. In fact, Los Angeles didn't take a commanding lead until a 7-0 run that started with about two minutes remaining in the game that put the Clippers up by 12 points. Prior to that spurt, San Antonio actually led for a majority of the contest.
All in all, it was another good loss for the good guys. The Spurs finished with 34 assists and only six turnovers. Their teamwork was stellar — at least on the offensive end. What doomed San Antonio was the fact that the Clippers shot 63% from the floor, including 15-for-28 from three-point territory.
Spurs vs. Clippers – Final Grades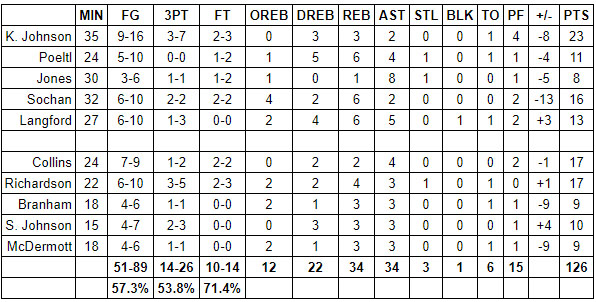 Keldon Johnson
Johnson's final stats were more impressive than his actual play versus the Clippers. He was decent but was far from special. The good: I liked his shot-selection. He took care of the ball. He rarely forced the issue. The bad: Johnson's scoring was a bit inflated due to two late three-pointers after the game was over. I thought he could have been a lot more aggressive during the meat of the game. Particularly late in the fourth, Johnson needed to shoulder more of the burden. Defensively, he was even quieter. He didn't do much of anything on that end.
Grade: B-
Jakob Poeltl
Poeltl was decent. Defensively, he was slow in rotations and could have done better on the boards. He wasn't providing much help and had trouble holding his ground, which wasn't an enjoyable combination. Offensively, Poeltl's aggression was high and his passing was on point. That said, his touch wasn't as reliable as usual and he was moving slower than usual, which caused him to get in the way in multiple possessions.
Grade: B-
Tre Jones
Jones scoring in single-digits is becoming a rare sight. In his last 17 games, this was only his second single-digit affair. That said, I thought Jones was effective on offense due to his passing alone. He was hitting teammates with timely passes from all angles. Jones also didn't register a turnover in his 30 minutes. Defensively, he rarely impacted the proceedings in a positive manner.
Grade: B
Jeremy Sochan
Don't look now but Sochan has now hit four of his last five attempts from three-point territory. He's also hitting 81.3% of his one-handed free throws in the month of January. If Sochan can learn to shoot straight, it's already safe to say that he'll be a monster. Against the Clippers, I was impressed with what he did on the offensive end. Sochan handled a lot of playmaking in the halfcourt sets and did so without turning it over. He also looked extra bouncy when finishing at the rim. Defensively … yeah, no, yikes. Sochan has great potential on that end but the Clippers had their way with him. Specifically, Sochan was hopeless when going against Leonard. Let's consider this a learning experience for the rookie.
Grade: B
Romeo Langford
After a stretch of iffy games, Langford bounced back with one of his better games of the season. I really liked his offense. He shot open threes, exhibited creativity when going to the rim and his court vision was much more all-encompassing than usual. Defensively, he was arguably the best thing the Spurs had going. Langford was attentive, quick, physical and laid his body on the line in the name of trying to get stops.
Grade: A
Zach Collins
The good: Collins did a great job of identifying mismatches and exploiting them. He didn't let the Clippers get away with switching a smaller defender onto him. Collins' jumper looked smooth and he made a few heady passes. That said, I also thought Collins missed more than his share of open teammates; he was a bit too focused on scoring the ball. Defensively, Collins had a few impressive possessions but he could have been a lot better. His rebounding was weak and his help defense was rarely on time.
Grade: B+
Josh Richardson
This was another strong night at the office for Richardson. Despite twisting his ankle in the middle of the game, he finished with 17 points in 22 minutes. Richardson is shooting well, passing well and simply seems to be in a great groove right now. Defensively, he was okay-ish but he wasn't as sharp as we've seen him in recent games.
Grade: A-
Malaki Branham
In his first seven minutes of playing time, Branham appeared on his way to a breakout performance. At that point, the rookie had nine points on 4-for-4 shooting from the field. Sadly, Branham went scoreless in his subsequent 11 minutes. To his credit, while he didn't score again, Branham showed glimpses of growth. His passing and playmaking were better than usual and his defensive effort was commendable. Branham still got roasted on defense, truth be told, but he was trying out there.
Grade: B+
Stanley Johnson
Johnson got off to a slow start on the defensive end. He was playing too soft on pick-and-rolls and gave up points too easily. As the game went along, Johnson's D got a lot more stingy. By the fourth quarter, Johnson looked like San Antonio's best defender. Offensively, he passed it with smarts and knocked down a couple more three-pointers.
Grade: B+
Doug McDermott
McDermott wasn't able to make much of an impact. In 14 minutes, he was only 1-for-5 from the field. The Clippers have a lot of long, rangy defenders and that wasn't helping McDermott's cause. Additionally, he was also not as quick in his movement on the offensive end. Defensively, he had a handful of lowlights but wasn't a whole lot worse than usual.
Grade: C-
Pop
Offensively, Pop couldn't have asked for much more. He had his troops sharing the ball, cutting with precision and everyone was on the same page. Defensively, it would have been difficult for the Spurs to play much worse. Sure, Leonard being on fire didn't help — but the defense against him ranged from bad to terrible. Big picture-wise, Pop deserves credit for the Spurs sticking right with the Clippers for a majority of the game.
Grade: B+