Grades: Spurs vs. Hornets – Summer League Game #5
The San Antonio Spurs found their way back to the winning track in summer league with a 106-96 victory over the Charlotte Hornets on Sunday. After the odd earthquake-shortened game to begin their Vegas stint, the Spurs played much better this afternoon against a talented Hornets summer league squad featuring a handful of players with legitimate NBA experience.
With Lonnie Walker IV and Drew Eubanks resting and Thomas Robinson out with a leg injury, San Antonio leaned on their three rookies to carry the burden and the youngsters were up for the task. Quinndary Weatherspoon had 19 points, seven rebounds, two assists and two steals, Keldon Johnson finished with 19 points and four rebounds, and Luka Samanic put up 16 points, four rebounds and two assists.
Factoring in the opponent's talent and who San Antonio was without, this was the best win thus far in summer league. Everyone played a part to get the job done and even their Vegas record at 1-1.
Spurs Grades Following Victory Over Hornets In Summer League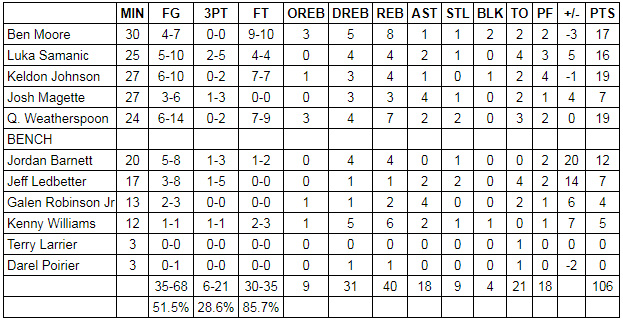 Quinndary Weatherspoon
After missing the first game in Vegas with a knee injury, Quinndary Weatherspoon was back in action and once again passed the eye-test as an NBA prospect. With a wide, sturdy 6-foot-4 frame, Weatherspoon's build reminds me of Jason Kidd. Obviously, he's not blessed with Kidd's Hall of Fame talent but the second round pick has the power and strength to survive most matchups.
Offensively, he was really aggressive with the ball and flashed playmaking ability off the dribble. Weatherspoon's court vision and timing on passes needs work but he doesn't have much trouble breaking down a summer league defense. His strength helps him finish at the rim and draw fouls by bouncing off of bodies.
Defensively, Weatherspoon was also impressive. He's a gritty defender who likes to pressure the ball well above the three-point line. When there's a loose ball, he has lightning fast natural instincts to gobble it up and take off up the court. Weatherspoon held up well when guarding bigger players in the paint and even pulled down contested rebounds.
All in all, the Spurs have to be excited with what they landed with the 49th pick of the draft. At the very least, he's going to be an exciting prospect to track in Austin for a couple seasons.
Grade: A-
Keldon Johnson
In the earthquake game, Keldon Johnson was underwhelming. Today, though, was a different story. He tweaked his strategy a bit and the results illustrated his status as a certifiable NBA prospect.
On offense, he was patient and utilized a combination of expert footwork and his big body to finish drives to the basket. Instead of floating soft prayers to the rim when the waters got turbulent, Johnson was much better today at waiting out the exact shots he wanted. I was also impressed with a lot of the little things he did: heady lead passes to create a break, good-to-great ball-movement in the half court, backdoor cuts away from the ball, decisive movement when going around screens, etc.
Early on, Johnson was playing too close to his man defensively. While he doesn't have slow feet, he doesn't have Bruce Bowen-esque quick feet that allow him to get right up on his opponent. Johnson adjusted by playing a little bit off of his man and the results were instant. He went from a liability to arguably the strongest aspect of San Antonio's defense. Holding Dwayne Bacon (who has two years and a hundred games of NBA experience) to 4-of-10 shooting was superb. In addition to his individual D, Johnson rotated well and was a tenacious presence on the boards.
Grade: A-
Luka Samanic
The good: Luka Samanic's three-point stroke remains effortless. He's getting better about just letting it fly as summer league progresses. His court vision is better than advertised and he handed out a few nifty passes, both off the dribble and of the high-low variety. His combination of perimeter ball-handling, pure shooting, quick driving, bouncy athleticism and post-up acumen is simply a mouthwatering set of tools at the 19-year-old's disposal.
The bad: With both centers out (Eubanks and Robinson), Samanic played a lot at center. Defensively, he really struggled to hold up. He didn't defend the rim well and was even worse on the boards. Samanic doesn't appear to be great at reading rebounds and his lack of strength (or extreme weakness, depending on level of couth) right now makes matters worse. On offense, if he gets doubled on a drive, it's practically a guaranteed turnover. I also didn't like his body language at times — he was getting discouraged and let it negatively impact his play (this was one of the main criticisms he received while in Europe so it's something he needs to grow out of if he's to become a successful professional).
Overall: Good stuff. All the tools he appeared to have on film when he got drafted are accounted for thus far in summer league. Additionally, it looks like passing could be yet another tool that is emerging. Now Samanic just needs to put it all together. It could take years but the potential is definitely there.
Grade: B+
Ben Moore
After a couple of shaky performances, Ben Moore really played well. The Spurs needed him to play some center and the 6-foot-8, 220-pounder was up for the challenge. He was physical on both ends but was also playing an extremely intelligent brand of basketball. His team-defense was fantastic, as was his defense in transition. On offense, he read plays well and was almost always in the right positions. Moore has the reputation as a high IQ player and that was on full display today.
Grade: A-
Josh Magette
Although Josh Magette's statistics don't jump off the scoresheet, I thought this was his best game. He orchestrated the offense well without over-dribbling. His passes off the bounce helped open the floor for San Antonio. Defensively, he wrestled against bigger players and, as a result, wasn't much of a liability. His rotations were also really fast — even if his 6-foot-1, 160-pound frame doesn't allow him to offer much noticeable help even when he arrives on time.
Grade: B+
Jordan Barnett
Jordan Barnett did well sticking to his strengths. He unleashed his athleticism to get out and run, create open opportunities and finish at the rim. Defensively, he rebounded well and was tough in the lane. He was playing a lot of power forward and didn't look too much out of place. However, to make it in the NBA, he'd have to improve his perimeter skills enough to play out on the wing.
Grade: B+
Jeff Ledbetter
The always active, always aggressive Jeff Ledbetter lived up to his billing once again. He didn't have his best shooting performance but he kept the Hornets on their toes, while supplying the Spurs with moxie.
Grade: B
Galen Robinson Jr.
In his first extended minutes, I was pretty impressed with Galen Robinson Jr. This Spurs summer league team has been searching for good point guard play behind Magette and Robinson gave San Antonio just that. He had a couple hiccups ball-handling-wise but he made good passes on the move and did well pushing the pace. He also had a deft finish at the rim and played commendable defense. It sounds like Robinson is eventually landing in Austin, so he's someone else to keep an eye on.
Grade: B+
Kenny Williams
Another future Austin resident, Kenny Williams might be the best pure defender on this summer league team. His feel on that end really pops. He's long, active and isn't timid about putting his body on the line. Whether he can survive on offense is the big question mark with Williams. The good news for him is his three-point form is good and he releases the ball quickly.
Grade: B+
Darel Poirier
With the team short of centers, Darel Poirier was in line to play extended minutes off the bench at that position. Unfortunately for him, he turned an ankle early and was forced to leave the game for good.
Grade: Inc
Terry Larrier
We haven't seen much of Terry Larrier but the 6-foot-8, 195-pounder at least looks like a small forward. He handled the ball a little bit without turning it over … so there's that.
Grade: Inc
Becky Hammon
Despite fielding a team without much of any NBA experience, Becky Hammon pushed the right buttons to get a win while highlighting the draft picks by putting the trio in positions to produce. Not much more of her could be asked. I continue to be impressed with her feel for coaching and how to handle a rotation. Future NBA head coach? I don't see why not.
Grade: A