Grades: San Antonio Spurs at Memphis Grizzlies – Game #41
This was another impressive outing by the San Antonio Spurs that ultimately ended in a loss. Playing in Memphis against the Grizzlies, the Spurs trailed by as many as 13 points before rallying in the fourth quarter. San Antonio entered the fourth down by five points but used an 11-1 run to grab a five-point advantage with nine minutes remaining.
The Grizzlies battled back to take the lead but Tre Jones again tied the game with around six minutes remaining. Unfortunately, that's when Memphis went on a 7-0 to take command of the game. The Grizzlies went on to win by a final score of 121-113 and improve to 27-13, a record that has them atop the Western Conference.
The Spurs dropped to 13-28 but they have to feel good about how they played. The good guys were without Keldon Johnson and Devin Vassell and yet they battled back to take the lead in the fourth period against one of the better teams in the NBA. The Spurs didn't win but they proved their mettle once again.
Spurs at Grizzlies – Final Grades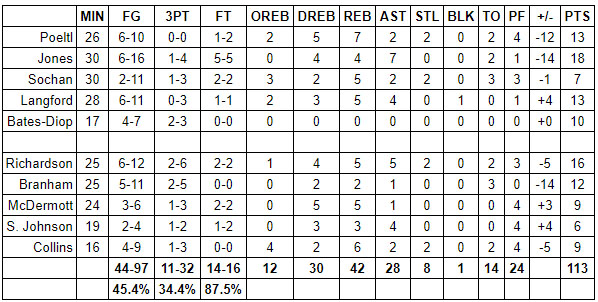 Jakob Poeltl
Poeltl didn't really move the needle much in either direction; this was a standard game for the center out of Austria. He could have rebounded a little bit better and fouled less but otherwise he did what he was expected to do. Poeltl looked to score a healthy amount, authored a couple heady passes and was active on the defensive end.
Grade: B-
Tre Jones
Jones was okay-ish. He got outplayed by his brother (Tyus Jones had 24 points on 11-for-19 shooting from the field and 2-for-4 shooting from three-point range) after getting off to a really slow start. Jones got better as the game progressed, especially in terms of attacking the basket with vigor and passing well in transition. What hurt both him and the Spurs was that Jones lost confidence in his jumper and he couldn't make the Grizzlies pay for going under every screen. The younger brother played hard but he never truly found a rhythm.
Grade: B
Jeremy Sochan
Offensively, Sochan hit 1-of-3 three-pointers but only 1-for-8 two-pointers. He was intimidated by the length and bulk of the Grizzlies on the interior. His passing was pretty good but he also turned it over three times. Defensively, I thought Sochan was really good. He moved his feet really well, was disruptive in passing lanes and fought in the interior. The only aspect of his defense I didn't like was his rebounding. In that regard, he was like an anti-Rodman. 
Grade: C+
Romeo Langford
Langford is filling in for Vassell as the team's starting shooting guard and he's doing well. Outside of his wayward three-point shot, he was excellent against the Grizzlies. He hit 6-of-8 two-pointers, passed the ball as well as he has all season and was focused on the defensive end. Langford can still dial up his aggression a notch but he's starting to look like a real, legitimate NBA player out there.
Grade: A-
Keita Bates-Diop
Scoring-wise, Bates-Diop was effective. He hit a pair of three-pointers and maniacally utilized his length at the rim. When he's hitting threes and is hungry in the lane, he can put points on the board in a hurry. Sadly, though, Bates-Diop did next to nothing else on Monday night. His defense was lackluster and he had no assists, rebounds, steals, blocks, turnovers or fouls. And, to make sure everything was perfectly balanced as all things should be, he also posted a plus/minus of zero.
Grade: C+ 
Josh Richardson
Richardson continues his strong, strong play. If the coaching staff was serious about the Spurs winning, Richardson would be playing about 35 minutes right now. He's scoring well, he's passing well, he's handling some of the playmaking duties and he's defending conscientiously. In his last seven games, Richardson is averaging 12.4 points, 4.3 assists and 3.4 rebounds in only 23 minutes per game. In that stretch, he's shooting 53.8% from the field, 36.7% from three-point range and has hit all six of his free throws.
Grade: A-
Malaki Branham
More good stuff, more obstacles and, most importantly, more learning for Branham against the Grizzlies. He was loose with the ball and his decision-making wasn't crisp but the rookie still poured in 12 points in 25 minutes while hitting 5-of-11 shots from the field and 2-of-5 three-pointers. Branham looked to be at the cusp of taking over the game at times but he didn't quite get over that hump. As it was, his play was up-and-down but he's clearly expanding his game and you can see tangible progress each time he hits the court.
Grade: B
Doug McDermott
More the same from McDermott: his movement was supercharging the offense, he was making great reads with and without the ball, and he was struggling on the defensive end. For example of his defensive woes, he seems like the only player on the team who has yet to gotten the memo that the take-foul is no longer allowed. That said, he's so useful on offense right now that it must be difficult for the coaching staff to play him only half the game.
Grade: B+
Stanley Johnson
Johnson continues to play like a consummate pro. He hit a three, attacked the rim, defended with grunt, rebounded the ball and was arguably the best passer on the team. It looks like Johnson will be in the rotation for the foreseeable future.
Grade: B+
Zach Collins
Collins was extremely active during his 16 minutes of playing time. He took nine shots, including three three-pointers. I actually liked his shot-selection and he also passed it well. Collins crashed the glass well and was electric on the defensive end. He may have been a bit too daring at times — but, big picture-wise, Collins is playing his best ball of the season right now.
Grade: B
Pop
Another well coached game by Pop. His undermanned squad gave the Grizzlies a run for their money. I really enjoyed how much Pop relied on Sochan and Branham to shoulder the burden. He's also putting Langford in positions to succeed on a consistent basis. The play-calling was about as good as it could have been given the players available.
Grade: A-