Grades: San Antonio Spurs at Memphis Grizzlies – Game #42
Well, count this as another impressive loss by the San Antonio Spurs. Going up against the Western Conference-leading Memphis Grizzlies for a second consecutive game, the Spurs rallied in the fourth quarter before ultimately losing by a final score of 135-129.
San Antonio trailed by 15 points heading into the final period. Midway through the fourth, the good guys were still down by 13 points. However, a 12-2 run brought the Spurs within three points with two minutes remaining. Unfortunately, they would get no closer, as the Spurs only scored one more basket the rest of the way.
All in all, there's not much to be disappointed about if you're a fan of the Silver and Black. The Spurs led after the first quarter and then scratched and clawed their way back into the game in the fourth quarter. It'd be difficult to expect these Spurs to play much better than they have been in this recent stretch of close losses.
Spurs at Grizzlies – Final Grades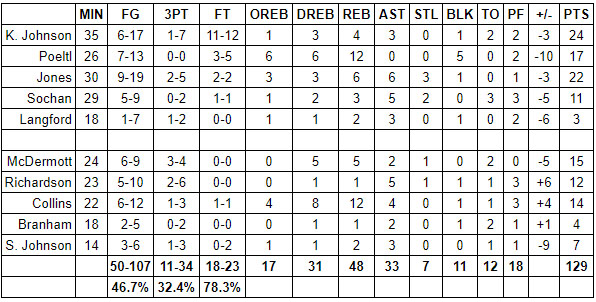 Keldon Johnson
It was an interesting night at the office for Johnson. In the first half, he struggled from the field but he helped San Antonio's cause by hitting all nine of his free throw attempts. In the second half, Johnson hit half of his ten field goal attempts. He ended up with a team-high 24 points and was adequate in his role as the go-to scorer. If he would have shot straighter from distance, Johnson could have had a memorable outing. Defensively, I liked what I saw from him — particularly in the fourth quarter.
Grade: B+
Jakob Poeltl
In the first four minutes of the game, Poeltl had four blocks and a couple other near blocks. He kept defending the rim with aggression the rest of the night but only added one more block in his final 22 minutes of action. Outside of the block party, Poeltl was super assertive on the offensive end; when he had daylight, he was looking to score. Poeltl's rebounding was also really strong on both ends of the floor.
Grade: A-
Tre Jones
With Devin Vassell out following arthroscopic knee surgery, Jones has become a top-two option in most lineups — and he's responding well to the added responsibilities. Tonight, he hit 2-of-5 three-pointers and relentlessly attacked the rim. With as hard as he was going and the amount of attention he drew, it was amazing that he didn't have a turnover. Jones' defense was a bright spot in a sea of flotsam on that end. His unending hustle was fun to watch.
Grade: A-
Jeremy Sochan
Sochan had an emphatic dunk over the top of Jaren Jackson's son, the league's most prolific shot-blocker. Beyond that highlight-worthy slam, Sochan did a whole lot of good. He got sloppy at times and his defensive fundamentals weren't always sharp — but the flashes of brilliance were numerous. Sochan's court vision was expansive, he illustrated deft touch on the move and he had a few outstanding defensive possessions. The rookie is still learning and growing but he's providing reasons on a nightly basis to be optimistic about his future.
Grade: B+
Romeo Langford
Langford has been playing well as a starter. Regrettably, that wasn't the case Wednesday night. He hit a three-pointer and had a couple heady passes but otherwise didn't do too much. His defense was subdued and he lacked any sort of burst going to the rim. It looked like he might have gotten banged up early in the game — which, unfortunately, seems to happen to Langford more than most.
Grade: D+
Doug McDermott
McDermott was a human flamethrower for much of the game. He came out of the gates already with the flame engaged and started 6-for-6 from the field with three three-pointers. McDermott was extra bouncy on both ends and was passing it well. His movement with and without the ball was even more electric than usual. Unfortunately, McDermott cooled off down the stretch and missed his final three shots from the field. However, without his previous contributions, the Spurs would have been blown out.
Grade: A-
Josh Richardson
Richardson's excellent play continues. He's doing just about everything right. Richardson had a couple of questionable shots — but that was about the extent of his negatives. His defense was better than usual, he was the best passer on the court for the Spurs and scored timely baskets. This is clearly Richardson's best stretch as a member of the Spurs.
Grade: A
Zach Collins
Collins stuffed the stat sheet in only 22 minutes of playing time. He finished with 14 points, 12 rebounds, four assists and a block. Most of his points came from the low post, as if Collins had turned back the hands of time a decade or two. It was refreshing to watch him notice mismatches and then punish the defense. Collins mixed in a three-pointer, a handful of high-quality passes and a boatload of effort on the defensive end. 
Grade: A
Malaki Branham
Branham struggled early but he persevered and ended up playing an okay game. He showed off craftiness on the offensive end and he's making leaps on the defensive end. Branham is still the worst defender in the rotation — but he has gotten a lot better compared to the start of his rookie campaign. He also continues to look like a passable point guard in terms of his court vision, passing and ball-handling.
Grade: B
Stanley Johnson
Johnson has been really consistent on a night-to-night basis recently. Defensively, he's using his strength and basketball IQ to disrupt the proceedings. Offensively, his passing remains better than advertised. Johnson is also taking smart shots. Sometimes he'll put his head down and dribble into a crowd — but, outside of that bad habit, Johnson has made the Spurs a wiser, tougher team.
Grade: B+
Pop
Considering that difference in talent between the two teams, Pop again deserves a round of applause. This time the Spurs were able to keep the game close mostly due to the gaudy production from their centers, as Poeltl and Collins combined for 31 points, 24 rebounds and six blocks. Pop got that duo involved early and often and it paid immediate dividends.
Grade: A