Grades: San Antonio Spurs vs. Memphis Grizzlies – Game #70
The San Antonio Spurs found a way to lose on Friday night despite leading the Memphis Grizzlies in the second half by 29 points. When the smoke cleared, the Grizzlies were able to leave San Antonio with a 126-120 overtime victory.
Fueled by red-hot three-point shooting and scrappy defense, the Spurs led by nine points after the first quarter and by 23 points at halftime. A three-pointer by Malaki Branham with 7:51 remaining in the third quarter gave San Antonio their largest lead at 84-55. Unfortunately, that's when the wheels fell off.
Suddenly, the Spurs turned undisciplined on offense and porous on defense. The Grizzlies outscored the Spurs 26-9 the rest of the third quarter. In the fourth quarter, the Silver and Black still led by nine points with 1:32 left in regulation following a Devin Vassell three-pointer. But in the game's final minute, Memphis hit a trio of threes to send the game into overtime.
In the extra session, the game was still tied at 119-119 with 2:14 remaining. That's when Tyus Jones hit a floater, his brother Tre Jones split a pair at the free throw line and Dillon Brooks hit a three-pointer to put the Grizzlies up by four points with a minute to go. The Spurs missed their final four shots from the field to cap the meltdown.
All in all, I was satisfied with how the Spurs performed. They were playing really good basketball for nearly two and a half quarters and still showed some grit in trying to hang on at the end. Chalk this up as another good learning lesson for the good guys.
Spurs vs. Grizzlies – Final Grades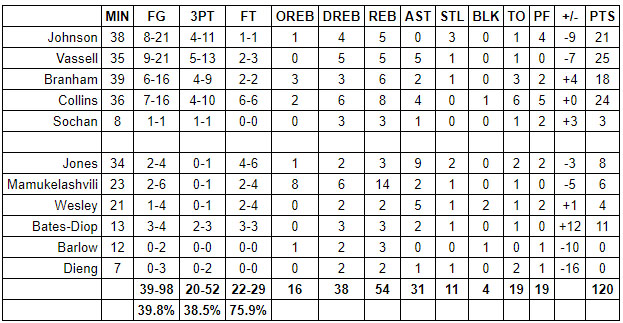 Keldon Johnson
In the first half, Johnson was playing well. His three-pointers were going in and his defensive intensity was high. Unfortunately, he lost his way at some point in the second half. In the fourth, he only attempted one field goal. Johnson played a little better in the overtime but it still looked like he was running on fumes. Defensively, his attentiveness and concentration waned as the game progressed.
Grade: C+
Devin Vassell
Vassell is still looking to regain his rhythm after sitting out following knee surgery … but there were definitely some good signs tonight. I didn't always love his decision-making but he shot the ball reasonably well and also handed out five assists while turning it over only once. It feels like Vassell is due for a breakout performance any day now. Defensively, his focus came and went but overall I thought he was a force for good on that end.
Grade: B
Malaki Branham
The good: Branham was 4-for-9 from three-point land and didn't hesitate to fire from deep. From every spot on the court, the rookie did a great job of playing with confidence. It's looking like Branham is starting to realize that he's a natural-born scorer with a green light. The bad: Branham missed 5-of-7 two-pointers, including a few he seemingly always makes. His ball-handling and passing were looser than usual. The rookie's defense had room for improvement, to put it kindly.
Grade: B
Zach Collins
Collins played really, really hard. He threw his body around on the defensive end and on the glass. Offensively, his three-point shooting looked smooth. Whether he was rolling or popping, Collins remained a weapon on the offensive end. Add in slick passing from the high post and it's no wonder that the Spurs looked their best when Collins was in the middle of everything. Unfortunately, he got sloppy. After San Antonio got the 29-point lead, Collins turned the ball over five times the rest of the way and also lost a number of key jump balls. 
Grade: B
Jeremy Sochan
Sochan left the game for good in the first half after apparently tweaking the knee that has kept him out of recent games due to soreness. Let's hope he can bounce back quickly. Before leaving, Sochan handled point guard duties well and hit a three-pointer but was struggling with the fundamentals on defense.
Grade: Inc.
Tre Jones
After Sochan went down, Jones stepped into a bigger role. He did okay. Jones was struggling to score or even get off good shots but he wasn't forcing anything and helped out by getting to the line. Passing-wise, Jones was really good and he handled the pressure applied by his big brother. Defensively, the little brother could have been better. He was trying hard but it was difficult for him to have a positive impact.
Grade: B-
Sandro Mamukelashvili
Mamukelashvili was flying around the court trying to make things happen, as evidenced by his 14 rebounds in 23 minutes. While the rebounding was helpful, it's difficult to say his overall performance yielded positive results for San Antonio. He had some heady passes (including a super heady tip-pass in traffic) but he passed up a couple threes and held the ball too long at times. Defensively, the effort was there but he had a hard time moving his feet on the perimeter or holding his position in the interior.
Grade: C+
Blake Wesley
Finishing remains a major concern with Wesley. His touch when looking to complete potential scoring moves is the opposite of deft. Other than that, though, I liked how Wesley played. Defensively, he was a constant pest who kept his grubby mitts in the middle of the action. Offensively, he had more good decisions than bad decisions and finished with five assists in 21 minutes.
Grade: B
Keita Bates-Diop
Bates-Diop was playing at a high level in the first half. His three-point shoot looked as good as ever as he dropped 11 points in 13 minutes in the first two quarters. He was also passing well and bringing his length and tenacity on the defensive end. Sadly, Bates-Diop missed the second half. Coming into the game, he was questionable due to achilles soreness. He ended up sitting out the second half due to achilles soreness. That was unfortunate for Bates-Diop and the Spurs because he was playing really well.
Grade: A-
Dominick Barlow
Barlow missed a couple shots on offense and wasn't the best on defense. The rookie was fine inside the paint but he looked like a fish out of water trying to rotate on the perimeter against a savvy team like the Grizzlies.
Grade: C
Gorgui Dieng
Not all tank commanders wear capes. In seven minutes, Dieng missed three shots, turned it over twice and couldn't move well enough to play much defense. In those seven minutes, the Spurs were outscored by 16 points. Well done, commander.
Grade: D
Pop
We've seen some tank-happy lineups this year from Pop but he used a frontline of Dieng, Barlow and Mamukelashvili in the third quarter that was the tankiest of them all. With those three players on the court at the same time, it's not a surprise that San Antonio's momentum (and lead) evaporated. At 18-52, the Spurs are now tied with the Houston Rockets for the second worst record in the NBA. Or, better stated, the Spurs are tied for the second best record in the Victor Wembanyama sweepstakes.  
Grade: B