Grades: San Antonio Spurs at Atlanta Hawks – Game #57
The San Antonio Spurs kept it close against Dejounte Murray and the Atlanta Hawks for the first half. Unfortunately, the Spurs couldn't keep up in the second half and the Hawks flew off with a 125-106 victory. Murray finished the contest with 18 points, seven rebounds and three assists in his first game against his former squad.
San Antonio led by one point, 64-63, with 10:30 remaining in the third quarter. That turned out to be the last time the Spurs were competitive. The Hawks went on a 12-0 run to grab control of the game. The Spurs were down by 16 points entering the final period and they were never able to claw their way back.
All in all, the good guys can be proud about how they played in the first half. The final two quarters were very forgettable, though, as the Spurs dropped their 12th straight game.
Spurs at Hawks – Final Grades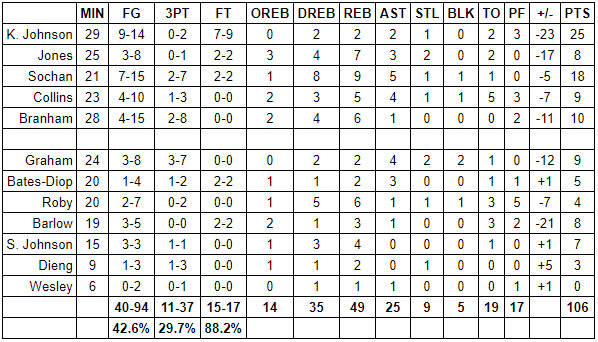 Keldon Johnson
Johnson is now 1-for-12 from three-point land in his last four games. However, that wayward shooting from distance isn't negatively impacting the rest of his offensive output. He finished very well in the paint, got to the free throw line nine times and did an adequate job passing the ball. Johnson is doing really well within the three-point arc and is living up to his Big Body nickname now more than ever. Defensively, he had issues against the Hawks. Johnson's effort was okay but he was an undeniable liability on that end.
Grade: B+
Tre Jones
Jones was back in the starting lineup after missing four games. The rust was unmistakable. Jones didn't do much scoring or playmaking. To make matters worse, he was looser with the ball than usual. Defensively, I liked his hustle but his overall effectiveness was minimal.
Grade: C
Jeremy Sochan
Sochan was an absolute monster in the first half. In 13 minutes, he totaled 18 points, six rebounds and four assists, while shooting 7-for-11 from the field, 2-for-4 from three-point land and 2-for-2 at the free throw line. In his return after missing four games, Sochan was the best player on the court in the first two quarters. He was flying around on both ends, making plays for himself, setting the table for others and was seemingly a step ahead of everyone. Regrettably, Sochan's dominance didn't return to the court after intermission. He didn't do a whole lot right in the final two quarters. That said, if he can bottle his first half play, the rookie is going to become a very rich man playing this sport.
Grade: A-
Zach Collins
Sochan's second outing as the full-time starting center didn't go as swimmingly as his debut in that role. From struggling with foul trouble to turning it over in bunches, and from missing easy shots in the lane to being slow to rotate on D, Collins had a long, long evening. There were some highlights — he authored a few slick passes, hit a three and defended the rim okay at times — but the Spurs need steadier production from their starting center.
Grade: C-
Malaki Branham
Branham started at shooting guard — and a lack of shooting doomed his night. I didn't have a problem with his shot-selection. It was his shot-making that was missing in action. The good news, though, is the rookie kept firing away instead of hiding from the ball. His defense was also better than usual and I liked his feistiness on the boards.
Grade: C
Devonte' Graham
The newly acquired Graham provides the Spurs with volume three-point shooting. On Saturday night, he lived up to his billing. Outside of his 3-for-7 shooting from deep, the rest of the Spurs were only 8-for-30 (26.7%). Beyond his marksmanship, Graham passed it well and competed on defense. In fact, the 6-foot-1 point guard led the Spurs with two blocks to go along with two steals. There were a few instances where Graham tried to do too much but overall I thought he did well.
Grade: B+
Keita Bates-Diop
Bates-Diop has historically been a really basic passer. To his credit, he's been passing it a lot better recently — including against the Hawks. I also liked his defense against Atlanta. That said, the Spurs could have used more scoring and more energetic play out of Bates-Diop on Saturday night.
Grade: B
Isaiah Roby
The good: Roby rebounded well, had a few impressive possessions on defense and ran the court with gusto. The bad: Roby shot poorly, passed up a few shots and was second-guessing himself on offense. He also had three turnovers and five fouls in 20 minutes. Roby has a chance to consistently crack the rotation but he needs to do a lot better than he did against the Hawks.
Grade: D+
Dominick Barlow
Hey, not bad. Barlow is super green and the 19-year-old is just now learning the fundamentals of the sport — but I like what I see. He hustles on the boards, he doesn't keep his head down when things don't go his way, and he has surprisingly good instincts in terms of knowing where to pass and knowing when to cut. Add in the fact that he's a plus athlete and Barlow is a worthy two-way contract project.
Grade: B
Stanley Johnson
In his last game in Silver and Black (he got waived on Sunday), Johnson was pretty good. He was aggressive on offense, finished with strength, hit a three-pointer and played tough D. He also rebounded well and limited his mistakes on both ends. Hopefully Johnson lands on his feet because he put in good work while with the Spurs.
Grade: B+
Gorgui Dieng
Dieng got nine minutes due to other bigs getting in foul trouble. His slowness makes life difficult for him in today's NBA. That said, he can help out with perimeter shooting, a high basketball IQ and strong defensive instincts. All of that was on display in Atlanta.
Grade: B-
Blake Wesley
Wesley only got garbage minutes after struggling in his last couple outings. In garbage time, the rookie didn't do anything to move the needle in the positive direction.
Grade: Inc.
Pop
With most of his players back in action, I liked Pop's rotation for the most part. Personally, though, I hope he continues to find minutes for Wesley — even if the minutes are sporadic. In terms of play-calling, I thought Pop did very well in the first half. In the second half, things got so ragged that it was difficult to make heads or tails of what was going on out there.
Grade: B