Grades: San Antonio Spurs vs. Miami Heat – Game #29
The San Antonio Spurs took on the Miami Heat on Saturday night in Mexico City. The contest was close throughout before the Heat took charge in the fourth quarter to hand the Spurs a 111-101 defeat.
In the first three periods, I was impressed with how the good guys were playing. They competed well on both ends and they took a four-point lead into the fourth quarter. Unfortunately, the Spurs ran out of gas before reaching the finish line. Considering that the game was played at about 7,300 feet above sea level, it's not surprising that fatigue played a factor for the underdogs who were trying to scratch and claw their way to a victory.
All in all, I thought it was a successful outing for San Antonio and a great learning experience. They played well, played hard and played together. 
Spurs vs. Heat – Final Grades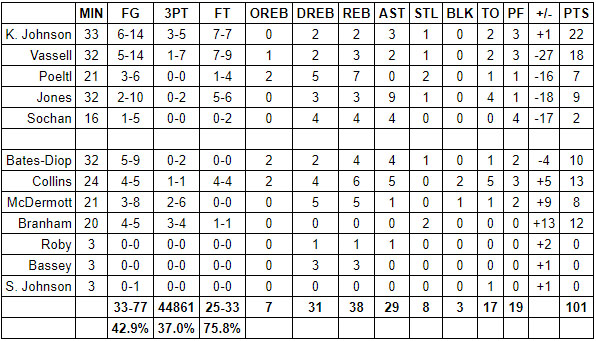 Keldon Johnson
Johnson was fantastic in the first half. In 18 minutes, he had 17 points and hit 3-of-4 three-pointers and all six of his freebies. He was playing a smart brand of basketball in the first two quarters. He let the offense come to him, took smart shots and his effort was leading San Antonio's charge. Sadly, he just didn't have much left in the tank in the second half. He played hard in the third quarter but his efficiency was diluted. By the fourth quarter, he was running on empty. In fact, he was so done that he didn't even attempt a shot in the final period. 
Grade: B+
Devin Vassell
San Antonio's first basket of the game was a Vassell three-pointer. Unfortunately, he missed his final six shots from downtown. Beyond his shooting woes, I thought Vassell was okay-ish on offense. He got to the free throw line nine times and had a few tough finishes in the lane. Vassell handled more ball-handling and playmaking duties than usual and didn't look out of place. Where I was really disappointed with Vassell was on the defensive end. He lacked focus and made a myriad of costly mistakes. From failed box outs to getting backdoored to slow reactions in transition, this was one of his worst defensive games of the season.
Grade: C-
Jakob Poeltl
After missing seven games, Poeltl was back in action. The big Austrian was obviously rusty but was still able to produce. His coordination and finishing on offense weren't as trustworthy as usual and he didn't look as spry on defense as usual but, again, that's understandable given his time away from the court. By his final stint, Poeltl seemed to be in a good rhythm. Hopefully he can play more minutes in forthcoming games and doesn't suffer a setback as he returns from a bone bruise of his knee.
Grade: B
Tre Jones
Jones had a few outstanding passes in transition, found teammates off of broken plays and got to the line six times — but that was just about the extent of his positive play. He struggled to score or even be a threat the Heat had to pay attention to when the ball was in his hands. Jones was also sloppier than usual on offense and had minimal impact on the defensive end.
Grade: C 
Jeremy Sochan
Sochan was back in the starting lineup at power forward. He also played some backup point guard against the Heat. The good: Sochan's work at point guard was the most impressive aspect of his game. He had a handful of excellent passes and was able to make plays off the dribble. Sochan's basketball IQ was really on display throughout this game. The bad: Sochan's lack of shooting was also on display. He was 1-for-5 from the field and missed both free throws. He also racked up four fouls in only 16 minutes.
Grade: C+
Keita Bates-Diop
Bates-Diop played relatively well in his 32 minutes off the bench. I thought his defense was much better than usual; he was attentive and quick to react on that end. Offensively, he was aggressive and efficient. Bates-Diop's passing was also much better than usual.
Grade: B+
Zach Collins
Collins definitely could have been more careful with the basketball. All five of his team-high five turnovers could have been avoided. He also had a few miscues when going for rebounds. Other than those mistakes, though, Collins played really well. He stayed out of foul trouble. He challenged shots in the paint. He passed it well to create shots for teammates. Collins only missed one shot from the field and was constantly trying to score when matched up against a smaller opponent. He wasn't perfect but this was a step in the right direction for San Antonio's backup center.
Grade: B+
Doug McDermott
It was a tale of two sides of a basketball court for McDermott. On offense, his vivacity was contagious and he was keeping things humming on that end. The threat of his outside shooting really, really helped the team's spacing. On defense, McDermott was a major liability. There were stretches where Miami's entire offensive scheme was geared toward forcing McDermott to play defense. It wasn't pretty, to be honest.
Grade: B-
Malaki Branham
Alright, now this is the type of game we've been waiting for from Branham. The 20th pick of the 2022 NBA Draft has struggled to provide any help at all this season — even though he's been given many opportunities. Against the Heat, Branham finally broke through that invisible barrier. He played with confidence, looked to be a step quicker than everyone and acted like he knew exactly what he was supposed to do. Branham didn't miss a shot until garbage time and was also handling point guard duties while playing some of the best defense we've seen him play. Let us hope this is a sign of things to come from the rookie.
Grade: A
Pop
The Heat have a lot more talent than the Spurs but Pop had his troops giving it their all — and that kept the game close for a majority of the contest. I thought his rotation made sense for the most part. I like that he went back to the standard starting lineup. I like that he keeps giving Sochan run at point guard. I also liked that he gave the ball to Vassell a lot down the stretch. Moving forward, it's really looking like Vassell will be this team's closer — and he got some quality practice in that role versus Miami. Overall, Pop has to be very pleased with how San Antonio played in Mexico City — and he deserves a heaping spoonful of credit for that play.
Grade: A