Grades: San Antonio Spurs at Charlotte Hornets – Game #59
The San Antonio Spurs were able to keep things competitive but ended up losing to the Charlotte Hornets by a final count of 120-110. It was San Antonio's 14th straight defeat, which dropped their record on the season to 14-45. The Hornets improved to 17-43 with the win.
In the first three quarters, neither team could get much of an advantage. Heading into the fourth, Charlotte had a 93-86 lead. A Doug McDermott layup midway through the period cut San Antonio's deficit to one point, 104-103. The good guys had three cracks at it to capture the lead but they didn't get over the hump. After the misses, the Hornets responded with an 8-0 run that basically sealed their victory.
All in all, it was another solid effort. The Hornets were the more talented and healthier team and they were playing at home — yet the Spurs gave them a run for their money.
Spurs at Hornets – Final Grades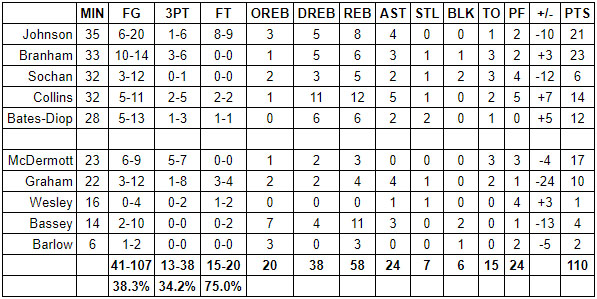 Keldon Johnson
Johnson has been consistently productive on the offensive end over the last month. Unfortunately, in the final game before the All-Star break, San Antonio's leading scorer had a night to forget. He couldn't get anything to go from deep and also struggled to score at the rim. Thankfully, all was not lost. Johnson got to the free throw line nine times and finished with four assists and only one turnover. In his last six games, Johnson is averaging a very healthy 8.2 free throw attempts — and he's shooting them at an 81.6% clip. Defensively against the Hornets, Johnson was substandard.
Grade: C-
Malaki Branham
Branham had another outing in which he made the sport of basketball look easy. He hit three three-pointers and his floater in the paint was cash. The rookie's movement without the ball is improving at a rapid pace … to the point where he's already well above average in that regard. Branham played point guard at an adequate level. His playmaking was limited but he handled the ball decently well. Defensively, the effort was there but he rarely had a positive impact on that end.
Grade: A-
Jeremy Sochan
Sochan never found anything resembling a groove. He tried to take over the game at certain points but only had fleeting success. The rookie had two highlight-worthy blocks and authored a couple heady passes — but he had a negative overall impact.
Grade: D+
Zach Collins
I thought Collins played really well. He was strong on the boards and was able to hold his ground in the paint. His passing was excellent, he spaced the court with his shooting and never hesitated when making a decision. Collins still had some loose ends to clean up (fouls, for example) but this was a strong outing for San Antonio's new full-time starting center.
Grade: A-
Keita Bates-Diop
It was a strange evening for Bates-Diop. It looked like he had two or three shots that were clearly goaltended that got ignored by the referees. He also had a few unlucky bounces when going for rebounds. Despite the frustrating moments, Bates-Diop persevered. He was an asset in transition and was active on defense. Bates-Diop had a few missed rotations on defense but he otherwise played a high basketball IQ game.
Grade: B+
Doug McDermott
McDermott had eight points in the first six minutes of the fourth quarter to carry the Spurs back into contention. His movements were sharp and his release was extra quick. Throughout the night, McDermott's shooting played a key role in San Antonio keeping contact with the Hornets. I also thought his defense was better than normal. McDermott had three turnovers and three fouls but most of those were a result of him trying to be aggressive.
Grade: A-
Devonte' Graham
Graham got up eight more three-point attempts in 22 minutes. Unfortunately for the Silver and Black, his accuracy was awry. Graham did some effective playmaking but the Spurs would have been better off if he turned down his aggressiveness a couple notches. As it was, the newly acquired point guard hurt the team by trying to do too much.
Grade: D
Blake Wesley
Wesley is an extremely raw basketball player and his learning curve promises to be rocky. Last game, we witnessed a high point. Against the Hornets, we saw a low point. In his 16 minutes, Wesley made numerous mistakes on both ends of the court. Other than missing four shots and fouling four times, there wasn't much other statistical evidence that the rookie was on the court. Chalk it up as another learning experience for Wesley.
Grade: D
Charles Bassey
After securing a contract that guarantees him at least $5.2 million, Bassey was a ball of energy on Wednesday night. Unfortunately, some of it was nervous energy. In the paint, Bassey's usually dependable touch was missing in action. As a result, he missed 8-of-10 shots from the floor and both of his free throws. Despite those woes, the rest of his outing was a success. He was dominant on the boards, finished with two big blocks and had a couple of his best passes of the season.
Grade: B+
Dominick Barlow
Barlow got six minutes and was in the middle of the action during that time. He crashed the offensive board with gusto, elevated to get an impressive block, and continued to show the determination, will and athleticism that makes him an intriguing prospect.
Grade: B
Pop
I liked how Pop coached this game. The play-calling put players in advantageous positions. The rotation also made sense. Even though Sochan, Wesley and Bassey had some issues, Pop let them try to figure it out. I also like how he kept Barlow in the rotation.
Grade: B+